As you may remember a bit ago Helisa reviewed a couple of awesome products from Inateck, we both had a serious love for the Bluetooth speaker and multi-port charging station and figured it would be fun to review some more of their products. Every house has different needs, and Inateck has you covered with an assortment of products to meet them!
Inateck, is a German based electronics and accessories company, offering a wide variety of speakers, docking stations, cords, chargers and more for a multitude of different devices. 
First on my review list was the Inateck protection for the iPad Mini (TPB-IM), I wasn't quite sure how well this product would work at first as I am usually used to the big bulky cases for iPads and iPhones. I like to travel light where I can, blogger life generally means I carry a metric ton of stuff in my purse so I was eager to test out this soft felt cover that boasts doubling as an iPad stand as well! Seemed like a tall order for something that fits in a mail envelope…
I personally loved the softness of this case, it is wear-resistant which helps keep the iPad protected from scratches. A sturdy magnetic buckle keeps your iPad safely contained inside when not in use. That sturdy buckle also doubles as your iPad stand which I thought was pretty unique, a quick fold and your soft felt cover turns into a stand perfect for watching movies, listening to music or just working on the go. The double stitched felt makes for a sturdy stand that is both use-able in landscape or portrait mode, and easily (with no visible puckering or wear) converts back to a case. Love the ease of use!
Made from environmentally friendly material it's sustainable, renewable and biodegradable, perfect for the eco-friendly person in your family or just anyone who enjoys minimalist statement pieces. My other iPad case is bright pink (surprised?) so I loved how gender neutral this case is.
Final thoughts on the Inateck iPad mini protection? I love it. It's compact enough to carry it in my purse, though versatile enough to meet all my needs whether at home or on the go. It's not a case I would use for Alivia's iPad though, it's definitely more for careful kids, parents and professionals. Don't have a mini? Don't worry, they also make this case for iPad Air as well! At a starting price of $16.99, it's a very affordable protection option to keep your Pads safe.
Next on my list was one of my favorites! We absolutely love music in our house so a good bluetooth speaker is a necessity. Helisa got the last one to review (and loved it) so it was my turn to pick! I chose the Inateck 10W Stereo Bluetooth Speaker (BP2001),  we use our iPads quite a bit so I loved that this bluetooth speaker actually holds your iPad or iPhone in it!
The bluetooth speaker market is flooded with new technology often, and short of actually trying out every single one in a big box store; how are you to know which one is the best fit for you? I had a couple specific features I was looking for when choosing the Inateck BP2001, I needed a long battery life, easily paired to multiple devices and classic enough that it wouldn't stand out like a sore thumb in my house.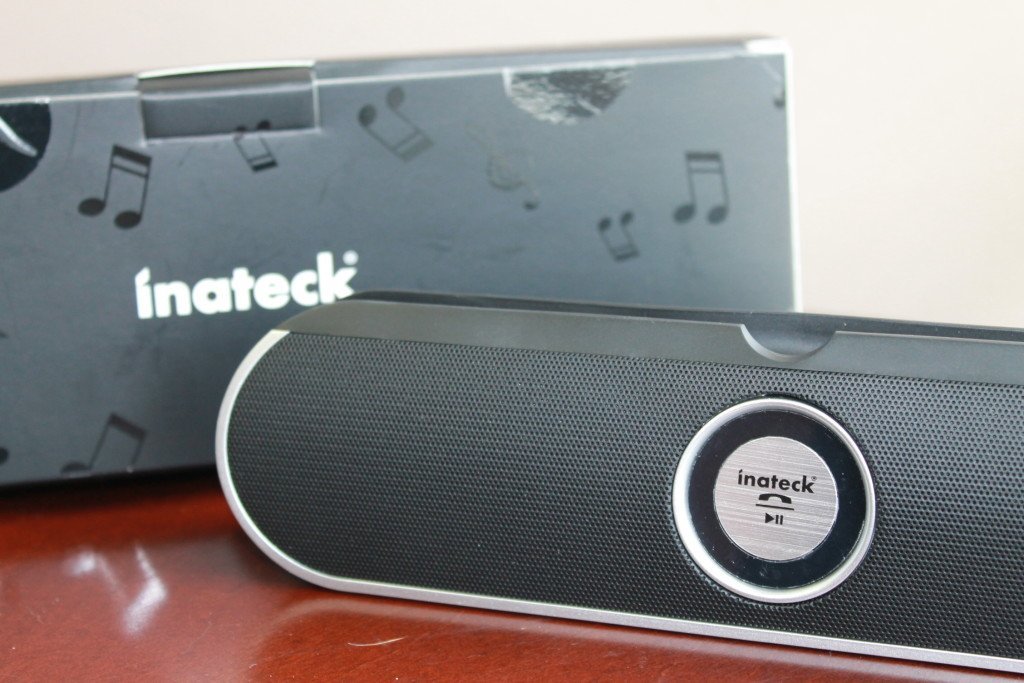 This simple, yet classic design is one of many selling points for me. It isn't obtrusive or overly flashy. It looks great in any home or decor setting and is discreet enough that you can display it anywhere. With rounded chrome looking edges and a large multi-function button in the center, there is no overly gauche features.
This device supports a variety of media playback including: music, games, movies or net-based media streaming (Netflix anyone?). Though don't be fooled, it isn't JUST a speaker – the built in microphone makes phone conversations clear and easily understandable, no more crackling or struggling to hear the other person. The handy answer/end call button is located right on the front for ease of use.  Little rubber feet on the bottom of the speaker keep vibration to a minimum and offering you maximum quality sound.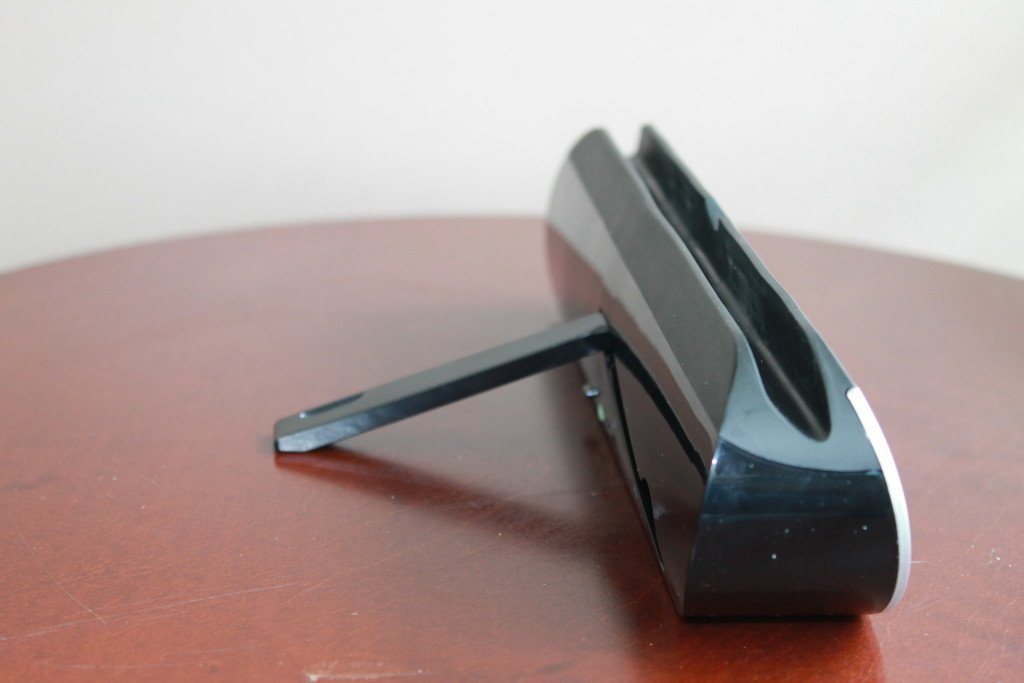 The durable retractable stand on the back ensures stability for the speaker regardless of which device you have resting inside. No bluetooth?  No problem, the speaker can also be connected via cable with cell phones, MP3 players, tablets and more. The power button, plug port and other interfaces are built into the back of the speaker to make maximum use of the small device.
I like to binge watch on Netflix; I'll admit it. I really dislike cases and docking stations that keep my iPad at a weird angle so I'm stuck with glare from the ceiling lights. I was pretty impressed that the Inateck BP2001 kept my iPad at an angle that was both comfortable and didn't hinder visibility at all.
Now, for the most important part. How does it sound? I generally do most of my binge watching in the kitchen and at one point, I needed to turn down the speaker! At maximum volume the quality still stood up as advertised, I didn't hear any crackling, distortion or vibration that effected my use.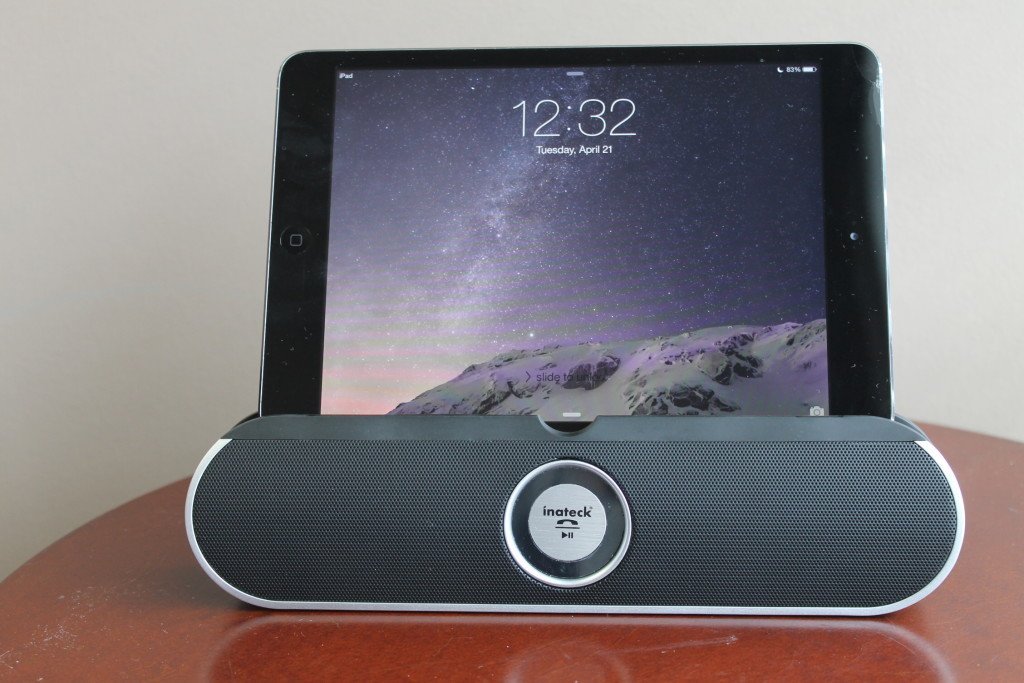 Final thoughts? I've used this speaker at least a few times a week since it arrived, it's portable enough that it doesn't take up much space at home in our tiny house, when it's not in use we can just tuck it away. I loved that it can hold a charge for pretty much the entire week with our amount of usage! Though most importantly, I was impressed with how secure my iPad felt when it was placed in the available slot, I wasn't worried it was going to fall over if I walked away.
Ready for the exciting news? Inateck has graciously given us one of each of these wonderful products to give away to 2 lucky readers! Want to win? Enter below!
a Rafflecopter giveaway
{Disclosure: I received these products in exchange for my review, all opinions are my own. I wouldn't share anything less than fantastic with my readers!}