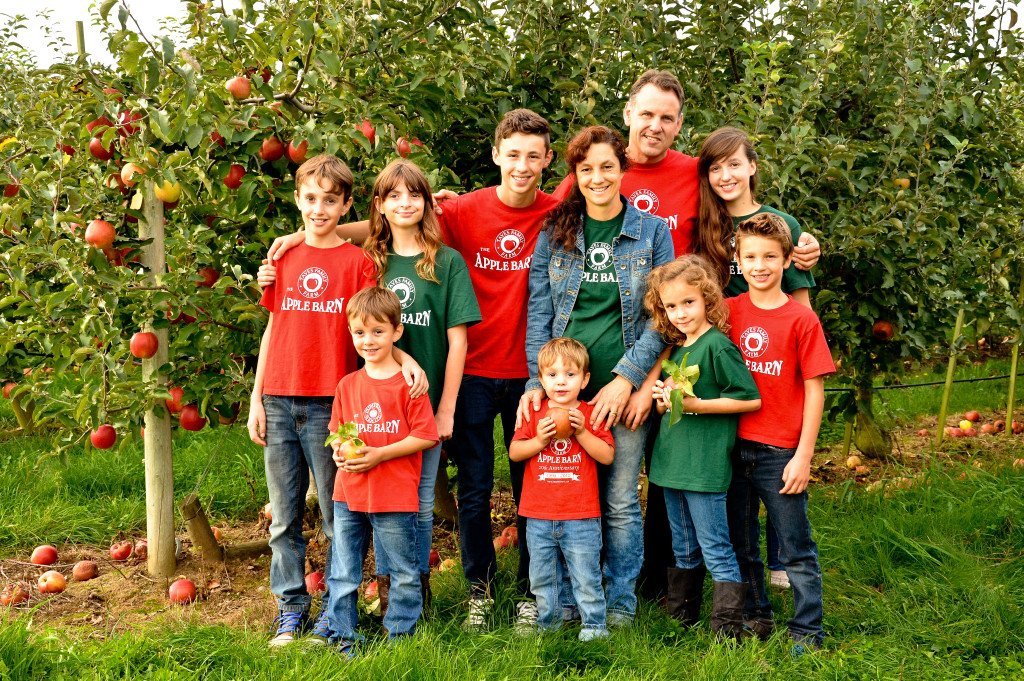 One of our favorite U-picks is back for it's 25th season! The Taves Family Farms Applebarn is a personal fave in our family and we visit every year in October to grab the best pumpkins, nibble on the tastiest roasted corn and pet some of the cutest petting zoo animals ever! The Applebarn isn't just about Pumpkins though, it's namesake certainly shares one of the most popular aspects of the farm and that is the U-pick apples and their delicious locally made apple cider. On August 14, 2015,  the Taves family will be welcoming back children and families from across the Lower Mainland. 
For 25 years, guests have come to the Applebarn for a family-fun experience that reminds them of days gone by.  In more recent years, the local food movement has also increased interest for people to see where their food comes from. Parents bring their kids, friends and family pick apples together and to watch how apple cider is locally made on the farm. Students participate in field trips and colleagues take a break from their busy workday.
There is nothing more rewarding then packing up the kids and taking them on an adventure that not only encompasses learning, but also the utmost importance of knowing where our food is coming from. I personally don't want my child thinking apples come out of a bag, or that blueberries come in a tetra pack container. We have a responsibility to educate our kids on where their food comes from and of course supporting our amazing local farmers – I love that the Taves family opens up their farm to so many visitors each year to help us do this.
"We are honoured to be celebrating our 25th anniversary this fall. When we started the Applebarn, we simply wanted to invite the community of Abbotsford to visit our farm, but now we see families travel from all across the Lower Mainland who have made our farm part of their annual fall traditions.  It's incredible to see how our little backyard sales stand has grown into a huge fall festivity that so many people can enjoy.  To thank our guests, we are offering reduced admissions and a birthday celebration to remember. We invite everyone tocome out to the Applebarn and experience a 'taste of the country', says Loren and Corinne Taves.
Attractions:
Picking your own apples right off the trees (U-pick)
Choosing your perfect pumpkin in the Pumpkin Patch
Tackling the challenging Corn Quest Mazes
Bouncing on a hay ride or zip-lining through the barn
Petting farm animals, feeding goats, and riding ponies
Playing together on a massive air-inflated jumping pillow
Blasting corn guns and pumpkins cannons
Learning about how bees make honey
Tasting freshly pressed Apple Cider
Experiencing the local food movement
Event Details:
When: September 12 & 13 for anniversary celebrations, the farm officially opens August 14 (so you can visit sooner!)
Where: Taves Family Farms Applebarn – 333 Gladwin Road, Abbotsford
Cost: 25% off admission rates below during the anniversary weekend.
Children (2 and under) FREE
Children (3-17 years of age) $8.25
Adults (18 yrs and older) $6.00
Senior (65 yrs and older) $5.00
*Family (2 adults and 2 or more children) $28.50
Extras: During the anniversary weekend you can enjoy live entertainment, free pumpkins & much more!
For more information, visit www.tavesfamilyfarms.com and follow the Applebarn on Facebook,  Twitter and Instagram.