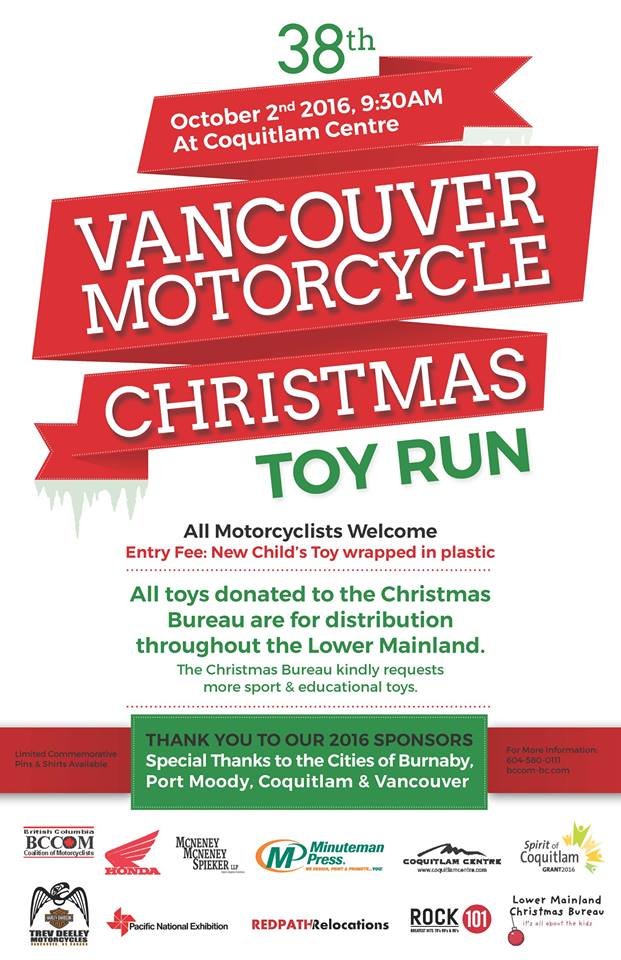 I know summer is not quite over, but since Costco has their Christmas trees up already, I feel it's safe to mention that the 38th Annual  Motorcycle Toy Run is coming up! They are always looking for new riders to join the cause, and more donations of new unwrapped toys for the Lower Mainland Christmas Bureau. Not familiar with the Motorcycle Toy Run? It is a yearly motorcycle run gathering hundreds of people together, both on bikes and on the sidelines, with the common goal of making sure children have something special to open on Christmas Day.
All motorcyclists are invited to participate in this multi-community event, and all it will take to enter is a new unwrapped toy! Don't ride, but want to participate? Donations are always welcome and can be dropped off at a few different checkpoints. And of course,  anyone can watch the parade of motorcycles go by along the route and wave and cheer them on! Many riders have fun with dressing up and love waving back at little hands.
When I say multi-community event, I truly mean it. With a parade this size (we're talking THOUSANDS of bikes) starting in Coquitlam, travelling through Port Moody and Burnaby before ending in Vancouver, there is huge involvement and support from all of those communities. From absorbing the cost of engineering and resources for policing/traffic redirection, barricades and more, an event of this magnitude would not be possible without their continued support of both the Motorcycle Toy Run and the Lower Mainland Christmas Bureau.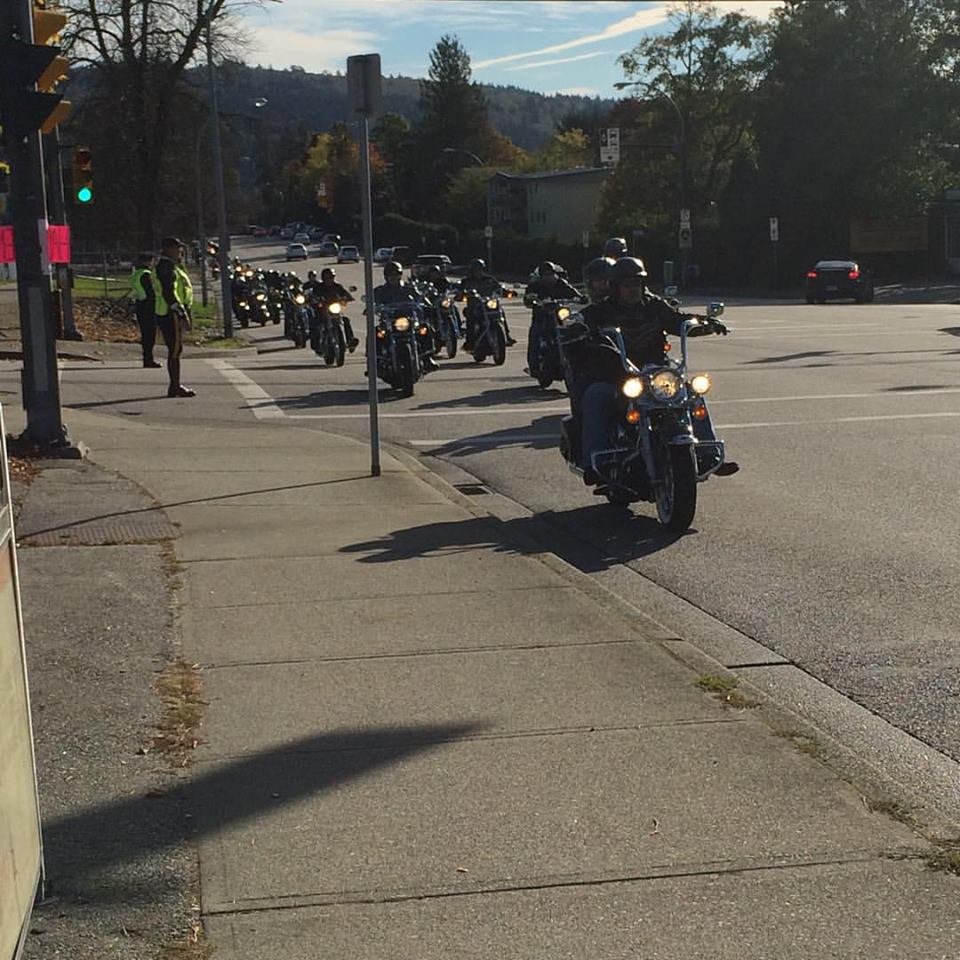 Event Details:
On Sunday, October 2nd, donations of unwrapped toys and/or cash can be made at a variety of different locations – either at Coquitlam Centre by 9:30 am, at the PNE between 10am and 12:30pm, or at Trev Deeley Motorcycles located at 1875 Boundary Rd in Vancouver
Join the Toy Run:
Have a bike and want to join in? All they ask is that you please bring a donation, and show up ready to ride at Coquitlam Centre before 9:30 am.
Spectators:
Live near the parade route? Come watch! It's become a family tradition to set up our lawn chairs along Hastings with some hot chocolate and watch the procession.
Donating:
There are some things to keep in mind when donating to the Lower Mainland Christmas Bureau please. Would you buy it for your own kids or loved ones? If not, maybe choose something with larger appeal. The hardest gift category to fill is pre-teens/teens. We all love to shop for the younger kids. It really is fun to go toy shopping and there is a huge selection for the younger age groups! But please consider purchasing gift cards, styling tools, personal care products etc for the older youth. They may not believe in Santa Claus, but they deserve some Christmas magic too!
Again, please do not wrap donations in anything other than clear cellophane.
It goes without saying that a parade of this magnitude will have an effect on traffic. Please pay attention to detour signs, traffic enforcement and of course motorcyclists. Or, grab a lawn chair, pull up some sidewalk and smile knowing that each one of those bikes is contributing to a child's Christmas morning.
VISIT: BC Coalition of Motorcyclists
To get in the Christmas spirit a little early, what was your favourite gift you received as a child?