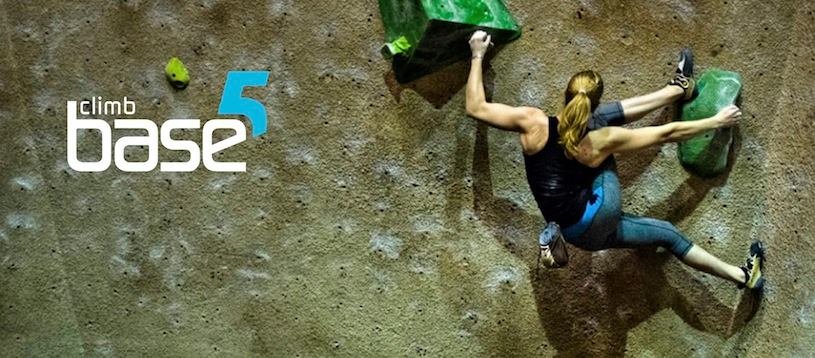 Both of my kids are Christmas babies and it can be challenging to find fun party ideas during the cold weather without repeating the same things over and over again. I can only do so many house/pool/bowling type gatherings with two parties in the same month and anything with a Christmas theme is usually out. We also like to alternate small parties with more elaborate parties and this year was the year to go big. I decided to try something really different and let the kids literally climb the walls to celebrate my daughter's 11th birthday. Climb Base5 in Coquitlam offered the perfect venue to do just that, for kids 6 years and up (and adults too!).
Climb Base5 is Metro Vancouver's largest climbing gym and has a wide variety of climbing courses for all skill levels from the most novice climber to the most experienced one and new courses are added each week in this huge open concept space. They also have a bouldering wall, a rather high 'rescue' style ladder and a party room for the pizza and cake; it was a birthday party after all!
When we arrived for our party we were warmly welcomed and shown to the party room where we could stash all of our stuff, set up the cake and what not. An instructor brought all the girls to get outfitted with harnesses and climbing shoes where needed while explaining the gym rules and equipment. The group was then led to one of the easier climbs to assess their skill and explain the belay system.
We had quite a range of skill in our group of girls ranging from scared-of-heights to climbs-every-weekend and our group leaders were very skilled in working with and coaching all of them to push themselves higher. The party girls truly rose to the occasion; and many to great heights!
We had an hour and a half for climbing and the kids tried a variety of courses, took turns climbing up the ladder (I think they would all do well being rescued by helicopter) and gave the bouldering walls a shot. While climbing sideways may sound easier, it's really quite difficult. They were definitely ready for food once their time was up and devoured the pizza (included) and cake. The staff was fantastic at getting the party room prepped with reusable plates, napkins and juice boxes, and when I discovered I had neither knife nor candles, they happily came to my rescue with both.
It's a challenge on the best of days to keep kids active with access to so many different distractions. Why not have an active kids birthday party and tire them out in a fun, engaging way? Climb Base5 is the perfect birthday party location for kids 6 and up, and would even make a fun adult birthday party idea! Have fun challenging each other, taking on new and exciting walls and learning just how rewarding mastering one of the walls can truly be.
Climb Base5 Birthday Parties Include:
Prices:
Up to 8 Participants – $225
Additional participants – $25 per person
Package Details:
Ages: 6 and up
1.5 hours of climbing
1 hour use of party room
All safety equipment included
Staff Provided at a 4:1 ratio
Pappa Leo's Pizza included
1 Juice box per participant
Optional Dairy Queen "log" cake with Climb Base5 Logo. $20.00 extra
Plates, napkins & cutlery provided (so handy!)
Climb Base5 not only makes an excellent birthday party venue, but they also do corporate events, school groups, private groups and of course membership options and drop in day passes.
Connect with Climb Base5
Climb Base5 is a huge sponsor of the Healthy Family Expo happening March 6, 2016 at the Vancouver Convention Centre and will be returning with their huge climbing wall! I definitely recommend attending, and while you're there, give the wall a shot! If you see any of our kids up there, make sure to wave and say HI to us.
We had a fantastic time at Climb Base5 and will definitely be returning!
Have you ever been climbing? We'd love to hear your experience.