If you've been a fan for a little bit on British Columbia Mom, you're probably very familiar with the craziness that is the Cutie Mark love in our house. Since Alivia was introduced to My Little Pony she has not only mastered the names of every pony (which is impressive) but she's also somehow aquired most of them in stuffy, toy and accessory form. Even when she has multiples of ponies, she finds a way to play with every single one of them and it warms my heart seeing her enjoy toys that I loved as a child, and still love as an adult.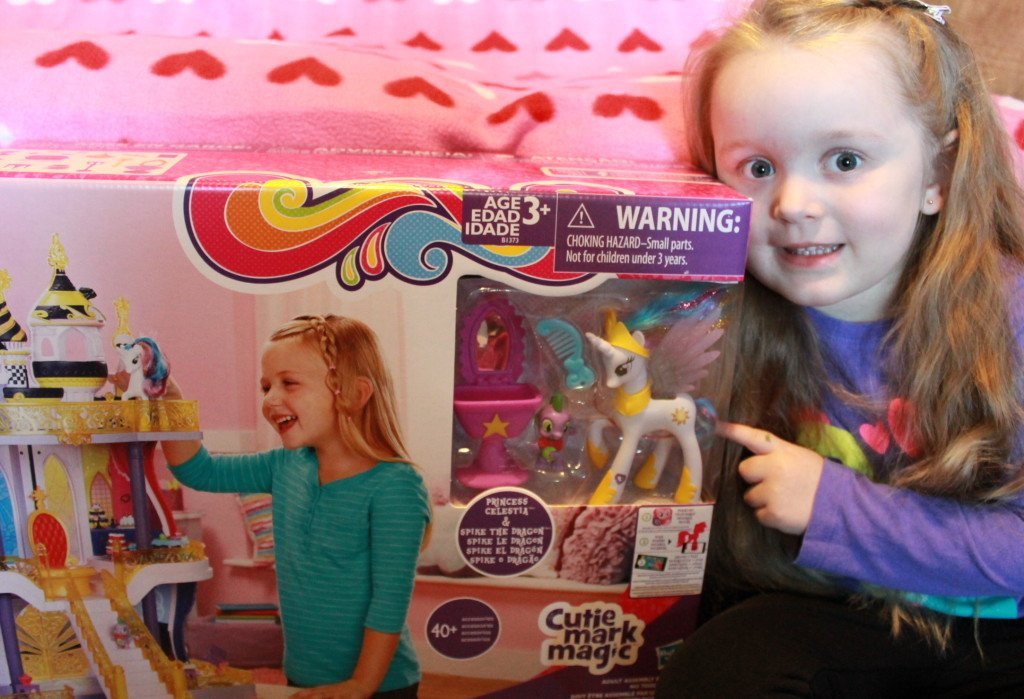 To say that Alivia was overjoyed when her My Little Pony Cutie Mark Magic Canterlot Castle Playset arrived would be an understatement, for an entire week she asked me every single day if she could open it and play with Queen Celestia! I knew that I made the right choice with this toy for her, we always want to encourage interactive play with imagination and this castle has fun for every single one of her ponies! Included with your castle is a Princess Celestia figure and a Spike the Dragon figure to get you started with filling up the castle – they are of course the hosts of the best parties in Ponyville afterall.
This castle is BIG, like 3 stories tall big and almost as tall as Alivia! It did take me a little bit of time to get all of the pieces together but the instructions were easy to follow so it all snapped together easily. Included in your 3 stories of play is a real working elevator to the second and third floors, as well as a full movable staircase. I also discovered after getting it all put together that there is tons of codes throughout the castle that you can scan to unlock fun in the My Little Pony Friendship Celebration app on your tablet or phone, pretty neat way to carry the fun with you!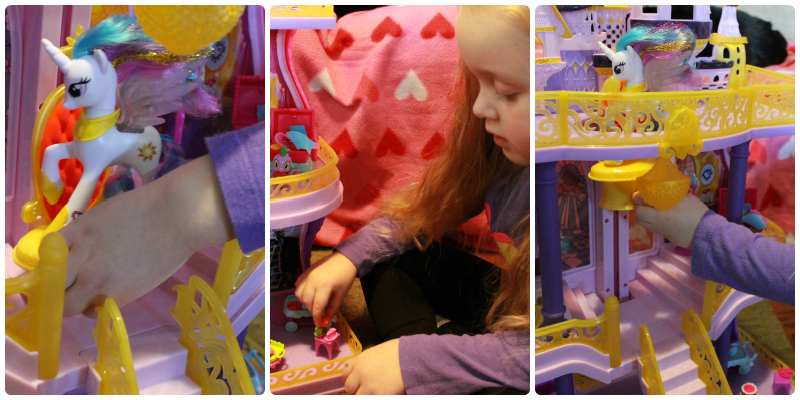 There is no shortage of accessories in this castle either, with candelabras, food, serving trays, a bed and so much more there is tons of fun ways to throw the biggest – best party for all your friends! The best part? There is a special party crown for your child hidden within the castle, I wonder how long it will take them to find it!
Product Info:
Castle stands 29 inches tall
Playset includes more than 40 accessories and a working elevator
Princess Celestia and Spike the Dragon figures are included
Castle has many codes you can scan in the My Little Pony Friendship Celebration app (device not included)
Ages 3 and up
Adult assembly required. No tools needed.
It wouldn't be a Cutie Mark party without the Equestria Girls now would it? We were so thrilled to receive this hip My Little Pony Equestria Girls Rainbow Rocks Pinkie Pie and Gummy Snap Set with our castle and Alivia was quick to explain "Mummy! I don't have this one!", she was pretty stoked as you can tell! I loved that Pinkie Pie came with a pet too! We have been talking about getting a dog, so it's fun to watch her interact with Gummy Snap like he's the family pet!
There was no time wasted when I unboxed this one, Alivia quickly dug out her smaller Pinkie Pie toy to play with them together, she swapped the fun pajama hat off and on Gummy Snap and played with the sleep mask too! She was also thrilled to discover that Pinkie Pie actually had feet underneath those boots – we've had a few in the past that just had pegs (odd, I know!). She loves having outfits, shoes and accessories to swap between her Equestria Girls.
She's pretty excited to add Pinkie Pie to her collection, and with so many different varieties of Equestria Girls by Hasbro, you can find a set that is the perfect match for your little My Little Pony fan! Bring the friendship of My Little Pony home this holiday season, and dive into the magic that is the Cutie Mark.
Connect with Hasbro: My Little Pony
Website | Twitter | Facebook | #PlayLikeHasbro
{Disclosure: We were provided with a sample – that we personally chose – to facilitate this review. We have a fan on our hands! All opinions are our own.}