Growing up, like most girls, I played with dolls; playing tea party, or pretending I was the mommy or the teacher depending on the day. When I had my daughter, it only seemed natural to buy her various dolls as well, only her pretend scenarios were more about fashion shows or concerts where her dolls would perform. When she was six, we had her brother. And guess what? He plays with dolls too.
Maybe it's because he has an older sister and dolls and all things pink were all over the place. Maybe he just wanted a buddy to play cars with. Or maybe, he wanted to pretend to be a daddy (he does have a pretty great one). It's probably all these and more, and to me a toy is a toy and not just for a specific gender. However, all the dolls we had in the house, save for a Ken doll and one of the Jonas brothers, were girls. We thought it would be nice to add a boy doll into the mix. Only, where do I find one? There are an astounding number of companies mass producing little girl dolls, but their male counterparts are much harder to source out unless we wanted an infant doll. But what about a doll maker?  Bamboletta  hand crafts every one of their dolls with many little girls and boys to choose from.
We have been lucky enough to work with Bamboletta in the past, so I knew how much love, quality craftsmanship and attention to detail goes into making each and every new friend unique. The Bamboletta family is made up of 32 moms (and a few dads!) and they feel very strongly about allowing these magnificent sewers to work and stay at home with their families, and we love supporting local mompreneurs. They employ traditional doll-making techniques and use the highest quality natural fabrics to make these lovable Waldorf style dolls. From locally sourced wool for stuffing to the raw yarns that they hand-spin and hand-dye,  their thick 100% cotton fabric from the Netherlands in 5 different skin tones to the adorable frocks and outfits complete with undies and little felt shoes, there is so much to love about Bamboletta dolls.
Because each doll is made by hand, there will never be two exactly the same; your Bamboletta doll is as unique as your child and sometimes even resembles them! When we contacted them about a doll for my son we were told the perfect one was right there waiting. And they couldn't have been more spot on! From the brown eyes and curly brown hair (my son had a head full of curls until he was 3), to the green shirt (his fave colour), 'Alex' looked quite a bit like Breton. And the quirky little smirk is an expression I often see my little guy wearing.
Alex is a cuddle doll and he came lovingly wrapped in tissue, tied with a bow and had his birth certificate with him too; handy if we chose to travel. He also came with a blusher kit to touch up those rosy cheeks.
With his green sweat shirt, jeans and felt booties he looked ready to play, so of course we had to test him out! We took Alex on a bike ride, through some garden and dirt travels and right down to cuddle time on the couch. He held up amazingly well and has become a close friend of Breton's.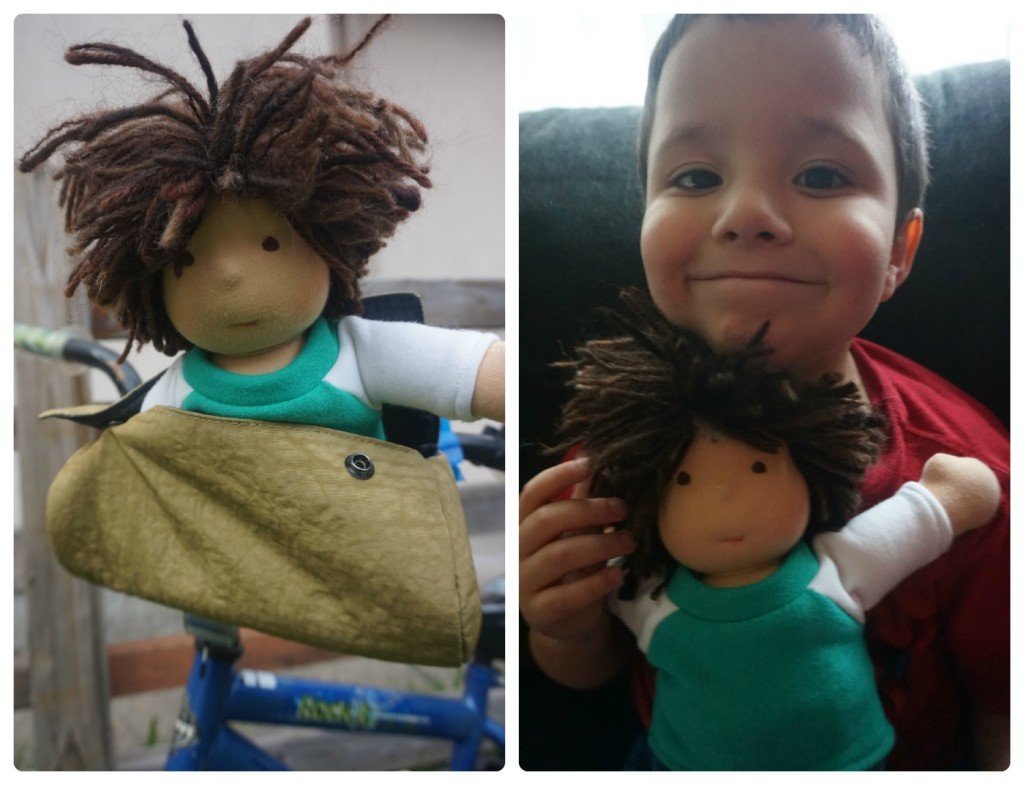 And, not to worry if he gets dirty, he is easily spot cleaned and sunlight is excellent for disinfecting from bacteria…especially helpful if after your little one has a cold.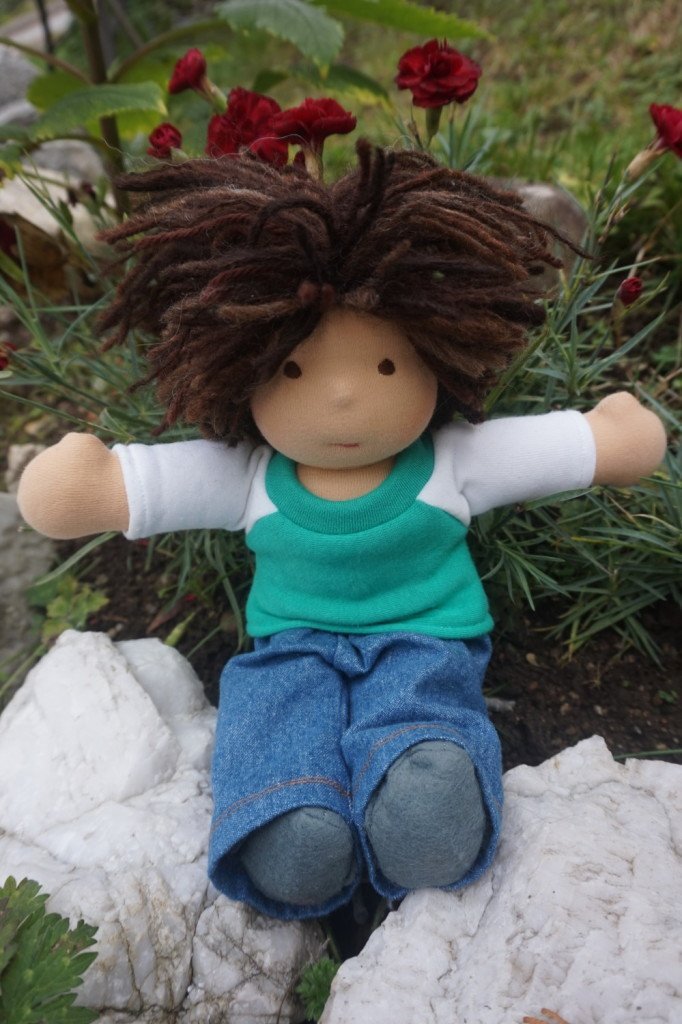 Bamboletta dolls are available in several styles: Classic, Baby, Sitting, Little Buddy and Cuddle, and are made available for purchase on their website. And, because they are handcrafted and unique, new fresh, fun faces are added every Friday at noon. These cuties don't hang out long before they find their child, so if you see one that speaks to you snap it up quick!

This year we are overjoyed to partner with the Bamboletta family to offer all of our readers a chance to win their very own Bamboletta cuddle friend! Open to residents of Canada.
Good Luck!