When it comes to Christmas, it's pretty much a guarantee that you can find me consistently inside some sort of a book store for gift ideas. There's something to be said about choosing a gift that keeps on giving through a book, series, or matching friend to go alongside a fun story. When it comes to my nieces and nephews, books have always been my go-to, and we're sharing 5 of our favourite books of 2016 and some fun games and accessories from Raincoast Books!
A has a pretty substantial book collection, some might even say I have a problem (I deny that) – I grew up surrounded by books and can devour a good book in an evening without stopping. I know that by having great books around me growing up, they definitely helped to build my passion for reading into adulthood.
A definitely has her favourites- as evidenced by this furry little friend who has made his way into our home. Scaredy Squirrel – written by Melanie Watt – has always been her favourite stories. From a little OCD, slightly anxious little squirrel that overcomes his challenges in every book, all while making A laugh so hard her sides hurt – they are definitely high on my list as well!
Our favourite 2016 winter gift ideas;
The Wish Tree – by Kyo Maclear – have you ever wished with all your might that your wishes might come true? Charles wants to find the tree that is going to help him do just that. With his trusty friend Boggan, they embark on a journey that teaches them that wishes can come true – in the most unexpected ways. – Ages 3-5
Bunny Slopes – by Claudia Rueda – Time to tackle the bunny slope! This fun, interactive, story pits the reader against obstacle after obstacle, tilt to help Bunny ski down the slope, and turn to help bunny escape a cliff in his path – hole? No problem! This book was very reminiscent of the interactive "Press Here" series and had A laughing and mesmerized with every page turn! Ages 3-5
How to catch an elf – by Adam Wallace – with sneaky elves on a shelf a plenty during the holidays, this book is sure to quickly become a favourite! Is this the year you'll finally catch an elf? Start a fun new Christmas tradition with this hilarious children's book, created by the same team behind the New York Times best-seller How to catch a Leprechaun. Ages 4-8
You and Me and the Wishing Tree – by Nancy Tillman – Can you see a theme? We love books that encourage imagination, big dreams and big wishes and You and Me and the Wishing Tree does not disappoint. Whether we wish on stars or blow out candles on a cake, our dreams matter. With beautiful whimsical artwork and a story sure to pull even the tiniest readers in, Nancy Tillman captures the wonders of wishes with this book. Ages 4-8
The Storybook Knight – by Helen Docherty – Can a book be as mighty as a sword? Leo's mom want to see him become a brave knight – but all he wants to do is read! On his journeys he discovers the kingdom's most fearsome dragon and discovers… even Dragon's like to read! This sweet story truly makes A laugh out loud, and we love that little Leo follows his dreams, and never leaves his books behind. Ages 4-8
Those are just our favourite winter favourites so far, Raincoast Books carries an amazing array of books for all ages, and their selection is always growing!
Looking for something a bit more than books, or maybe even something to accompany a book or author you already love? We've got you covered there as well! With the fun Bunny Slopes and Scaredy Squirrel puppet being only a couple of the adorable little companions they offer, they also have some of the most fun board games and puzzles we have ever seen!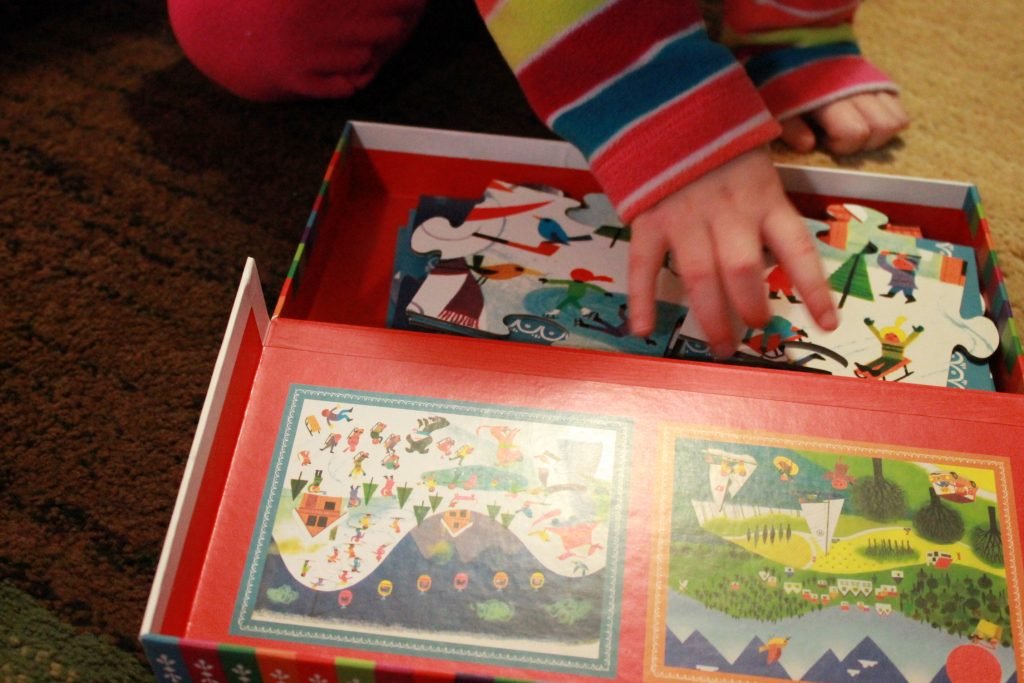 A is currently in love with her new Alain Gree Adventure Puzzle – this beautiful puzzle is double sided for twice the fun and features vintage art from a rollicking winter wonderland, while the other side reveals a bustling, sunny landscape where boats sail, a hot air balloon soars and the road trip is in full swing! These pieces are not only perfect for small hands, they easily fit together and the oversized scenes are fun to discover together.
Now, it wouldn't be a games night without a little bit of sillies and Cat Bingo – illustrated by Marcel George is a beautifully designed bingo game featuring 64 breeds of cat from around the world. Spot all different kinds of cats – from Tonkinese to Siamese, and from Bengals to Birmans, mark them off your bingo card and go for BINGO! I really thought this game was a fun twist on traditional bingo with a fun educational twist –  you can play this game as a letter hunt, a colour hunt or photo hunt and is perfect for the cat lover on your gift list!
Raincoast Books wants to help fill up your winter family collections and is generously giving one lucky fan any THREE of the books or games we have listed. Enter below!