Whether you're in it for the mini donuts, the free concerts, spectacular shows or dizzying rides, there's one thing I'm pretty sure we can all agree on: The Fair at the PNE is definitely a summer highlight! Every year, the behind-the-scenes people responsible for this 2 week event, strive to bring a balance of dependable favourites, world-class entertainment and fascinating exhibits. We were able to grab a sneak peek at what's new this year, and  believe me when I say 2016 will be no exception!
Last year at the PNE, we saw the magical Broadway show Peter Pan. This year, they are bringing back the magic, literally, with UNBELIEVABLE: A Magical Experience! With promises of comedy, breath-taking illusions, and of course, magic, this free nightly show is sure to amaze and astound. Headlining the show are Award Winning Master Illusionists Murray Hatfield and Teresa with acts from First Lady of Magic, Julia Chen, the weird and wacky Marty Putz and the U.K.'s Scott Pepper. With several magicians and several styles of magic, be prepared to be amazed…and to watch more than once!
See UNBELIEVABLE: A Magical Experience nightly at 7:30 pm at the Pacific Coliseum. Entrance is FREE with admission. VIP reserved seating available, includes a backstage magical experience and popcorn for the show, for $20/person or $60/four. Visit www.pne.ca for more information or to book your tickets.
Angry Birds had taken the world by storm since the original app was created in 2009. Since then multiple versions have been created, a cartoon series, toys, board games, clothing and most recently a major Hollywood animated film. What's next for the Angry Birds? An exhibition of course! And one that explores…science! Angry Birds™ Universe: Exhibition About The Art & Science Behind A Global Phenomenon is a fully interactive exhibit making its North American debut here in Vancouver. This is your chance to be the bird on the zip-line, launch the bird with slingshots, draw the bird in the animation studio and more. There are also several stations exploring the science of physics and simple machines and other attractions like a climbing wall and planetarium. I had a pretty incredible time inside the exhibit and seriously cannot wait to bring the kids through.
Angry Birds™ Universe: Exhibition About The Art & Science Behind A Global Phenomenon is open daily from 11 am-11 pm at the Rollerland Building. Admission prices are $5 for ages 14+; $3.50 for ages 6-13; Free for ages 5 and under.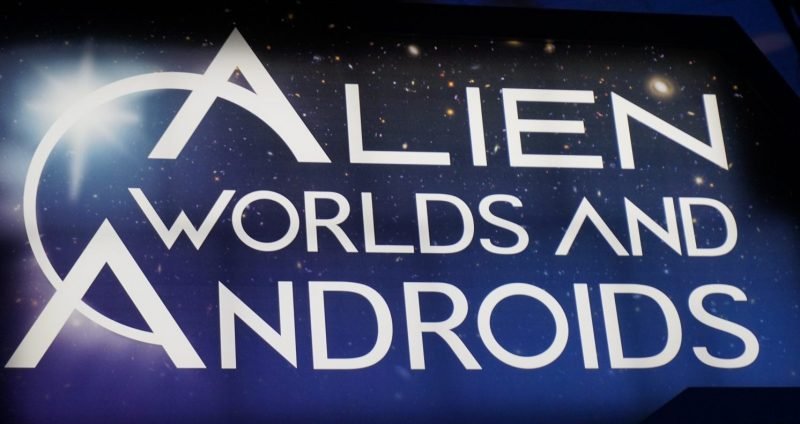 Have you ever wondered if we are alone in the universe? Do you have a love of science fiction? Interested in the latest exploration technology? The new Alien Worlds and Androids Exhibit might be for you. This all new exhibit lets you explore the cutting-edge technology in use right now at NASA and the Jet Propulsion Laboratory (JPL). You can also see life-size models of different aliens,  robots and androids used in various Sci-Fi movies. Learn how scientists study creatures from extreme environments, functions of robots in our daily lives, robotic suits and more!
Alien Worlds & Androids is free with admission to The Fair, and is open daily from 11 am-10 pm in the Garden Auditorium.
Science seems to be a bit of a running theme this year. The geek in me absolutely loves it so, I have to say that I absolutely adore the Future Home brought to you by Telus. Imagine coming up to your door with your arm full, and instead of struggling for keys, you are scanned by facial recognition technology and the door opens. You get inside and a digital screen has lists of reminders for the kid's activities of the day, missed packages or calls, kids can check in with working parents at the touch of the screen.
You put away your groceries and the fridge scans it and adds it to your inventory. On the fridge screen you can see what is on the menu plan for the evening or search for recipes using ingredients you have. Want to set a menu for the next day but are missing an ingredient? The fridge will add it to your shopping list and send it to your phone. Video conference calls, channel changing, art on your wall changing, all with a few taps on your phone.
If this sounds like a dream come true you're not alone. There's also a health center, a gym, herb garden and more, all connected with Telus PureFibre network. Okay, admittedly this is just a conceptual model, but there are a few things in the Telus Future Home that are available now like the  lifelike 4K ultra HD Optik TV on the 78" Samsung Curved UHD TV which makes you feel like you are right there in the action!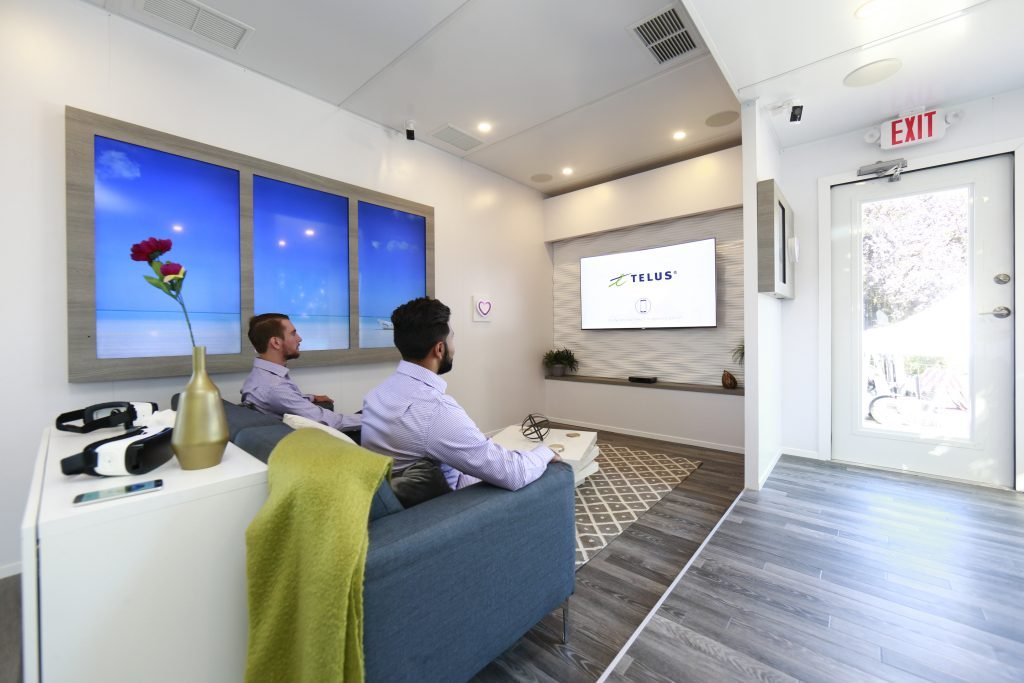 The Future Home will be located west of the Agrodome at the PNE with free tours running from 11 am-11 pm. All Future Home visitors will have the opportunity to enter a contest sponsored by TELUS, with the chance to win a prize pack, courtesy of Samsung, which includes a 55" Samsung UHD LED Smart TV (retail value$1,600), a Samsung Galaxy Tab S2 LTE 9.7 (retail value $600) and a Samsung Galaxy S7 edge (retail value $850) – no purchase is necessary.
For more information about TELUS Fibre and the Future Home, please visit telus.com/Vancouver or fibre.telus.com/futurehome.
Located across the way is the home of all homes. The much coveted PNE 82nd Annual Prize Home has been unveiled and it is stunning. A 2-level, 3200 sq. foot home with 3 bedrooms and 3 bathrooms (and a garage!) features contemporary design elements, environmentally sensitive materials and energy-efficient appliances. Featuring a patio stocked with a hot tub, BBQ and furnishings, a sauna, and equipped fitness room, this gorgeous house is fully furnished and ready to be relocated to its permanent home after the fair. Where will you live? On a lake view lot in the Naramata Benchlands! This PNE Prize Home Lottery grand prize is valued at over $1.4 million, and there are loads of other prizes to be won as well.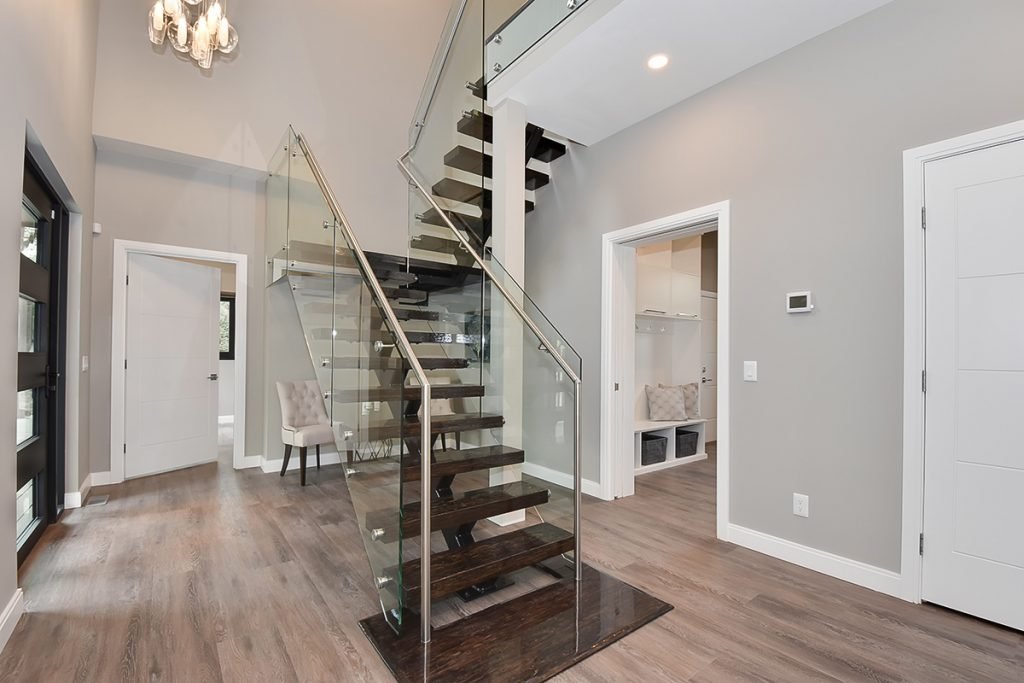 Please note that while the house does come fully furnished, that glorious wine rack will not be stocked.
PNE Prize Home tickets are available online at www.pneprizehome.ca or by phone at 604-252-3688, or toll free at 1-877-946-4663. There are also many ticket sellers around the PNE grounds. Win a house! Win a car!
Festival Park is a brand new themed entertainment zone tucked into the heart of The Fair at the PNE where you can relax with the fam, eat that yummy fair food you grabbed and enjoy some entertainment. With a truly Canadian summer theme in anticipation of Canada's big 150th, a whimsical parade, jazz, artists and more, Festival Park is a great spot to unwind.
With all this incredible newness, there are still our old favourites including the SuperDogs, Dinosaurs Alive!, Kidz Discovery Farm, Summer Night Concert Series and much, MUCH more!
The 2016 Fair at the PNE runs from August 20 until September 5 (closed Aug 22 & 29) from 11 am until late, weather permitting. For more information about the PNE, admission prices and super saver days, reserved seating and more, visit www.pne.ca.



With special thanks to Telus, we have a pair of tickets for The Fair at The PNE up for grabs! With kids under 13 receiving free admission, you can take the whole family! Want to win? Enter on the widget below. Contest is open to residents of Metro Vancouver/Fraser Valley who are able to attend The Fair. Contest closes August 25th, due to time sensitive tickets winner will have 24 hours to claim their prize, so please use an email you check often. Good luck!