I have a seriously crazy life – and I know I am not the only one out there who does. I juggle a full time career, full time (and sometimes more it seems like!) blog life and life with a 5 year old in tow. Combining this with house work, taking time for just me and everything in between, I am always on the hunt for ways to streamline and make my life just a bit more efficient. Suffice to say, convenience food sometimes is a staple in our home; while I do my best to try to choose the best options sometimes you are really only left with whats available, I was so excited to learn that a new product has hit the market that meets ALL the criteria that I've been looking for in a fast, easy weeknight meal addition.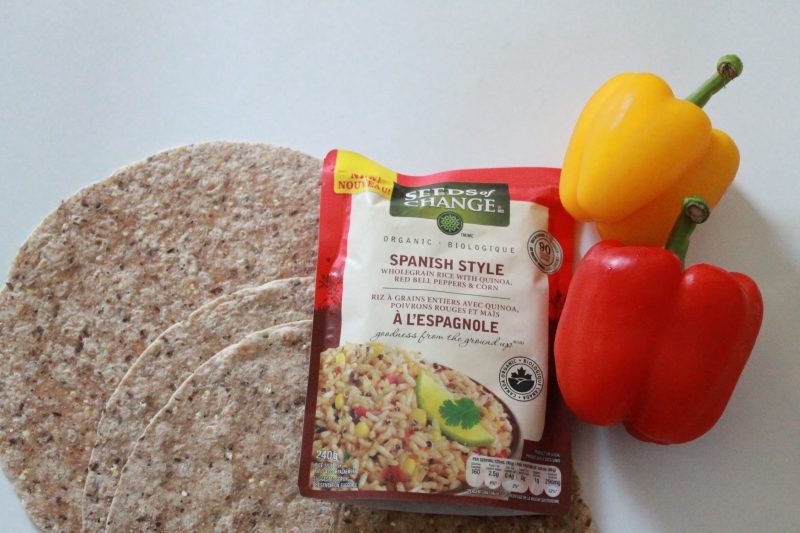 When we were first introduced to Seeds of Change I was intrigued, this product boasted the goodness of certified organic rice and ancient grains, and the ease of only taking 90 seconds in the microwave or a couple of minutes on the stovetop. Could it really be that easy? Well, we decided to test it out! We created a delicious weeknight fajitas recipe that my entire family devoured, all in under 15 minutes – I'd call  that  a super win. This recipe is easy enough to prep the night before and have ready to go in the fridge, and makes for a super quick, filling dinner that will have the family asking for seconds!
What you'll need;
2 – Boneless skinless chicken breasts cut into 1″ strips
2 – Bell peppers of any colour, sliced thinly
1 – Onion, any colour is fine, also sliced thinly
1 – Package of Seeds of Change Organic Spanish Style Rice
1 – Package of your favourite tortillas, we used an ancient grain one that we love
2 – Tablespoons of your favourite fajita seasoning
1 – Tablespoon of soya sauce
1 – Sour cream to  taste
Instructions;
1 – In a medium/high heat preheated large skillet, toss in your chicken strips and sprinkle fajita seasoning over them, cook until browned (about 3-4 minutes)
2 – Add in your peppers, onions and soya sauce, cover, reduce to medium heat and cook an additional 7 minutes, stirring every so often
3 – In the last 2 minutes of cooking pop your Seeds of Change rice package into the microwave for approximately 90 seconds (microwave times vary)
4 – Lay out your tortillas, spread with a little bit of sour cream and top with rice
5 – Once your chicken mixture is all ready, scoop out enough to make a decent size fajita, roll and nom.
feel free to add any of your own toppings too! Try it with fresh cilantro, sliced avocado or greek yogurt!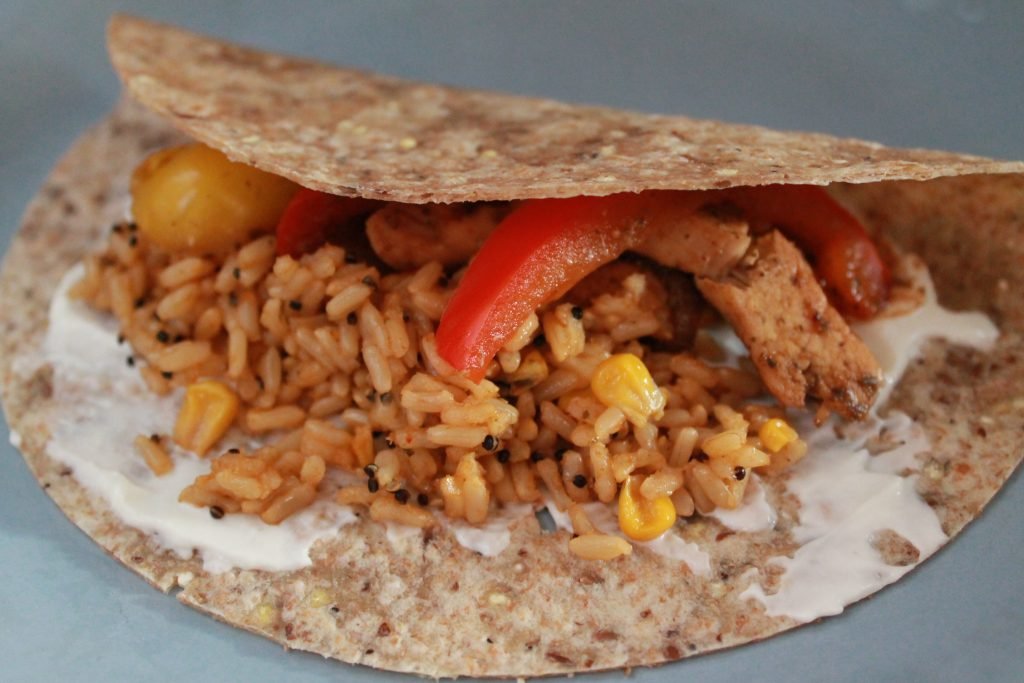 I seriously couldn't believe how easy this was to pull together, normally I would have to make rice (15-20 minutes on the stove top), fry in some corn and peppers and seriously.. I do not have time for this during the week! Seeds of Change Spanish Style rice has 5g of protein, 10% of your daily iron and so much more goodness all rolled into a single serving – not to mention, it's delicious.
Fact is, Canadians are busy and would love the chance to spend more time with their families and Seeds of Change not only recognizes this, they want to give you that time back! They are the ONLY Certified organic, ready-to-heat rice and grain brand available in Canada! If you already use grains regularly, it's super easy to replace them with this handy time saver, and still feel  great knowing you've made a healthy choice for your family.
Seeds of Change aren't just available in Spanish Style either, there's an additional 5 delicious flavours that can amp up your weekend kitchen game, and have your family wondering how you find time to pull it all off! I am particularly fond of the fact they are vegetarian appropriate as well, as someone who very rarely eats meat I am always on the hunt for things that I can cook for the family and still enjoy with some beans and veggies tossed in for myself.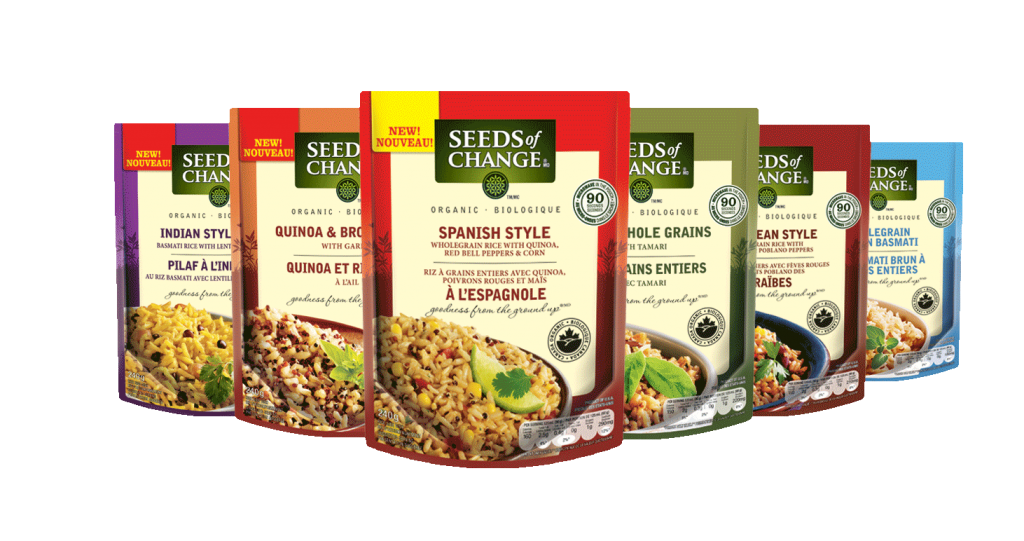 Needs another reason to love them? Seeds of Change recently launched its Seeds of Change Grant Program in Canada – this amazing program contributes 1% of their sales to community gardens across the country. Working with local partner Evergreen to help identify 12 community gardens from coast to coast that need money to get their gardens started and flourishing all season long, Seeds of Change is helping Canadians get access to locally grown, organic foods from coast to coast! We love our local community gardens and encourage families to have their kids help plant food they can pick themselves, showing your children where their food comes from is a gift for future generations!
Seeds of Change has a mission, one that is near and dear to so many of our hearts – all they want to do is help Canadians get access to local, organic food. Whether this is through offering a trustworthy, organic product to time-strapped Canadians and their families who want to eat consciously with ease or by helping to build and sustain community gardens that encourage long term education and crops to feed neighborhoods – it's a simple mission, and as Canadians, we can get behind it!
Connect with Seeds of Change
Looking for some information on how YOU can grow your own organic produce, and some delicious recipes you can try out at home? Make sure to head over to The Seeds of Change® Canada Facebook to check it all out!
{Disclosure: This post is sponsored by SheSpeaks & SeedsofChangeCA, all opinions and delicious recipe goodness is our own.. we hope you'll enjoy it as much as we did!}