I swear to this day that Alivia was born singing. From a wee baby to the crazy 3 year old she is now she is always dancing, always tapping out a beat and singing to every song she hears. I pretty much knew right away that music was in her blood and wanted to encourage it as her awesome mom has a shower only voice…
In 2012, I was lucky enough to win a semester of Music Together from Staccato Music Studios in Burnaby, British Columbia. It included a 10 week course with 1 class per week, a music booklet with information for parents and 2 take home CD's. From the start, Alivia was hooked.
Music Together® is a research-based music and movement program for infants, toddlers, and preschoolers and the adults who love them! Once a week we meet for 45-minutes to explore songs, chants, dance, and instrument play. All the activities are specially designed to meet the learning needs of the young child.  We nurture the development of their rhythmic and tonal skills, and most importantly their love of making music!
As of now, we are on our 5th semester of Music Together at the North Burnaby Staccato music studio and I am so sad that once Alivia hits 4, we won't be able to go together anymore! I am excited for the next chapter though and fully trust Staccato Studios to nurture the love for music that Alivia has.
So what can you expect from a Music Together class? A lot of laughing, singing and being a little bit silly. The music teachers are great at interacting with the kids and getting them involved in dancing, clapping, tickling, the works! For certain songs they incorporate instruments, sticks, egg shakers, and one of my favorites; the drums!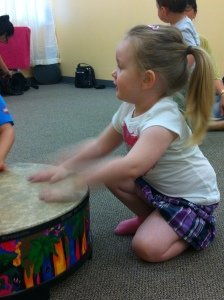 Who can attend a music together class with the child? A caregiver, mom, dad, grandma or grandpa, even the nanny. Anyone who is willing to get involved in the class and be a little bit silly! Don't be afraid if you aren't the musical one in the family, I definitely am not and still enjoy going to these classes every week. 


There's no time to sit and be quiet at these classes, the kids are up jumping, laughing and singing. For the first few classes personally I was a bit worried if Alivia was "getting" anything out of the classes… then the first day she started singing along to one of the CD's in our car I knew I had made the right choice. It is completely normal for kids to seem disinterested, hard to focus or just quiet in the classes… that doesn't mean they aren't listening. They hear the tones, the rhythms and the songs.. and they ARE getting it, just in their own way. So don't stress when they run off to play in the corner at class, it's totally okay!
Every.single.day I listen to our Music Together CD's on our commute into work which is roughly 2 hours each day. I am constantly asked for "letter C!!!" or "my music mommy!" and I am happy to oblige knowing that she remembers the songs! I really cherish the time we have to sing together in the car and look forward to the classes each week with her.
On the frugal side of things; there isn't much to be frugal about here! At between $15-17 a class, it's well worth the investment. The classes encourage creativity and give them something to look forward to each week! Take full advantage of the take-home material and spend time going over it when your child, you'll be amazed how quickly they pick up the songs with your participation!
Parent participation is the key to success! You are your child's most important teacher. The parent model is critical to a young child's learning as you are their greatest influence and in turn their greatest teacher at this age.  In each class, the instructor will provide you with valuable parent education to learn more about your child's musical development and how you can continue to nurture their musical growth at home.
One lucky reader is going to WIN a semester of Music Together (for children 4 & under – $157 value) OR 6- 30 minute private piano lessons (Children 5 & up – $180 value) with Staccato Music Studios!
What do you have to do to enter? Just fill out the entry form below! Don't forget to take advantage of the special entries for sharing a favorite memory or song!
VISIT: Staccato Music Studios
LEARN MORE: Music Together
(Sponsored Giveaway, all opinions within the review are my own)