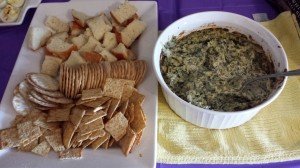 This is the best spinach and artichoke dip you will ever eat!
Throughout the year, we are invited to many potluck bbqs and birthday parties. I have always struggled to find something a little different to bring that is somewhat healthy and great tasting even the kids would enjoy. So, as we were invited to Alivia's birthday party this year, I decided I wanted to bring something different than my usual pasta salad. I decided I would bring spinach dip and went in search of a recipe for what I had in mind. I wasn't able to find a hot or cold spinach dip that I was super impressed with. So, I decided to put together the best of both and create my own hot spinach and artichoke dip. This is what I came up with and it was a huge success with the adults and kids at the party.
Hot Spinach and Artichoke Dip Recipe
Ingredients:
1 package frozen, chopped spinach, thawed and drained
1 package dry Knorr Cream of Leek Soup mix
2 packages (or 1 400g tub) of cream cheese, softened
1/2 cup Kraft Parmesan, Romano, Asiago cheese blend
1 cup mozzarella, shredded
1/2 cup mayonnaise
1/2 cup sour cream
1 can artichoke hearts, drained and finely chopped
1 can water chestnuts, drained and finely chopped
2-4 tsp cayenne pepper
Directions:
Mix together cream cheese, mayonnaise and sour cream until smooth.  Add in spinach, soup mix, cheese blend, mozzarella, artichoke hearts and water chestnuts.  Mix until everything is well blended.  Add cayenne pepper 1 teaspoon at a time and mix well.   Spread dip mixture evenly in an oven safe bowl or dish.  Bake at 350 degrees F until mixture is hot in the center.  Serve with fresh veggies, bread or crackers.
Tips:
DO NOT substitute Miracle Whip for mayonnaise, as much as you may be tempted, it won't have the same result
If you are impatient or forgot to take the cream cheese out to soften, you can always pop it in the microwave for 10 second intervals until you can stir it easily (remember to remove the wrapping first and put it in a bowl)
Squeeze out the excess water from the spinach using your hands and then break it into small pieces to make it easier to add evenly to the cream cheese mixture.
Cayenne pepper can vary in potency depending on brand and age of your spice. Taste the mixture between each teaspoon of cayenne pepper to check if there is enough "kick" to your liking.  It should add flavour and not overpower the other flavours in the dip.
Baking times will vary depending on the shape and depth of your baking dish.  If you are using a deep dish, put tinfoil on top of the dish to prevent it from burning around the edges.
This is one of the easiest, tastiest and most requested recipes I have created so far.  I hope you enjoy this hot spinach and artichoke dip as much as I do.
What is your go to potluck dish?