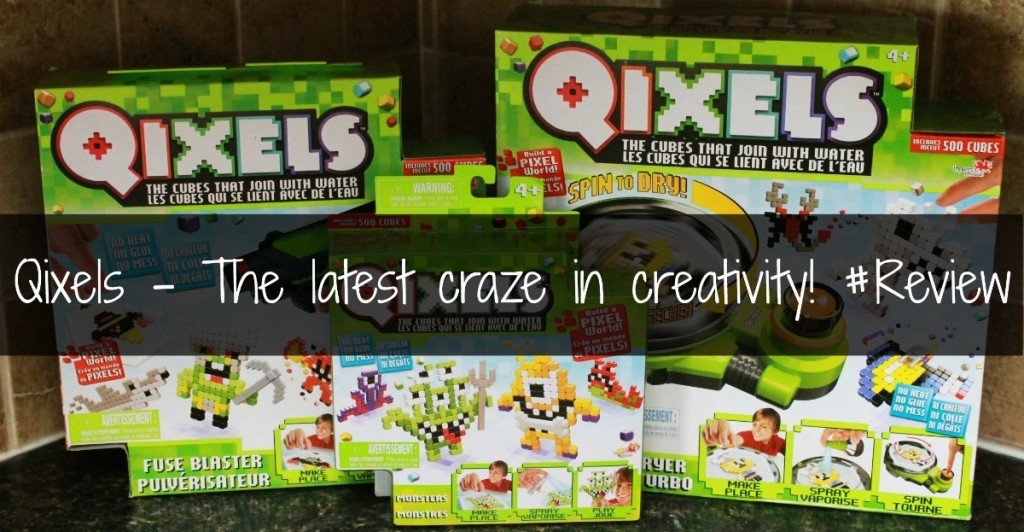 Fall is undeniably here. The leaves have all but fallen to the ground, us Canadians have all had our fill of turkey at Thanksgiving, and pumpkin spice everything (literally) is out in full force for our consumption. But here on the West Coast, that also means rain. Lots, and lots of rainy days. Which, means I need to occasionally come up with something unique to bust the boredom in the house.
Qixels from Imports Dragon fit the bill nicely and captured the interest of both my 10 year old girl and my 4 year old boy. With the ability to create characters from the templates or design their own creation one pixel at a time, the kids spent quite a bit of time perfecting their pieces. And, if you want to keep your creation, just add water! A few sprays of good 'ol H2O will bond these plastic Qixel pixels together so they can be played with or displayed after they dry.




I'll admit that the thought of 100s of tiny cubes + my son was a little scary. While the idea of a scattered mess lingered at the back of my mind, my biggest concern was that they might bump the tray they are working on (or each other's) and get frustrated with the process (or each other)  if their design fell apart. I was really pleased that the small cubes fit rather snugly on the peg board and we had zero mishaps.
We decided to open both the Qixels Fuse Blaster kit and the Qixels Turbo Dryer kit at the same time, giving us both an awesome spray gun (the other kit contains a small spray bottle) and the dryer to make sure all the water gets distributed evenly and excess drained away. The kits also each contained 500 water-activated pixels, 2x 2-sided templates, display stands, accessories for your creations, and a bead tray to help keep you(or the kids) organized.
After selecting their projects, we set to work carefully matching up beads to their pegs in order to create a viking and a spaceship. As I mentioned, the beads fit snugly, making it less frustrating for my son, and so he was able to concentrate on colour matching and the fine motor skills necessary to complete his creation.

Once all your beads are in position, press them down firmly to make sure they are all set evenly.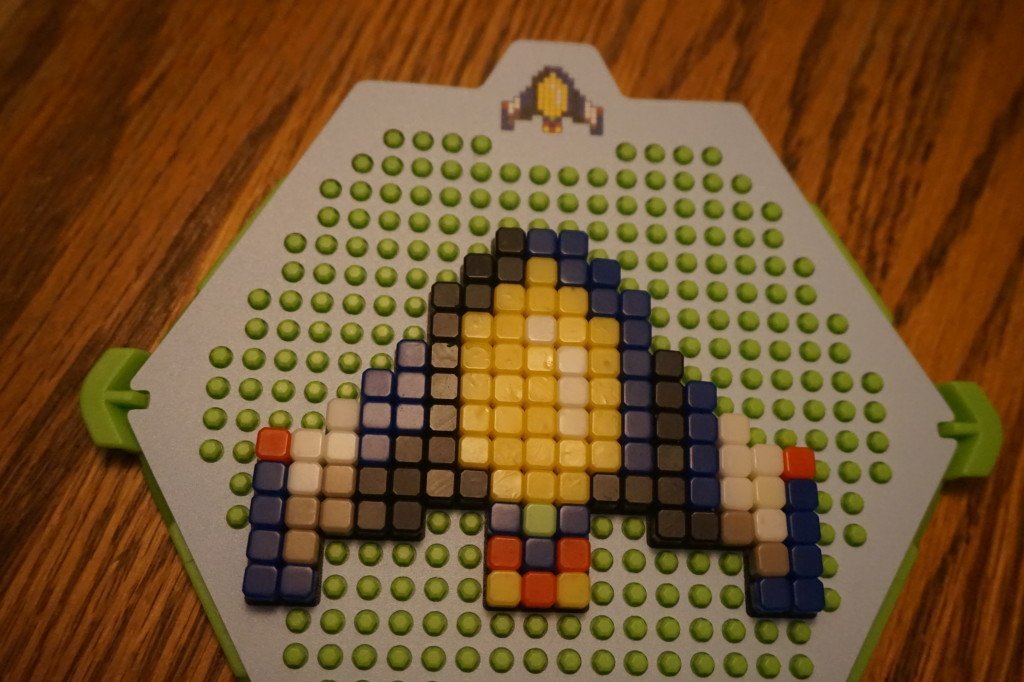 Then fill up your spray bottle or 'Fuse Blaster' and get ready to finalize your pixelated masterpiece. Since we also had the Turbo Dryer, finished pieces were loaded in and given the water treatment.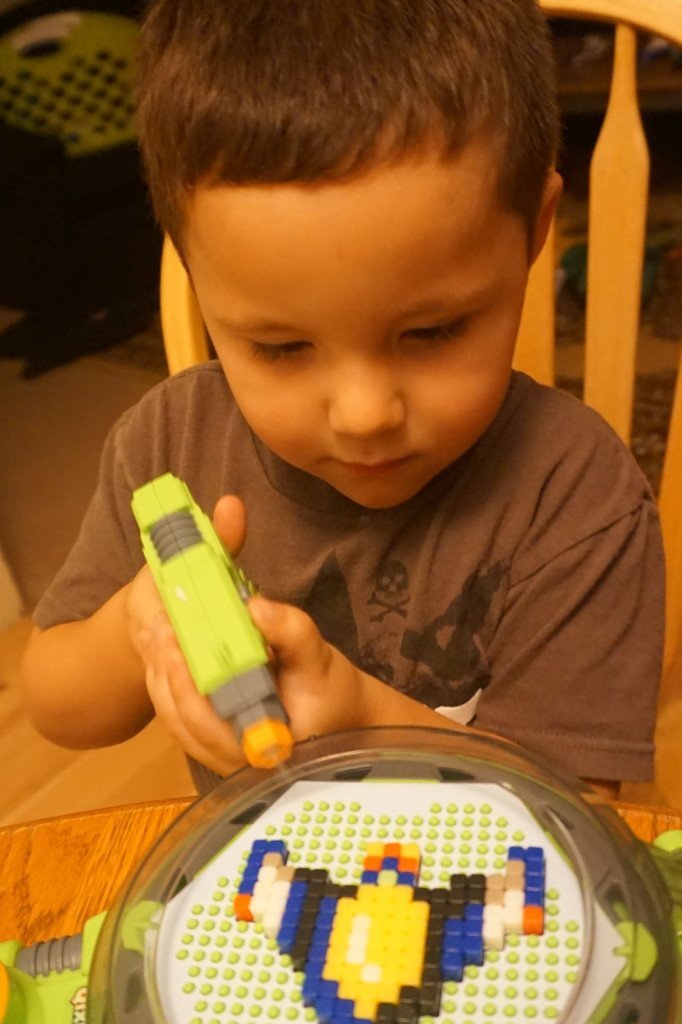 When water is lightly pooling on every bead, it is time to give it a spin to distribute the water evenly throughout all the tiny cracks and drain the excess. If you don't have a Turbo Dryer, don't fret. Just give your wet tray a bit of a jiggle and let dry. Though it may take a little bit longer to dry, the result is the same.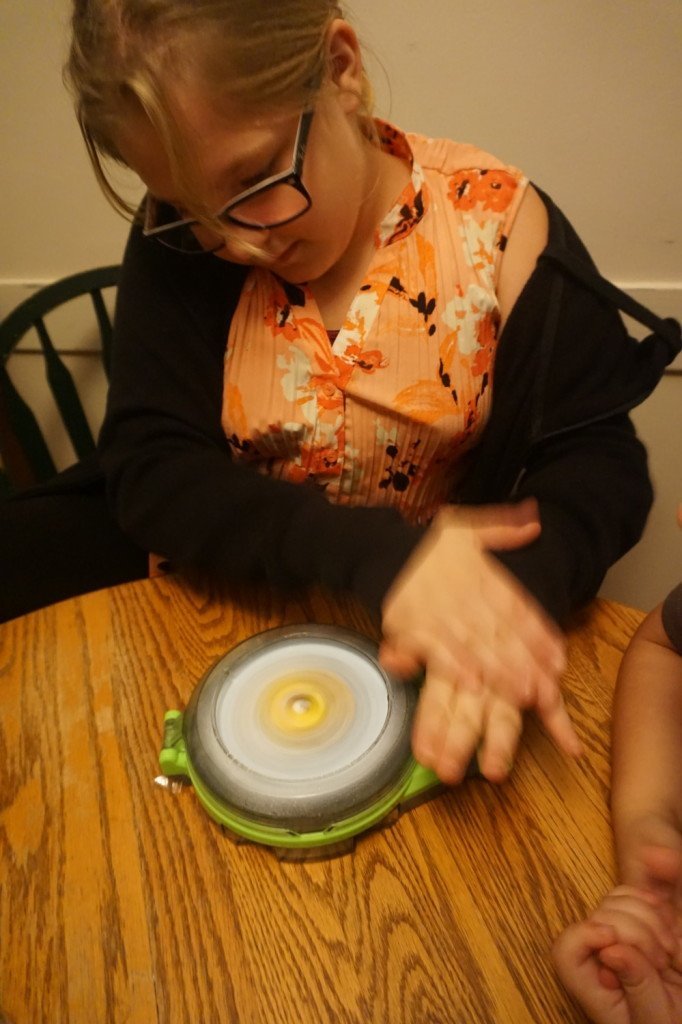 After 20 minutes or so, your creations should be ready to remove from the template tray and display or play!
We had a really great time with Qixels and the kids are waiting for another stormy weekend so we can make more characters. With expansion sets available that have even more pattern ideas and Qixel beads, the only limit to the fun is your imagination, and sets are readily available at ToysRus.ca
What is the first thing you'd make? I'm thinking some retro Mario next…
{Disclosure: We were provided with samples in exchange for our review, all opinions are our own and not influenced by a sponsor}