With nieces and nephews to buy for as well as A, I am always on the hunt for gift items that can be given to everyone – mostly to help eliminate multiple trips to the mall! One of our my favourite gifts to receive as a kid was always oldschool Playmobil and I was so pleasantly surprised to discover as I got older that not only is Playmobil still a leader in the toy industry, they also have some fun new lines that are sure to help you check everyone off your Christmas list!
For the guy in your life – big or small – Playmobil has partnered with NHL to bring some of the coolest mini figures to your stocking! Playmobil showcases all seven Canadian NHL teams in their new rivalry series and of course, I absolutely had to get a Canucks player and goalie. Seeing as our Canucks, as much as we love them, have never actually won a Stanley Cup, it seemed sort of hilarious to pair it with the Playmobil NHL Stanley Cup presentation set – unveil the most prestigious hockey award with the PLAYMOBIL NHL® Stanley Cup Presentation. Hand the Cup to the winning team – or the team that you keep praying every.single.year might actually get one this time!
I know both A and her dad are going to get a real kick out of playing with these on Christmas morning!
For me, the Playmobil animals have always been my favourite. A great bit of care goes into creating fun, realistic looking accessories for their playsets and the newest ones have been no different. We were sent two of their Groomer stocking stuffer sets and A loved that they come with a little chest to store all their accessories in and a pony with a groomer. The perfect size to tuck into a stocking, attach to a gift or even gift alone! They are very reasonably priced as well, so much so that you can easily pick up the whole set without breaking the bank.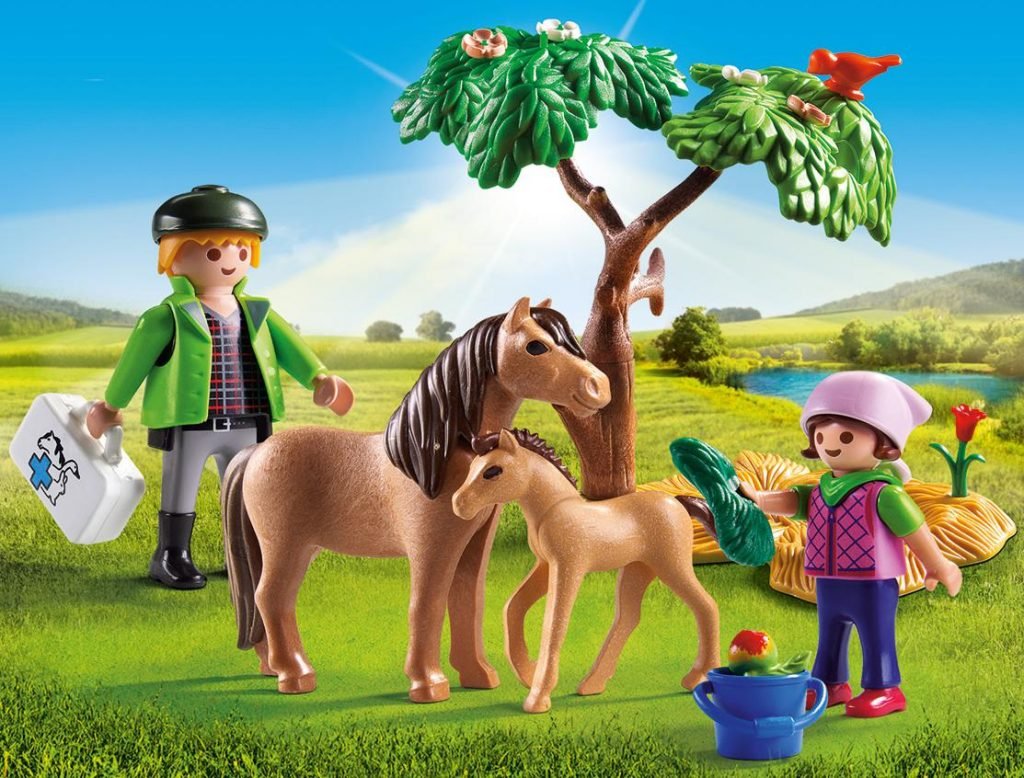 Looking for a more complete set? Something to introduce Playmobil to someone special on your Christmas list? With two fun new sets out just in time for the holidays, they are sure to delight any animal lover! Choose from the Playmobil Vet with pony & foal – examine the young foal, and if he's been good you can treat him to some apples! Or, enjoy the Country Horseback Ride, make a half at the river so the ponies and horse can rest and drink. Each set includes accessories to truly bring each set to life and the figures are very reminiscent of vintage Playmobil quality and design. Definitely two of my favourite sets for this year.
Whether you have a big, or a little kid on your Christmas list this year, Playmobil never goes out of style. We are super excited to be wrapping up some fun sets for A to enjoy on Christmas morning! You can find Playmobil at most major retailers and specialty toy shops and they range in price from about $14.00 – $50.00 depending on the sets you choose. While we have showcased the NHL and Country lines, Playmobil has a huge selection of sets to please everyone on your list – from Wild Life, Princess, Dollhouse, Sports and Action and so much more!
Connect with Playmobil