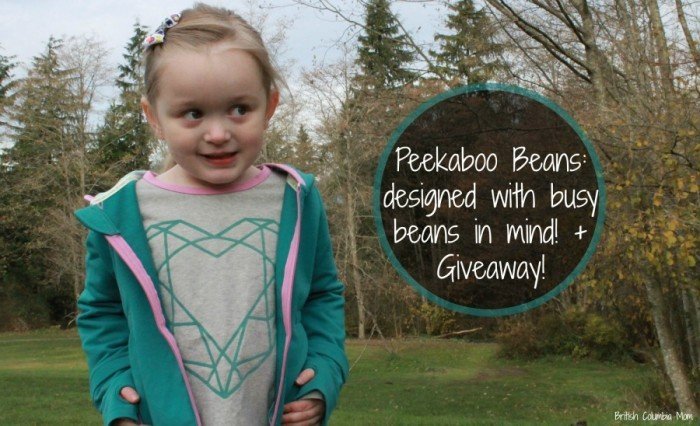 If you have kids, then you inevitably know the battle of children's clothes shopping. At best, most times we guess on sizing after refusing to drag kids to the mall, or we order online and hope that what we hope is going to come, is what actually arrives! More often then not, I have ordered clothes for Alivia online and been disappointed with the delivery, from clothes that are box-y and so thin they are nearly see-through, to clothes that simply aren't age appropriate for a preschooler or they end up wearing out too quickly and pilling to the point of looking worn after the first wash.
I've always been a fan of shopping from home, but how do you shop from home for children's clothes and know that the quality is there? I really didn't think that you could! That was until, I was introduced to Peekaboo Beans at a local event. This was the first time I'd heard about this magic! I can shop from home… have a party… earn free children's clothes, and wait! I can actually SEE the clothes before I place that order to be delivered to my house? I was sold. It's an easy as finding your local Stylist, planning a Soiree, inviting over some friends and having a party. An excuse to have some snacks, wine, coffee and kick back and do a bit of shopping all from the comfort of home!
Peekaboo Beans is a grassroots brand. It began with one Mom and has grown to include hundreds – all with a shared goal. We want better for our children. That's why their clothes are safe from toxic dyes; free from snaps, buttons and fuss. They're made to last through climbing, twisting, jumping, and inexplicably walking on all fours and barking.
After having a peek through the Peekaboo Beans shop, I decided on a sporty and multi-function outfit for Alivia to test out, she is hands down a jeans and tshirt kind of kid and loves playing in the dirt and climbing over everything so I wanted to make sure she had an outfit she could really move in, and one that she would be comfortable wearing! I chose the Always Forever Leggings, which include an adorable bow detail on the back of each ankle area, a Crystalicious Tee with mint and pink details and a ruffled bottom and finally we finished off our outfit with an I Heart Play Hoodie! I loved the small details on each piece, right down to the thumb holes in the I Heart Play Hoodie – one of Alivia's favourite features! With a streamlined A-line design, the clothes fit Alivia snugly but with plenty of room to grow, a total win across the board!
If you're not up for hosting a party, or even attending one – you can rest assured that the clothes you buy online at Peekaboo Beans are pre-shrunk, meaning no nasty surprises after the first wash. There is nothing more frustrating than a shirt that shrinks 2 inches, or pants that are suddenly shorts! Combine this with a tag free design and the highest quality materials, these clothes are truly built to OUTlast your kids!
Each season brings a new line at Peekaboo Beans, and everything just "works" with every piece! I am not a stylist by any means so I am always appreciative of clothing that I don't need to put a lot of effort at 6am to try to match together – Peekaboo Beans makes it easy on me!
Connect with Peekaboo Beans
Website | Facebook | Twitter | Shop | #PlayingwithPB
Peekaboo Beans has generously given us a $50 gift certificate to share with one lucky reader! Enter below. 




a Rafflecopter giveaway

Good Luck!