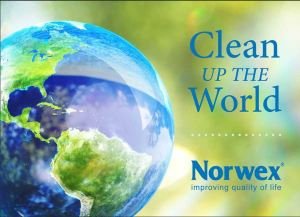 I am a cleaner. I really like my house to smell CLEAN. Like bleach clean. Anyone else? Growing up, it was sort of just what my house always smelled like. My mom really liked that pine and bleach scent let me tell you. We learn from our parents, everything right down to our cleaning and household chore habits and that was one I picked up pretty early on from my mom.
Fast forward to a few years ago when I had Alivia, I quickly realized I was spraying products into the air that were misting down.. directly into the air my child was breathing, and directly on the floor she was crawling all over. My kid really liked putting her hands in her mouth, and her toys.. and at one point the cat's tail, you get the idea. Everything I was using to clean was exposing my child to chemicals that specifically say on the bottle to keep away from children!
I searched for an alternative and was introduced to Norwex, I lucked out and was able to get a great sample pack to get myself started & I feel pretty bad for my original enviro cloth, it's now stained, worn and has seen better days; but it still works just as well as the first day I got it, says something for the product doesn't it?
So… what makes a Norwex cloth so special? They are one of the many chemical-FREE antibacterial cleaning products offered by Norwex. Unlike cotton cloths that will spread everything around on surfaces (yuck), Norwex Microfiber when used wet lifts particles up into the cloth and away from the surface. Once inside the cloth, the micro silver in the cloth goes to work and inhibits the growth of mold, mildew and bacterial odor. It picks up everything, traps it inside the cloth and goes to work! When used dry, Norwex cloths produce an electrostatic charge that attracts and holds dust particles instead of pushing them around everywhere (sound familiar? pretty much my life when dusting!). They create a cleaner surface without leaving behind residue to attract more dust!
It's as easy as wetting your cloth, wiping your surface, and rinsing the cloth. It is THAT easy. Most cleaners require you to leave them to sit for up to 10 minutes to disinfect. I don't know about you but 10 minutes feels like an hour when I am trying to clean my house in a rush, I need something quick, effective and safe, and Norwex fit this perfectly!
Would you like to try Norwex for yourself? Our wonderful sponsor Garcie Wong, Independent Sales Consultant (And Senior Executive Sales Leader!) has a prize pack to giveaway to get you started on loving Norwex! She is one of the wonderful ladies that got me started with their products!
A bit about Garcie: I am a wife, mother, Norwex Leader, Lawyer and hoping to make a positive impact and improve the world.  I love Norwex products and have been using and marketing them for over 6 years – the products work and have stood the test of time.  I have lost too many friends to cancer and believe that prevention is the key.  Norwex products ensure that less is indeed more and we can reduce chemicals in homes and reduce waste in our environment.
Want to win a Basic Pack, Ultra Power Plus Laundry + a Body Pack, worth $80!! Enter below!