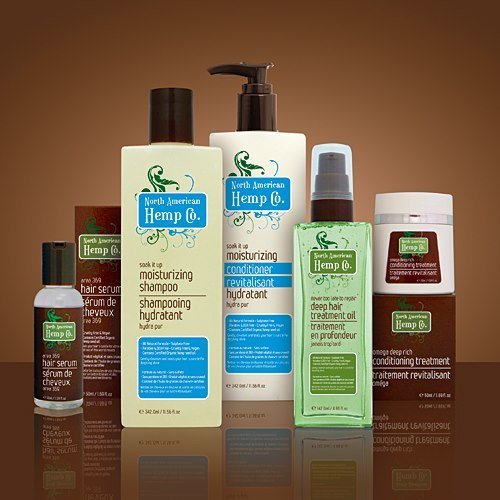 I am very envious of my daughter's hair. The range of blond tones and highlights that come natural to her and the shine and body of youthful healthy hair are something I definitely lack. But what I envy most, is the sheer amount and thickness of her hair. My own hair is very fine, and there isn't a lot of it. When I wear a pony tail, it's about as thick as my thumb. Her pony tails and braids have a wonderful thickness. But having thick, abundant, glorious hair comes with a small price. It can be hard to manage. There's so much more hair to knot and tangle making it difficult to brush through. We've tried leave in conditioners, she wears her hair at shoulder length, but it still becomes a hassle to tame at times; until now. North American Hemp Co. and their hair care line has saved us a lot of time in the mornings, and now that school is in, I can use all the spare minutes I can get.
Since being given the Omega Deep Rich Conditioning Treatment, and the Area 369 Hair Serum made by North American Hemp Co., I have not only saved time brushing out hair in the morning and conditioning hair in the shower, but it is so much more manageable contributing to many more 'good hair days', and the added shine boost lasts and lasts. This product line is made with Certified Organic hemp seed oil which is rich in amino acids, Omega fats, and anti-oxidant vitamins, making them ultra nutritious for hair and skin.
The Omega Deep Rich Conditioning Treatment is very concentrated, you aren't paying for water filler, and a little goes a long way. We have gone from using a palm full of name brand conditioners on her hair to using about a thumb nail sized amount of North American Hemp Co. conditioner, and she can brush it straight through in the shower with a wide tooth comb, something that was nearly impossible before.
The Area 369 Hair Serum is a great finishing product for added shine and manageability. A little goes a long way here as well. While hair is still damp, emulsify the hair serum well in your hands first before applying evenly. To really maximize that shine and help fight the frizz, use a blow dryer for a straight look, or scrunch with a diffuser for wavy or curly locks.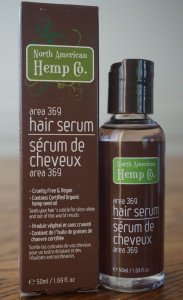 North American Hemp Co. is a total win in our house, and not just for the time saving and tear saving, or the miracle hemp oil (seriously that stuff is so good!), but they are a company committed to health, eliminating petroleum-based products, and the environment. It also goes without saying that they are a cruelty free and vegan company, but it's worth mentioning that these fab beauty products are made right here in Canada.
To find a retailer or online site for purchase, more facts on hemp, and other products available from North American Hemp Co. visit www.NorthAmericanHempCo.com
{Disclosure: We received samples to facilitate this review, all opinions are our own and we would never share anything less then fabulous with our readers!}