If you're from British Columbia, #bcstorm is probably still quite fresh in your mind. Drive down any street and you'll still see random broken branches, uprooted trees and shards of glass left over from windshields long since shattered. In just an hour hundreds of thousands of residents lost power and hunkered down to avoid the storm. Unfortunately even though the wind had passed, the devastation remained and many were without power for upwards of 72 hours. Those on well systems had no running water, those dependent on elevators were stranded. Even during just a windstorm, our cities were crippled.
It brought my mind right back to warnings that have been long circulating about the "big one" on the West coast – experts speculate that the big earthquake will hit and in not so nice terms – level Vancouver and the tri-cities. Buildings will sway, fall and many essential services including emergency response will be overloaded or even unavailable. As a mom – this absolutely terrifies me. I like to think that if I only had to care for myself that I could manage the suggested 72 hours just fine, I have a stocked enough pantry and a case of water always on hand but now, with a family to think about it scares me just that much more.
"Anyone that's grown up in BC has heard about the need for an earthquake kit, but it's just so hard and expensive to piece together one on your own.  People always laugh when I tell them that as I was developing this company I still didn't have an earthquake kit in my home.  It wasn't until I sourced out my suppliers and got the product in for sale that I was finally able to put a kit in my home, office and car." – Karl Lundgren, Owner EarthquakeKit.Ca
Less than 1/3 of homes in the lower mainland have an emergency kit, I'm always hesitant to refer to our kits as "Earthquake Kits" because they are so much more then that, these are emergency preparedness kits – earthquake, flood, wind storm – you name it, this kit is the perfect way to get yourself prepared without needing to stress on what to include.
I have been personally humming and hawwing over getting a kit for 2 YEARS. Right!? 2 years. Every time something would happen I would tell myself that we needed one, I'd research places to buy it online, the prices would scare the crap out of me, I'd promise myself I'd look at it again in a week or so and always forget. It's only when we NEED a kit that it is too late. I quickly learned that we needed to make this a priority. At $175 for a deluxe 4 person kit from Earthquakekit.ca that is good for 5 years that works out to be $8.75 a YEAR per person in your family. It's a cost upfront – but when it's broken down it's a much more affordable way to create your kit – without having to worry.
In the event of an emergency of any sort, is recommended that you have enough supplies on hand to care for your families needs for 72 hours. This includes food, water, first aid supplies, and much more. Many kits on the market are full of STUFF, but are they full of what you need? Karl shared with me that they have sourced out their kits to include necessities, items that you may not have even thought that you needed – I would have never thought personally to include duct tape, but I imagine it will be invaluable!
What was included in our 4 person deluxe kit: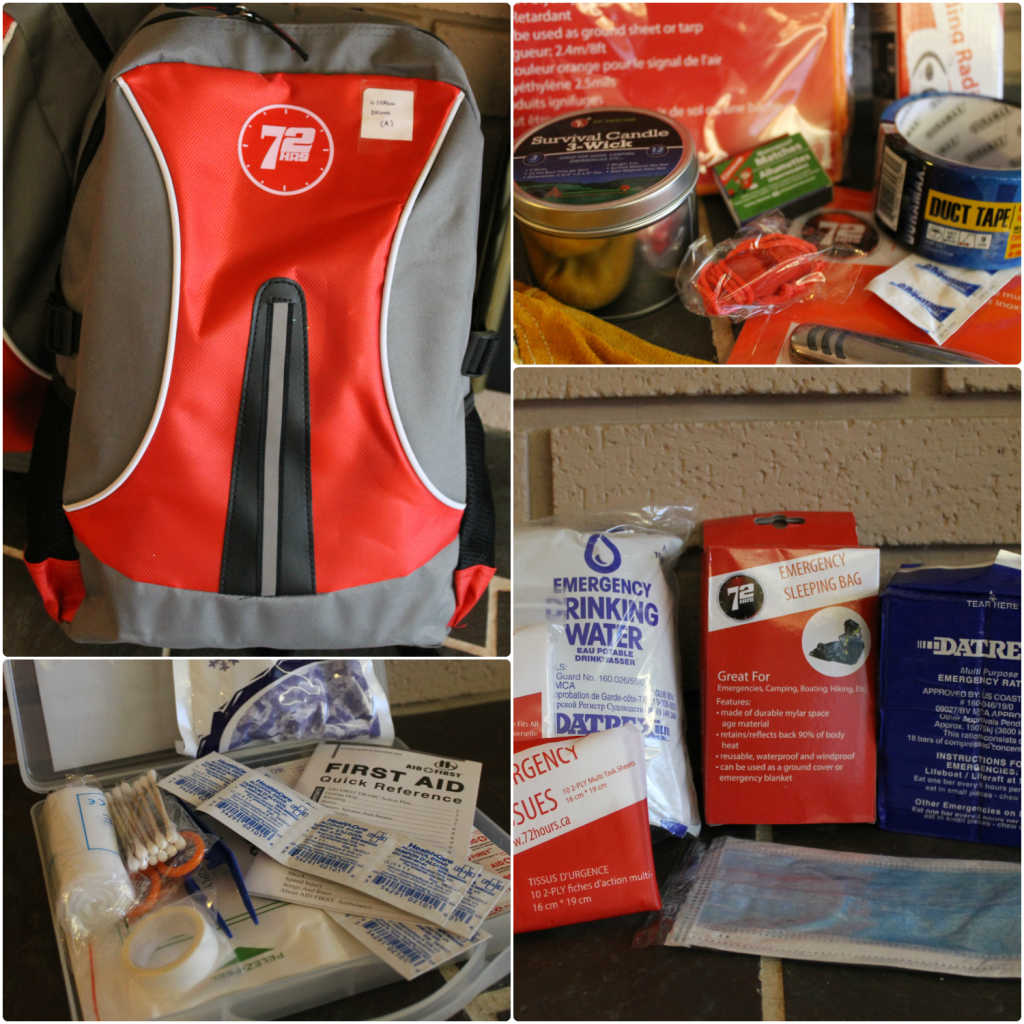 (4) Datrex 3600 Calorie Emergency Food Rations:
(48) Datrex 125ml Water Rations:
(10) Aquatabs Water Purification Tablets:
(4) Emergency Sleeping Bags
(4) Hooded Rain Ponchos:
(2) Tube Tents
(1) Roll Duct Tape
(1) Hand-Crank Powered Light, AM/FM Radio and USB Device Charger
(1) 1 LED Flashlight with 100 Hours Built In (Recharged by Hand Cranks):
(3) Three Wick 36HR Emergency Candles
(40) Waterproof Matches
108 Pcs First Aid Kit
[36] 3/4" X 3" Band-Aids, [30] 3/8" x 1 1/2", [2] 4" x 4" Gauze Pads, [2] 3" x 3" Gauze Pads, [2] 2" x 2" Gauze Pads, [1] 2" Rolled Gauze, [15] Alcohol Pads, [10] Cotton Swabs, [1] Adhesive Tape Roll, [1] Tweezer, [1] First Aid Guide, [1] 5" x 6" Cold Pack, [1] Scissors, [4] Tongue Depressor, [1] Plastic Carry Case (7" x 5 1/2" x 2 1/2)
(1) Safety Whistle
(4) Surgical Masks
(1) Pair Vinyl Gloves (latex free, powder free)
(1) Pair Heavy Duty Work Gloves
(1) Multi-Function Army Knife (7 Stainless steel Tools)
(1) 50ft Nylon Utility Cord
(4) Tissue Packs
(2) Waterproof Backpacks
Pretty stocked right? This isn't to say that you won't need to include a few of your own items. It is recommended that you have an additional supply of any medications or special foods, extra glasses or contact lenses, diapers and wipes, and additional seasonal clothing for each family member. Make sure to include loose change, important phone numbers and a map in EACH bag – just in case you are separated. Our backpacks still had a bit of room in them so we'll be topping them up with our family specific needs. Once your kits are ready, store them in an easily accessible location – your hall closet next to the door, in your kitchen pantry or behind your sofa. Make sure that every family member knows where the kits are.
We also own a 2 person essentials kit that is kept in my car, I commute 2 hours each day with Alivia to and from work. In the event of a natural disaster that occurs when we aren't at home, I feel much more comfortable knowing that we have the basics on hand – just in case.
Whether you are buying a kit for yourself, yourself and spouse or your entire family – Earthquakekit.ca has a kit that will work for all your needs. From the 1 person essentials kit right up to the 10 person deluxe bucket kit, they can make sure you are prepared and feeling confident during an emergency. Order online and enjoy free hand delivery – right to your door! Karl's personal mission is to get an earthquake kit in every home for your own sake! Once you have your kit, Karl and his team will follow up with you close to your kit's expiration date to go over what products need to be replenished – taking one more worry off your plate. We love their personal service!
{This giveaway is now closed}
(Contest is open to residents of British Columbia residing in the specified delivery areas of Abbotsford, Anmore, Belcarra, Burnaby, Chilliwack, Coquitlam, Delta, Harrison Hot Springs, Hope, Kent, Langley, Lions Bay, Maple Ridge, Mission, New Westminster, North Vancouver, Pitt Meadows, Port Coquitlam, Port Moody, Richmond, Surrey, Vancouver, West Vancouver and White Rock.)
{Disclosure: This post contains affiliate links, however ALL opinions on the product are our own and we fully support this company}