Our lives today seem full of stress, and we are always looking for a different, and effective way, to relax; yoga, massage, doing puzzles, colouring, reading, wearable tech…wait a minute. Wearable tech? You bet! And no, it's not a smart watch. It's a Muse, the brain wave sensing headband that acts as a meditation guide. Muse is your personal meditation assistant who knows when you are stressed, when your thoughts wander, and gently guides you back to your meditation exercise using audio cues.
Studies have shown, time and time again, the numerous benefits to meditation. From anxiety reduction, improved mood and better response to stress, just to name a few, there are so many upsides to winding down. Muse is the first product to be able to give real-time feedback as you meditate, and provides encouragement along the way as well as detailed results from your session displayed in various graphs, and points awarded for calm and neutral states. These points, once you reach the target amount, will unlock other Muse features, providing a reward like system as well.
Now, most of us likely think that unplugging is essential to meditation, and for those well versed in meditation methods, this may not be for you. But for many of us, especially those of us with anxiety, it can be difficult to quiet the mind, to focus solely on the breath and can even lead to frustration; the opposite meditation's purpose. Traditional methods are excellent, but takes a lot of practice. By giving you real-time feedback on what your brain is doing, Muse can quickly alert you when your mind starts to wander, or even if you start to fidget, so you can bring attention back to the breath again, making regular meditation practice more fruitful.
For such a high-tech gadget, the set up and use of the Muse is surprisingly simple. First, you'll want to charge your Muse using the included USB cord. Next, download the free Muse Calm app from either iTunes or the Google Play store onto your phone, iPod or tablet. Once your Muse is fully charged, turn it on and make sure the device you downloaded the app to has Bluetooth turned on. The Muse will take a few seconds to sync, and then you are ready to go.
The app will guide you, step-by-step, through the entire process from how to wear the headband properly, making sure all 7 sensors are reading data, how to know when a sensor is not right, and Muse calibration. Because our brains are different day-to-day and throughout the day, the Muse must be calibrated every time, but don't worry, this 60 second process is short and simple. All you need to do is think of as many thing as you can in the category the app gives you; side note here, I was surprised at how hard it was once I was under pressure lol.
Once you are ready to start your session, make sure you are in a comfortable spot, sitting back straight and with all sensors reading and press begin. Muse recommends starting with a 3 minute session, which is great for the first few times to really get a sense of how it works, though I felt like I was just getting into the zone when the exercise completed. You will be treated to the sounds of a gentle breeze and water lapping on a shoreline. If your mind starts to wander, the winds pick up, and the waves become louder. If you are able to stay focused and calm for a long length of time, you will begin to hear 'bonus birds' in the background. All of these audio cues make it easy to make adjustments early on and bring you back to focus, without having to open your eyes.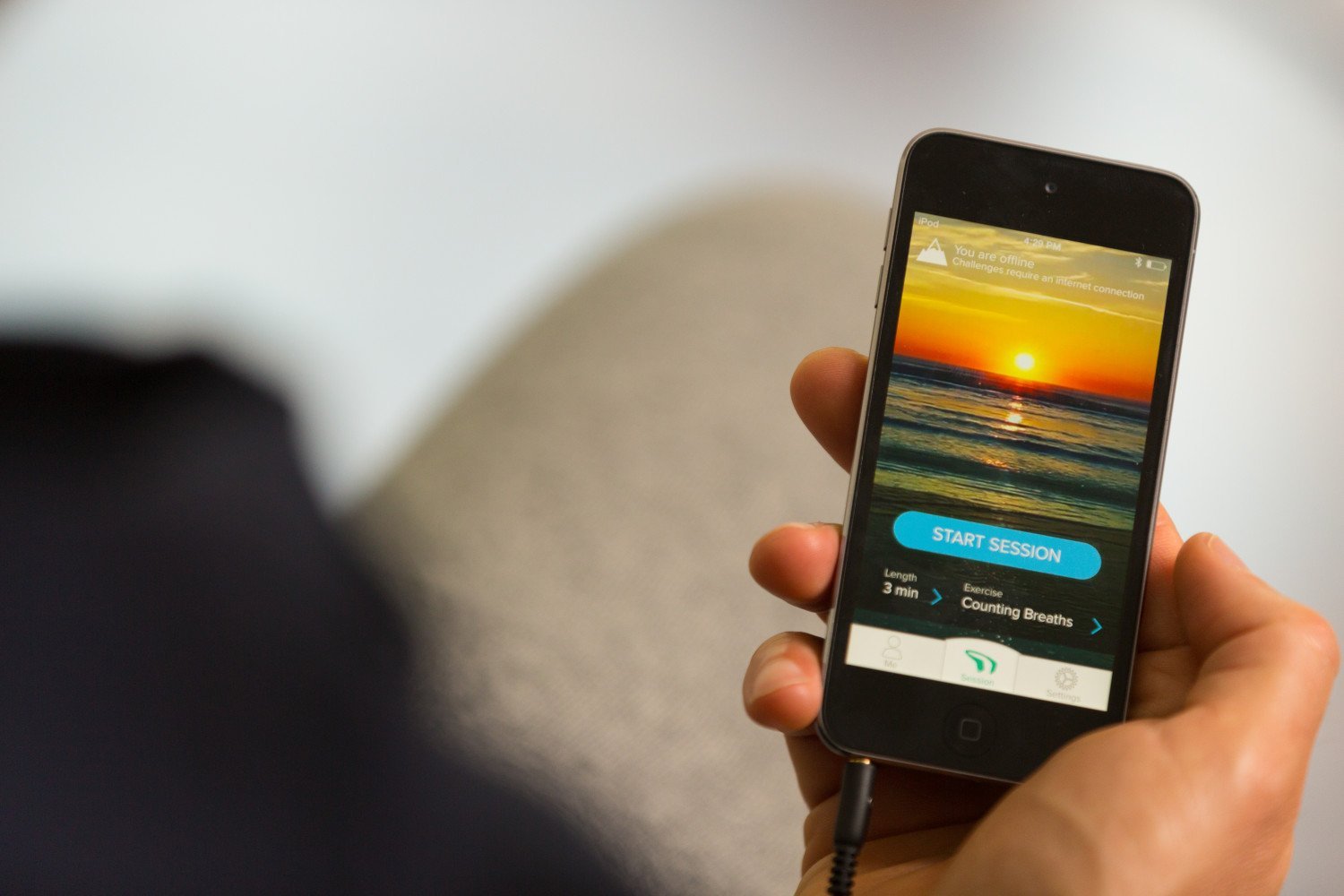 Upon completion, you will be able to look at the data recorded and see exactly how much time you spent in each state. active, neutral and calm, how often you fluctuated, and you will receive points based on performance. The Muse Calm app will retain all information for your sessions and keep track of your progress. Ideally, you would find a few minutes to do this daily, and many users have noted great improvement in their focus and concentration, and ability to self calm during stressful situations.
So, personal experience? I found the set up extremely easy, which says a lot because I'm a little tech-impaired. The headband is adjustable to fit any size noggin, is soft and flexible, and was actually rather comfortable. I had no difficulty getting all sensors on board right away, but found the tutorial to be very helpful. Like I mentioned earlier, the unit must be calibrated before each use, and this too was pretty easy, though I was really surprised at how few band names I could list, in my head, under pressure.
The exercise itself is simple. With the Muse in place, simply close your eyes and focus on your breath. Count each exhale up to 10, then start again at 1. My mind wandered a considerable number of times during the first exercise, forcing me to start back at 1, and that was not surprising as I'm an anxious sort of person. The gentle audio cues got me right back on track though, and I thought my first try went considerably well. As it was nearing the end, which I felt came all too quickly for 3 minutes, I really felt relaxed, in my zen zone, and I was disappointed the exercise finished so soon.
I was eager to see the results, and, while I did not hear any birds, I think I scored ok. In fact, my first try was my best out of three, and, the racking up of points to unlock additional features triggers the competitive side in myself. Since I felt three minutes wasn't long enough, I chose seven minutes for the second round, and somewhere before the end, I was so relaxed that I fell asleep.
Final thoughts? I like it! While still relatively new, the technology can be updated as new features are introduced, so I'm excited to see what new developments there are to come. I'm also determined to hear the 'bonus birds' and to see what I can unlock after 5000 points. The Muse is comfortable to wear, easy to use, and it travels well too!
The Muse device comes with a $299 price tag, and ships worldwide, with free shipping in North America. You can also find it in  It also comes with a 60-day money back guarantee that they stand behind, so if you try it and it's really not your thing, you can return it, and that in itself is peace of mind on a big-ticket item.
Connect with Muse
For more information on Muse, how it measures brainwaves, and other FAQ, visit www.choosemuse.com
{Disclosure: We were provided with a Muse headband to facilitate our review, all opinions are our own.}