Do you have a tiny green thumb at home? You know, the kids who love to help dig in the garden and create bowls of different clippings and mud? The kids who love to get their hands dirty and run to check their little bean sprouts every morning? We have one of those, she's been digging holes in the garden since before she could walk, she asks me every single day to help water the plants at home (even my succulents.. ) and gets excited when she sees a new leaf or flower start to sprout. She's a creative kid, one who loves to watch things live and grow and it was because of this we knew we needed a bit of a different birthday party this year.
Previously we've done play places, gymnastics and the like, but our neighborhood is woefully lacking in birthday party options and our house is much too tiny to host. Artspace closed down, we don't have any play places so we're limited to skating/swimming or a party at the local park. Or so we thought! It was during a visit to GardenWorks Lougheed last year that we gleefully discovered they host birthday parties!
Five Reasons We Loved Our GardenWorks Birthday Party
1. THE GARDENWORKS SPACE
Unlike play places and art studios, GardenWorks boasts a large party room that is situated right inside the tropical zone inside their stores. At the Lougheed location, it's sectioned off behind displays of succulents an wooden fences to create an organic feeling room that encourages getting dirty and exploring the garden! The party room includes 2 large wooden picnic benches that comfortably fit 20 kids (or adults!) and it doesn't feel cramped at all – even with a full party!
Also included is two large burlap covered tables on one side of the room to set up decorations, goodie bags, food, cutlery and more. Since our theme was fairy gardens, I brought along some fun little displays to hide on the table that were a huge hit with the kids. We paired the decorations with delicious custom sugar cookies made locally by Meghan at Happy Hearts Sweets and packaged up extras to send home with the kids.
One thing to note is that there is no fridge in the party area. Plan accordingly and have someone run out to grab the cake during the first hour/etc. There is a small mini-fridge that could be used to store drinks, but it won't fit food/cakes or large platters. We brought in rolling coolers with ice and didn't have any issues once the kids started diving into the food.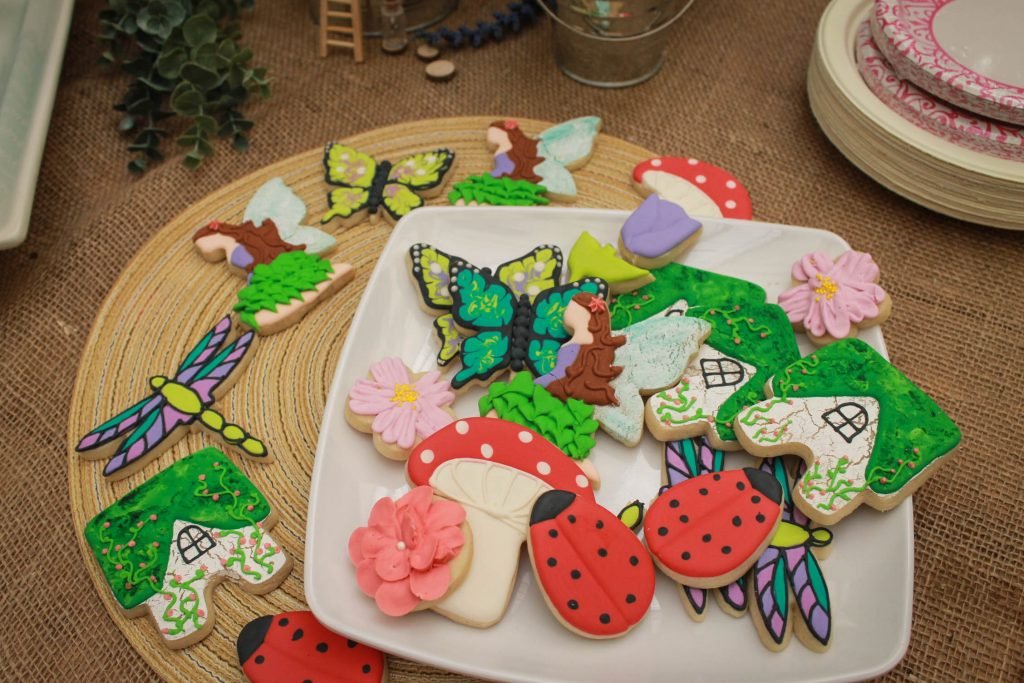 2. THE GARDENWORKS HOSTS
One of the best types of birthday parties are when you don't have to do anything, right? You can sit back and take photos, set up some food, do a little shopping and know that your kids are having a blast! Our host for Alivia's birthday was Jesselin who isn't just a plant lover, she's also an artist who helps kids "unearth" their imaginations with fun songs to remember everyone's names.
Jesselin was so wonderful, I showed up about 15 minutes early to set up and she was tidying up from the party beforehand and took time to get to know a bit about Alivia, how many kids we thought we'd end up having and by the time guests started arriving, she had everything ready to go! We even had a *bonus* kid show up and Jesselin helped warmly welcome them to the party and catch up so they wouldn't feel left out.
You'll end up with about 60 minutes of time with the host for the project, they'll disappear during the food/cake/presents portion of the party and comes back at the end of the party to make sure you don't need any extra help and then tidies up once you pack up your things. It was so stress-free! We didn't have to do anything to help with the party at all!
All of the parents that showed up and came back after the party once they saw how Jesselin had everything under control – except Discovering Parenthood – she stayed to help me with photos and to visit!
Each location will have different hosts and different activities, feel free to pop into your local store to meet with them beforehand if you'd like to get a vibe for their party style!
3. THE PARTY OPTIONS
Each location varies on the parties they host, but each one guarantees a take home project that the kids will be proud of! All of the GardenWorks locations have very reasonable price points – at between $12-20 per child/per project. There's no additional fees to bring in your own food or add-ons, you pay a flat rate for each child and that's it!
Enchanted Fairy & Gnome Gardens
Dinosaur Garden
Potted Desert Garden
– $13 per child/per project
Painting & Planting
– $15 per child/per project
Fairy Garden
Jungle Garden
Dinosaur Garden
Succulent in a Jar
– $16 per child/per project
Cactus Garden
– $18 per child/per project
Fairy Garden in a Pot
– $20 per child/per project
Mason Jar Fairy Garden
Hanging Frog Chime
– $12 per child/per project
Pirate Ship Planter
Succulent Birds Nest
– $20 per child/per project
We chose the Enchanted Fairy & Gnome Gardens for our party and were told up front –  you won't walk out with a fairy or a gnome, the point of these lovely gardens is to entice the mystical creatures to visit your gardens! Each child starts with a 10-inch plant tray filled with soil and then first the birthday child picks their tiny tropical and then the other kids choose theirs. There was an entire counter of plants to choose from and each kiddo ended up with something they loved.
During the first part of the party, there is a mysterious large table covered in a big green table cloth the kids don't even seem to notice… little did they know, that when they were done planting their tropical and topping with wood chips that they'd be surprised with over 2 dozen different types of goodies to personalize their gardens! Kids can choose from different coloured rocks, gems and coloured moss, shells, sticks and leaves and so much more. The "WOWWWWW" that came from the group as the table was unveiled by Jesselin and Alivia was the sweetest moment!
Included in our party was a woodland animal to help welcome your fairy or gnome friend. We had rabbits and chipmunks and even a little dog hiding in this parties gardens. Additional accessories can be purchased inside GardenWorks, but won't be available during the party.
Don't forget these are garden parties and the dirt will fly, plan accordingly and avoid fancy dresses or jewelry that can get dirt stuck throughout.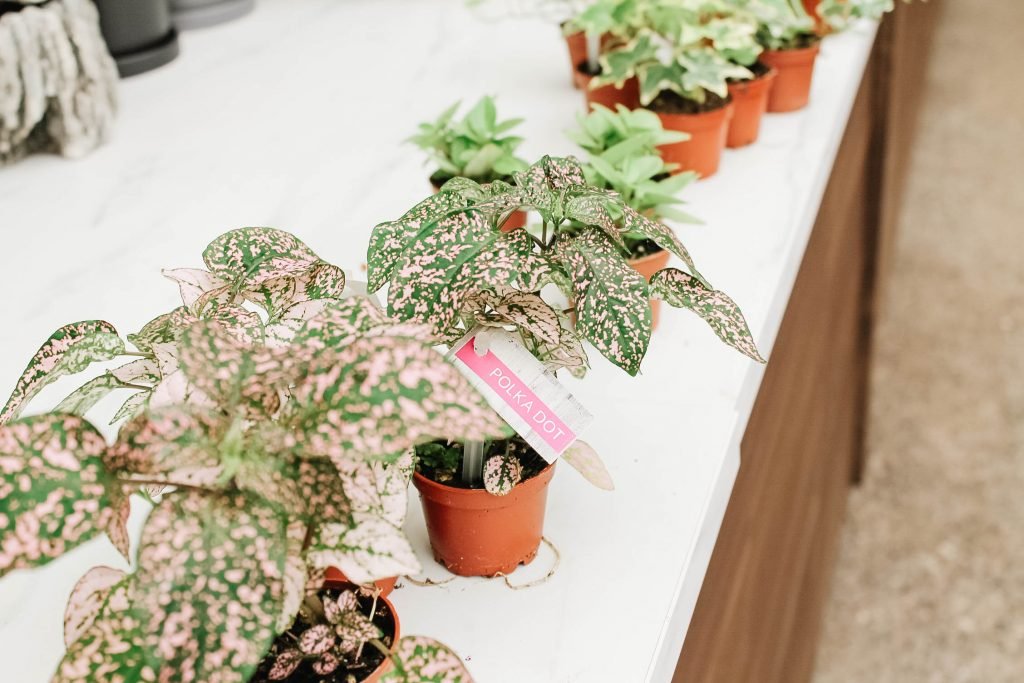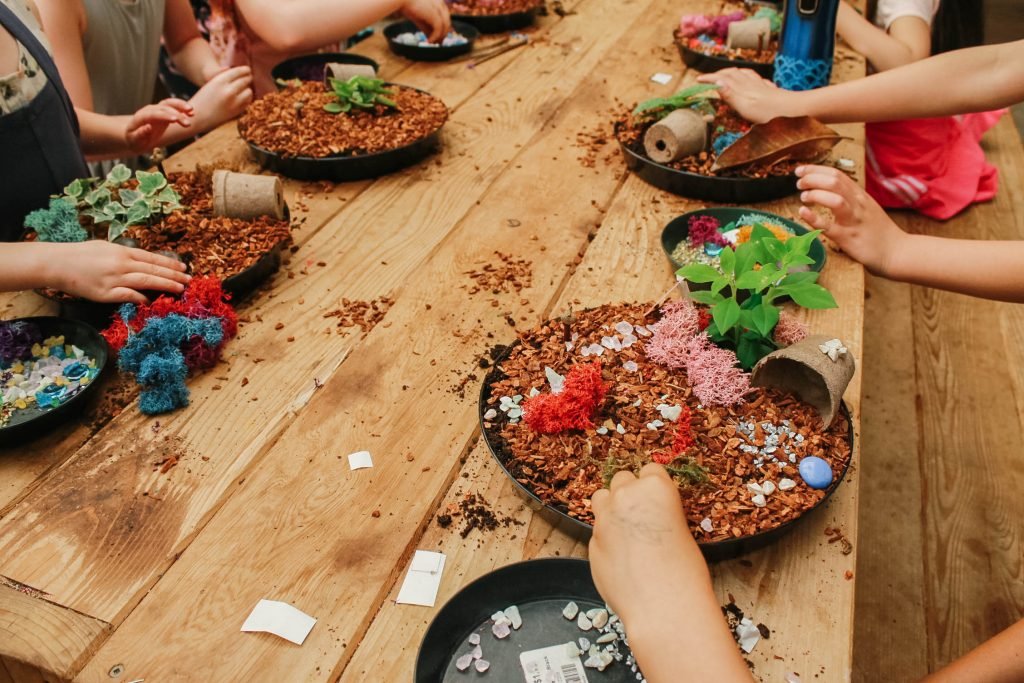 4. SENSORY SAFE
I'm sensory sensitive, and a few of the kiddos we invited are as well. Loud play places are terrible for me and I leave anxious, overwhelmed and overstimulated. Thankfully, GardenWorks offered a quiet space that everyone enjoyed! I noticed immediately when I came to view the space before the party how calm it was. The party "room" is inside the tropical area, tucked into a corner that is surrounded by succulents and fences, keeping it separate from the main shopping area. The space is both serene and quiet on it's own, and during our 2.5 hours, we weren't disturbed by any outside noise or patrons. Your party is the only party being hosted during your time so there's no additional noise coming from anywhere or additional kids running around. The space is yours, with two small arches for entry/exit out of the space. There's no loud music or noise other than the noise your own party makes (which can be loud, depending on your kiddos!).
At our party, Jesselin did engage the kids in a singing/wiggle party to shake all the dirt off their clothes but if you'd like to keep it a bit more mellow you can discuss your party requests before via email or on the day of, they are very receptive and wonderful!
The space is lit with fluorescent lights, but we didn't find them overbearing at all. One thing I did notice is since the party is hosted in the tropical area, depending on when you decide to have your party it can be quite warm in the area. We brought in an extra fan, and Jesselin had a large industrial fan blowing around to keep the space comfortable. We warned parents in advance to dress kids in loose fitting, cool clothes and none of them complained. We did pack extra cold waters though, just in case and didn't leave with any extras!
5. THE EXTRAS
If all of the other points haven't showcased how much we loved our party yet, this definitely will! Oooh boy the extras! I knew what was included in the party ahead of time but was pleasantly surprised that when I came to set up, Jesselin had a stack of 15% off coupons for me to hand out to the parents in attendance. There's some parents that don't want to drop and run, or may not be able to based on transportation, so the coupon allows parents to wander freely around GardenWorks and have a little bit of "me time" and know their kids are taken care of.
GardenWorks also offers free coffee throughout the store, so grab a cup of coffee and find yourself a new little plant buddy to take home to care for alongside your kiddos. Bonus? You can keep one for yourself! I picked up a couple new favourite plants with this coupon and a couple small garden accessories to go with our Fairy Garden.
Another extra, and something to plan in advance for if you are a plastic free family is that they package up all of your gardens in a plastic bag so that parents are not juggling a giant dirt pile on the drive home! We encourage you to bring small boxes to transport any of the special gardens home if you prefer to not use a plastic bag.
Lastly, even though it's a birthday party, it's also a great opportunity for kids to learn about gardening, how to care for their own plant baby, how to properly plant and water their babies and more. You can use these options for birthday parties, class parties, girl guides/scouts parties or even team building exercises at work. The options are endless!
A huge thank you to both GardenWorks and Happy Hearts Sweets for partnering with us for this memorable birthday party. We highly recommend GardenWorks for your next party but please note, as party space and times are limited to keep the experience intimate, you are encouraged to book in advance to ensure you have the date, time and party time you'd like to avoid disappointment. Contact your local location to discuss individual party types, times and availability.
We wish you happy planting and growing at your next party and can't wait to plan our next get-together…. I see an adult planting party in my future!