I have been blessed with many things: common sense, intelligence, a wonderful family and amazing friends. There's more, but eyebrows have never made the list. I was born a blond with matching barely there eyebrows, and when I started getting interested in makeup I really began to notice them; or the lack of them. Making up the rest of my face made my eyebrows seem even more non-existent. Trying to draw in or fill in my brows with pencil or powder always lead to disastrous results, and even as an adult I can at most get one side to look half decent. It seems artistic talent was never on that list either.
Now, I've never been the trendy sort, but when I started hearing these stories and seeing pictures of these miraculous brow transformations after microblading, I had to know more. All these full, gorgeous, shapely brows where there was once sparse brows like mine, or over-tweezed barren skin was honestly too much brow envy to handle. My eyes are my favourite feature to play with and I've never been able to give them the frame they deserve. I decided I was going for it, whatever 'it' entailed, but first I needed to do some research.
So, what actually is microblading anyway? Well, if your mind pictured this, you're not alone.
Microblading, also called eyebrow embroidery, feathering or etching, is a 'semi-permanent' makeup technique to fill in and give more depth to eyebrows. In essence, a tattoo. But unlike the permanent makeup of the past, microblading uses a pen-like instrument with a row of superfine needles to make multiple hairlike strokes (cuts) to fill with pigment and give and incredibly realistic look – if done correctly.
The decision to have your eyebrows microbladed is a big one. As a 'semi-permanent' treatment, it's going to last anywhere from 1-4 years, depending on how fast your body absorbs the iron in the ink. And if you are going to rock these eyebrows for that long, you want to love them and so, choosing your artist is a big decision as well. Here's a few things to look for if you've decided to take the plunge.
Word of Mouth is a great start, so if you have a friend, coworker or mommy group member who has had hers done, ask her about her experience. If it was positive, and you can't stop looking at them in a "Damn girl, those brows are on point!" kinda way, definitely get the contact details.  Also Google for artists in your area, this is super handy for reading reviews as well.
Look at their portfolio. Most microblading artists will have a Facebook page making it easy to see the before and after pics of their clients. Look at several portfolios, and at many of the pictures. If you see more than one that you don't love, move on. This is your face, and you should fall in love with every transformation before trusting your face to be someone's canvas.
Location matters! I'm not talking what part of town, I'm talking 'home studio' vs tattoo studio. Real talk; they are cutting into your skin. As such, they need to have a clear understanding of universal precautions, blood bourne pathogens, sterilization and more. Sterilization practices are much easier to enforce in a tattoo studio where cleanliness and disinfection is regulated by the Health Board. The beauty industry is largely unregulated as it is so even salons and spas can be dicey, but by going into someone's home, or having them come to you, the environment is much harder to control and can lead to infection, improper healing and more – even using single use disposable needles.
Training and experience are important! Look for someone who has credentials outside of a Microblading Technician. Anyone can take this course if they have 2-4 days and $500-$2000 depending on the instructor. There are no prerequisites to take this course and this is where the technicians differ from the artists. I've used that word a lot, and this is why. Artists will have training beyond this short course so finding someone who has a professional makeup background will give you the best results. This is semi permanent makeup you're after, and finding an artist with extensive makeup education and experience also gives you someone who is experienced in creating/filling in brows for all face shapes, skin tones, has colour theory to best match the pigment to both your natural brow hair and be flattering for your skin tone. So much more knowledge and experience than a short course alone can provide.
Beware of buzzwords. You might see things like 3D, 4D, even 6D attached to microblading. While apparently meant to convey the number of colours used, not dimensions, using a variety of colours in the same procedure will generally cause the pigments to blend anyway. Most artists will add a second shade at the touch up appointment, if desired.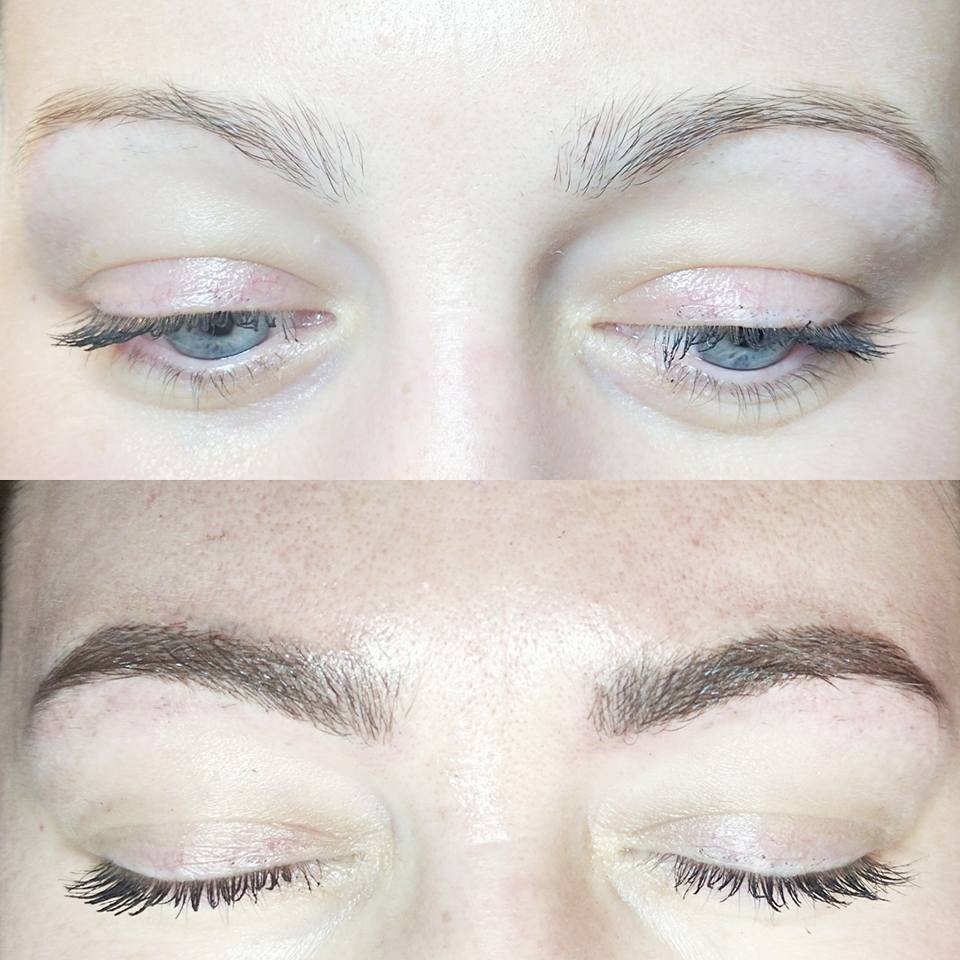 Once you've found an artist or two who pass the initial portfolio test, call or message them and ask a lot of questions. You want someone who openly and honestly will answer all your queries about their education and experience, location, who can explain the process in detail, and who will be kind, patient and professional while doing it. If you feel fluffed off, rushed, or the balk at some of your questions, they may not be the artist for you. If you feel comfortable with your choice, it's time to book a consultation. Your consultation is not only a chance for the brow artist to see you in person to talk brows and work out what you are looking for, it also gives you a chance to look at the cleanliness of their work space.
I'll be honest. I agonized over this decision for months. My hubby thought I was a little crazy for considering what amounts to 'eyebrow tattoos'. And at roughly $300-$800 (which should but does not always include touch up so ask!) give or take depending on the artist it's quite an investment too. But in all of my brow gazing, I totally fell in love.
Jen at Black Rabbit Tattoo has all the qualities I've been looking for in a microblading artist and then some! Not only is she a makeup artist and a MAC certified Brow Master (you can read her bio here!) , but she also has an education and background in special effects. What does special effects makeup have to do with brows besides being pretty damn cool? It gave Jen working knowledge of skull structure, facial muscles and other anatomy and it helps her vision the perfect brow shape and placement. Every single portfolio shot gives me major brow envy, and she was able to answer all of my questions in detail, no matter how silly.
And so, being absolutely smitten, I'm ready to commit, and I look forward to sharing my own brow transformation. Keep an eye out on the blog for my before and after and if you have one, share it with us!
Are brows a big part of your makeup routine?