Do your kids dive into their imaginations regularly? For A, it's one of her favourite things to do. Since she was little, imaginative play with vast, complex storylines has been her forte and we've encouraged her to explore all the way up to the stars! Her love of space started a couple of years ago when she was gifted with a telescope for her birthday and it's just gone from there. When the newest Space Playmobil sets showed up I knew this was going to quickly become the new favourite toy in the house!
I'm not going to lie, after the great Crystal Palace debacle that took me nearly 2 hours to put together, I was a bit afraid of this giant box that showed up. 100+ pieces WHAT. I figured at best, I would probably need a couple of hours to dedicate to putting it together and we planned to tackle the entire set over the weekend. I was pleasantly surprised that the set was actually incredibly easy to put together. The Playmobil Space Mission Rocket With Launch Pad instructions were clear and aside from needing a bit of help from dad to pop the launch buttons in, Liv and I were able to get this done in less than 15 minutes!
The mission rocket with launch pad and space capsule was impressive right out of the box. Immediate questions followed about the flames, the noises, the maintenance platform (and how do they get up there mom when the rocket is attached!?) and much more. This set is super neat in that it includes an astronaut, 2 maintenance workers 2 separate attachments for the rocket and the main rocket body also has functioning lights and sounds (you'll need 2x AA batteries for this feature, not included). This set is on the higher end of the price point at $84.99CDN but given how interactive the set is, I'd say it's worth the investment if you have a space lover at home.
We combined the Mission Launch set with another Space set and included the Mars Rover in our space adventures! I mean, when you land on mars and the moon, you need a way to explore, right? The Mars Rover set comes with it's very own astronaut to explore the planets with a 3 wheeled rover that fits in with the set perfectly. I was also pleasantly surprised to discover this handy little tool inside the mars rover kit that helped pop one of the pieces on, I wish this was included with all the harder to assemble sets of everything in my life.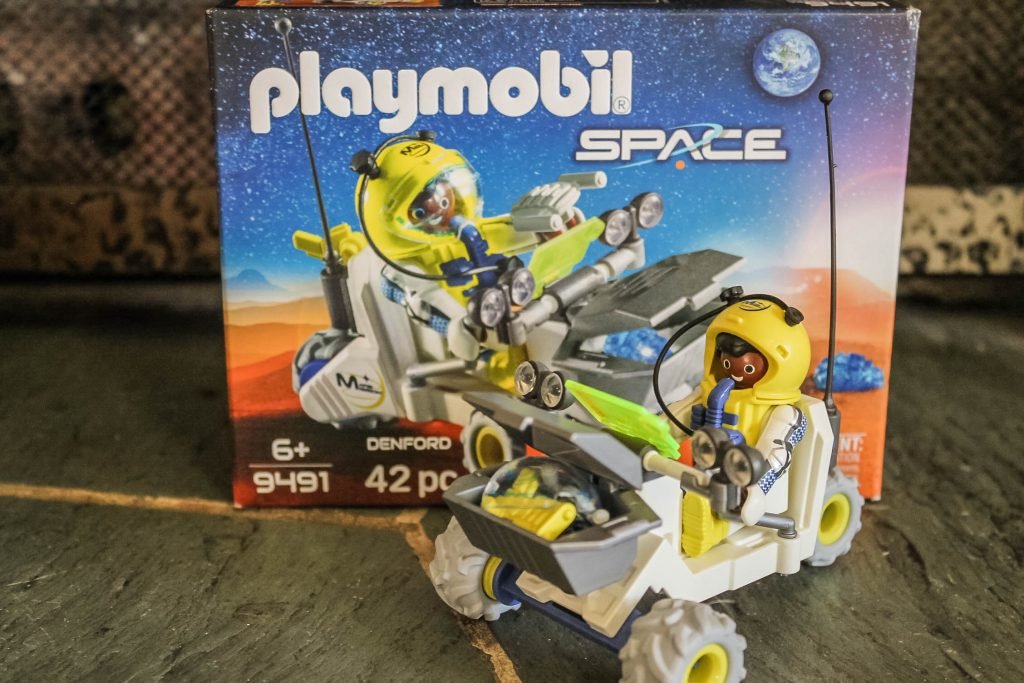 One of our families favourite part of the Playmobil series is that they truly are amazing stand-alone toys, one set can spark hours of imaginative play, or if you have the space you can create an entire city to explore. We have this weird little elevated fireplace in our dining area and when A was little, it quickly became "her" zone. As she's gotten older we've added bins below for her imaginative toys (dolls, building blocks, tiny toys, etc) and let her decide what stays out on top. As you can see, it's ALL Playmobil right now and her accessories spill down into one of the bins. She doesn't mind though, her Playmobil friends visit from all kinds of different lands.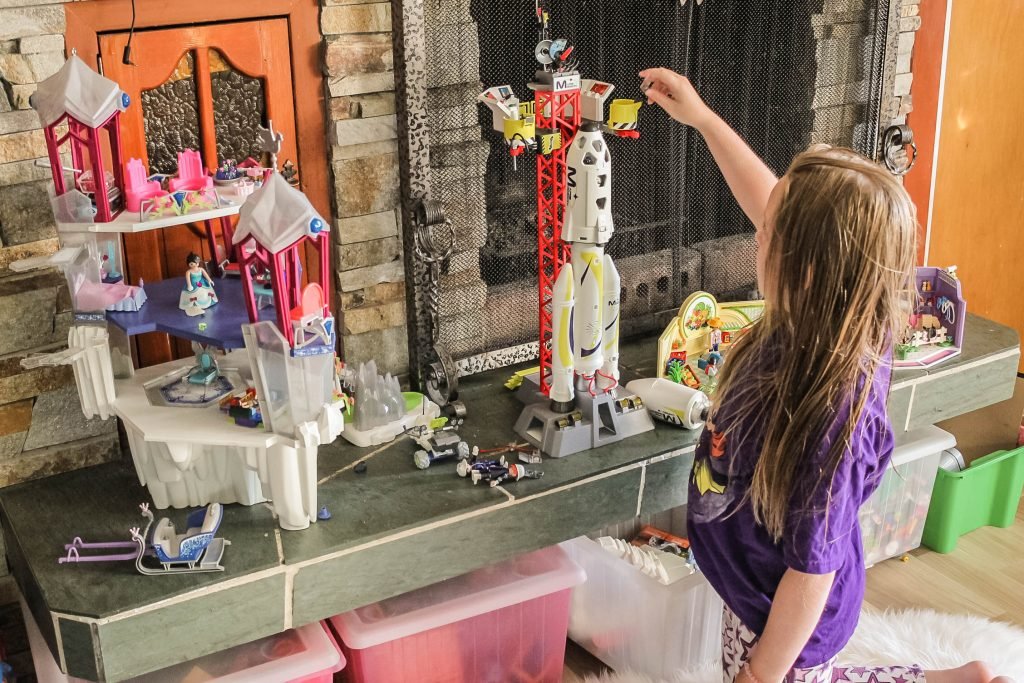 We've had Kings & Queen sets, dinosaurs, NHL, space sets, ice castles and crystal gates and pretty much everything in between, but we were missing a few of the day to day sets to add to our collection. We were so happy to get to add a couple of the Playmobil City Life sets to our collection this year and they've been well received by the kids already. I mean *really* well loved, we've had a farmers market happening at my house daily over here.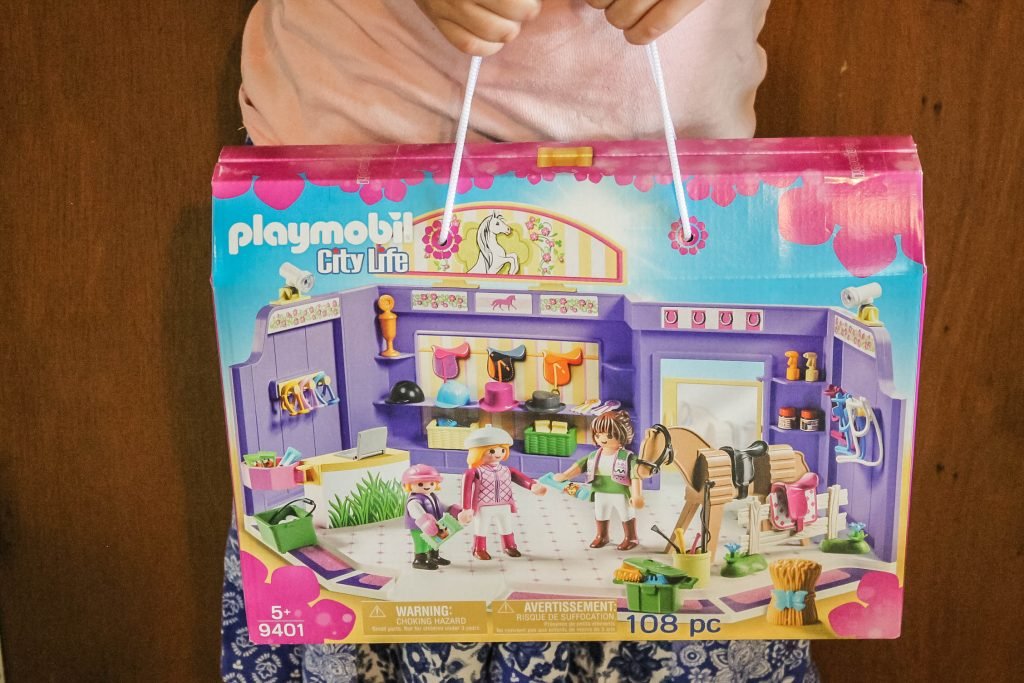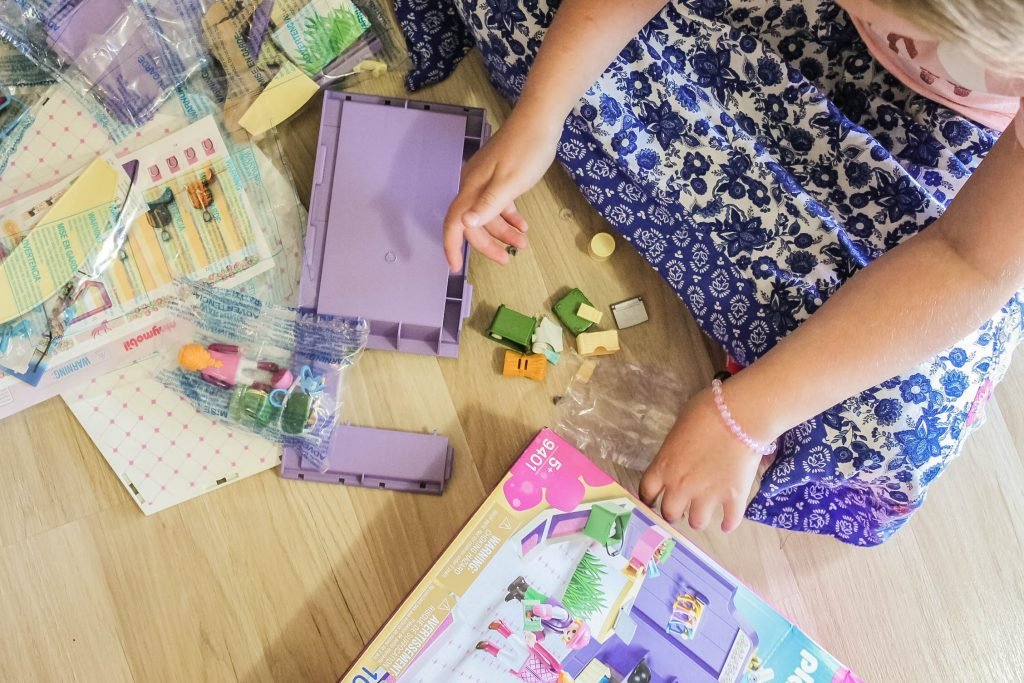 I won't lie, the City Life sets are one of my favourites. They remind me so much of the vintage Playmobil I grew up playing with. Much like the Space sets, the City Life sets also complement each other quite nicely and can be used as stand alone sets or paired with any of the other kits to create the ultimate imagination city.
When I let A choose which set she wanted to open first it wasn't even a competition, she loved animals and asked to start with the Horse Tack Shop.The 108 piece City Life set has just about everything you'd want in a fully stocked stack shop from grooming tools, a horse rack to try on different saddles, reins and halters and lots of fun little accessories to make "shopping" lots of fun. Bonus points, the accessories in this kit also fit horses from other sets so A was able to saddle up one of those horses and even "park" her outside the shop.
This kit was one of my faves to put together, and one of the easiest for A to help with. The stickers completed the full look of the shop and accessories and we felt it was something a bit more outside the box to add to her Playmobil world. A good portion of the "pieces" noted on the outside of the box are small accessories that really make the tack shop come to life.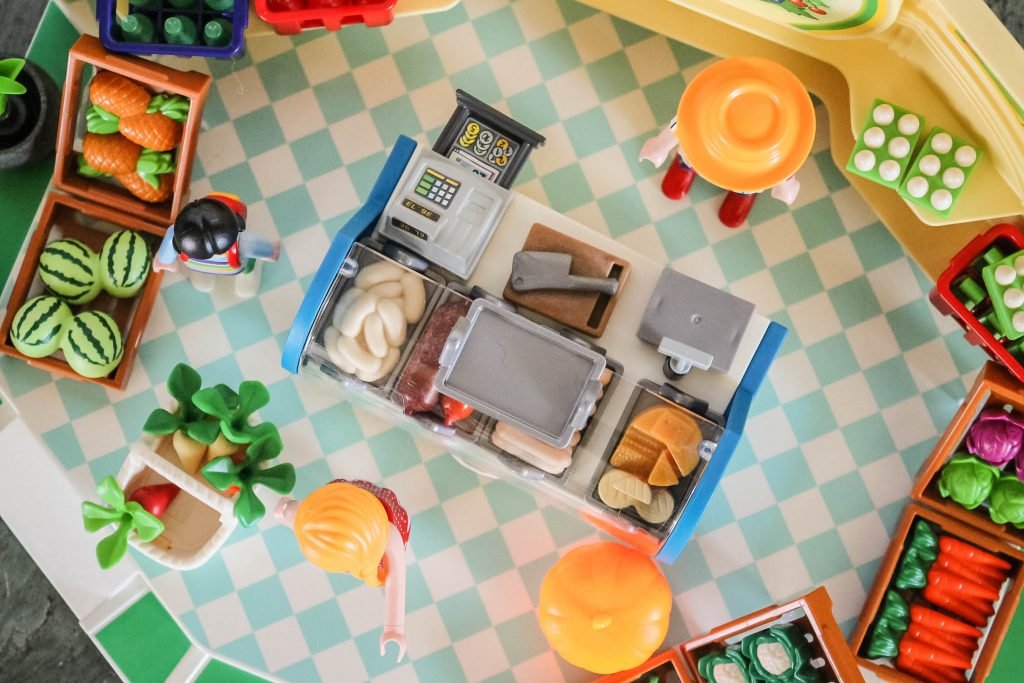 Last, but certainly not least was the Playmobil Grocery Shop! If you're looking to add a kit to start with that is interactive and realistic, this one is for you! At 113 pieces the fully stocked grocery shop boasts everything from a full-service deli counter, a dairy and juice section, fresh fruit and produce, and everything in between. The grocery shop can be set up to just be a farmers market, or just a deli, or both mixed together. The set comes with, in my mind, ingenious displays that prop up the crates in a realistic way that very much reminds me of our local farmers market.
One thing I noticed when reading up each of the City Life boxes was that Playmobil really wanted to be inclusive with their sets. The City Life Sets include a ramp into the shops that is meant to make it accessible for friends in wheelchairs, grand parents or mobility challenged friends and family or parents with strollers.  I loved reading that this was considered in the design of these sets. A's grandma walks with a cane and small things like this remind us that an inclusive world is one we need to strive towards. We loved this.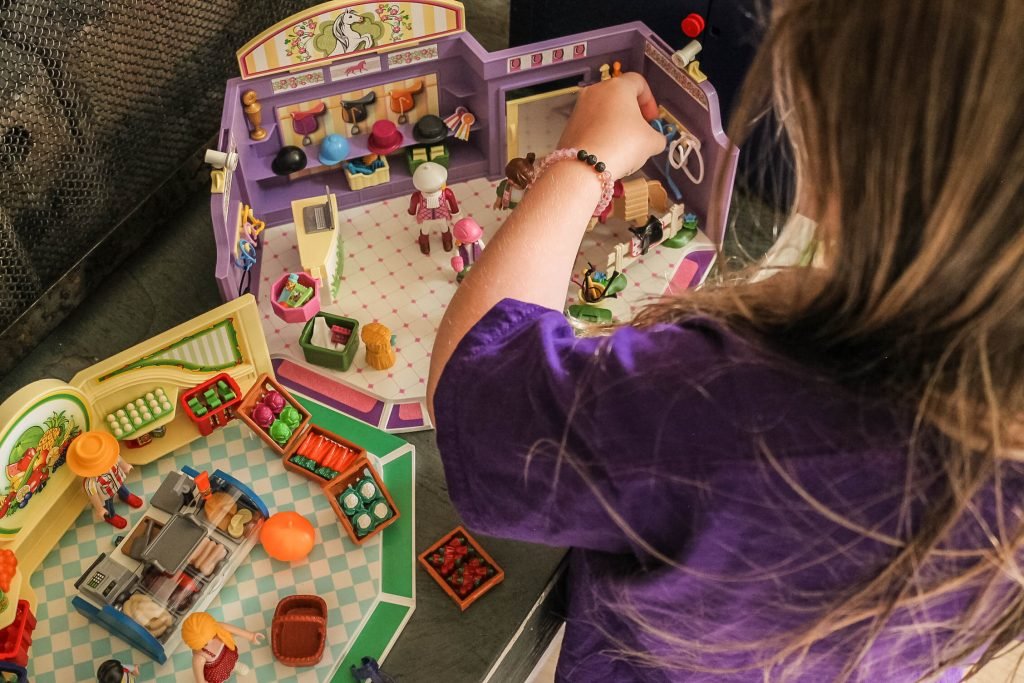 Playmobil City Life doesn't just stop with the Horse Tack Shop and the Grocery Store.. ooooh no, let me tell you. A found the pamphlet in the box that shows all the sets and exclaimed quite adamantly that she needed to also add the Bike & Skate Shop, The Shopping Centre and the Cupcake Store to her city and I suspect that's going on the Christmas list this year.
I'm okay with adding these to our toy collection and plan to keep them tucked away as A gets older to share with the next generation. We have Playmobil figures and accessories at my office that are over 40 years old and every single time a kid comes in… they're picked up first. Vintage, or new, the Playmobil sets spark creative fun in all ages.
You can find a full list of Playmobil sets and themes at Playmobil.ca, as well as a fun section full of quizzes, printables, colouring sheets and much more. Keep an eye out for discounts and scoop up your faves with free shipping over $75.01.
Hoping to find sets locally? You can find a great selection of Playmobil sets at one of our favourite stores – Kaboodles Toy Store, Mastermind Toys, Toys R Us and many more. Check the store locator for stockists near you.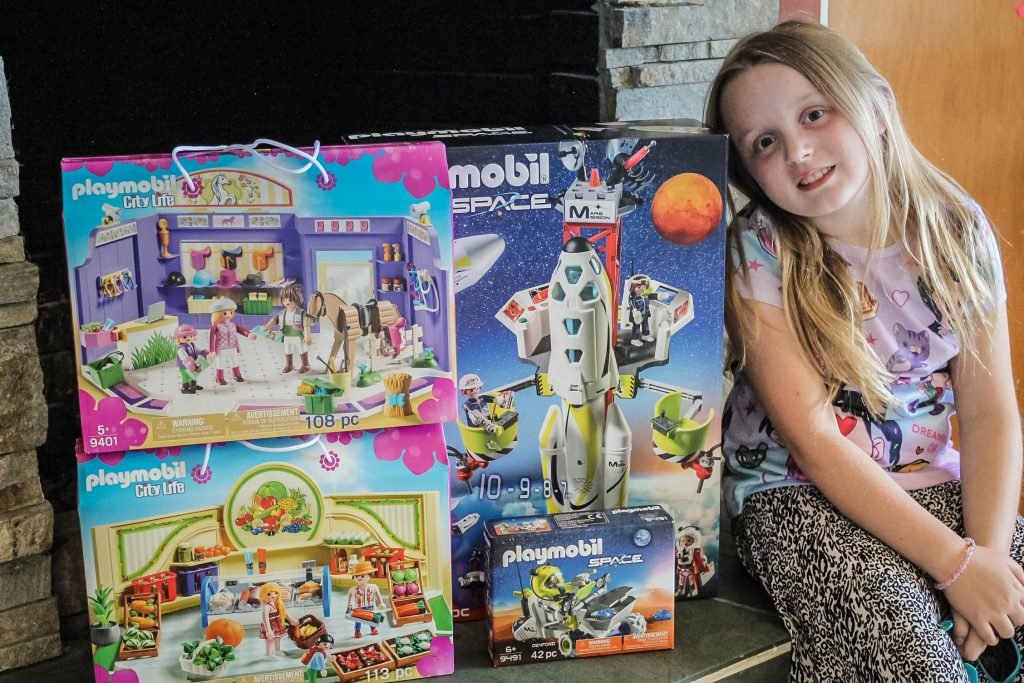 The biggest thank you to Playmobil for sending these kits over for us to review. We've shared our Playmobil love on our blog many times over but rest assured, our review is our own and not influenced by sponsorship.