It's that time of year – where the hustle and bustle of busy life collides with the business of holiday shopping. I am usually pretty good at having my shopping done very early in the year (call me crazy, I know!) but this year life threw me a few curve balls, between my surgery and recovery to playing catch up at my office – I was drastically behind in my shopping and the panic was setting in!
I love shopping during the holidays, from the Christmas music piping through the halls, to the Santa displays and light displays a glow, I find shopping during the holidays a little on the therapeutic side, the hunt for the perfect holiday gift is right up there on my list of fun things to do!
I headed to my local mall – Metropolis at Metrotown with my list in hand, I was invited to shop with the brand new Metropolis Gift Card at this mall, however I was excited to learn that not only can I use my card here, I can also use it at an additional 20 shopping centres nationwide – this was amazing news to me! Not only could I use this gift card myself, I could also purchase one either on location or online and send it to friends and families that may live near a participating shopping centre! Oh hello start of my stress-free shopping…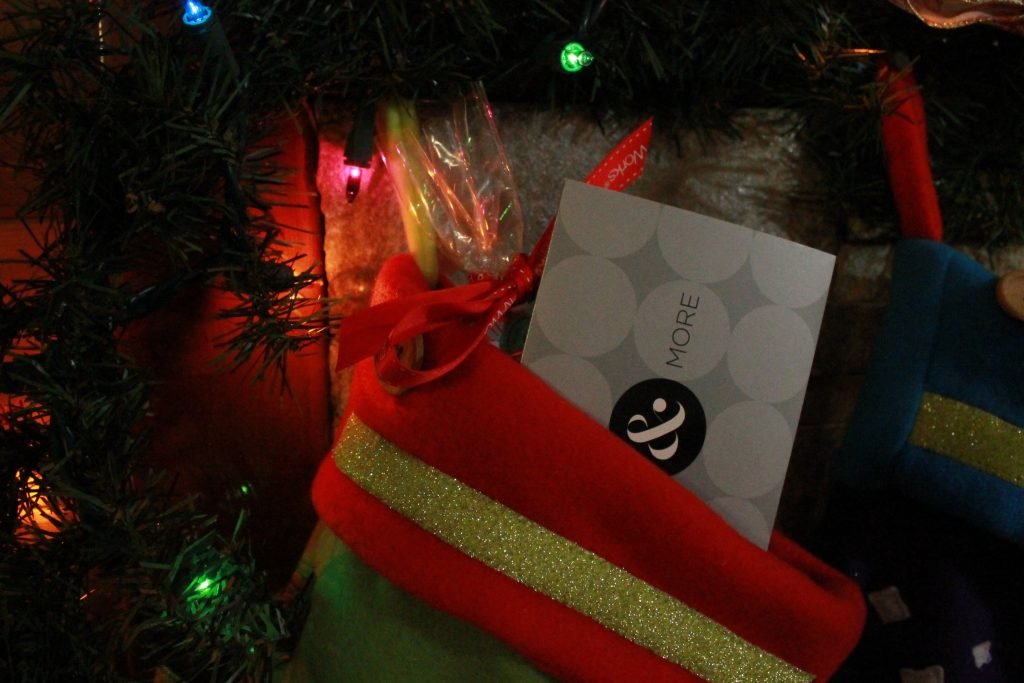 I really enjoyed the ease of use of the new Metropolis at Metrotown gift card, it is accepted at a plethora of different stores throughout the mall, including but not limited to Superstore, T&T, many food court stalls and retail stores. I really appreciated that within the gift card envelope, you have a (very small) list of vendors within the shopping centre that are not participating, so you aren't surprised with a bill if you tried to use it there.
As previously mentioned, I had a mission with this trip – I had a list of gifts I needed for a few people. Number one on my list was teacher gifts and I easily crossed them off with a quick shop in Bath & Body Works, then I needed a gift for an 11 year old girl who happens to love bubble baths, so Lush was the next logical stop. With Ry & Livvy in tow, I had to feed them at one point so a quick stop at the food court for some lunch and back out to shop – my mom put in a request for an electric can opener which I easily found at Superstore – all in all, in a couple of short hours with one gift card and a plan, I was able to finish up my shopping – stress free.
I know the mall can seem crazy and overwhelming during the holidays, but I promise, it's do-able! Go early in the morning just before opening to ensure you won't need to battle the parking lot or look for parking on side streets around the mall. Pack light so you aren't lugging extra coats and bags around with you while you are trying to shop, or make use of that stroller your kids won't stay in anyways. Lastly, my favourite favourite holiday feature at Metropolis at Metrotown is the RBC Visa Avion Boutique, exclusive to Visa Avion holders you can take advantage of free coat and parcel check, free gift wrapping, coffee, tea and snacks. This is the perfect spot to drop your shopping after crossing everyone off your list. Not a Visa Avion cardholder? No problem! The mall is also offering charity gift wrapping at many stations throughout the centre and there is no shortage of coffee and treat stores to re-charge.
With extended holiday shopping hours, a stunning visual Santa display, and so much more holiday joy, Metropolis at Metrotown is most definitely my one-stop holiday shop!
Regardless of who is left on your holiday list, the Metropolis at Metrotown gift card is one of our favourite gifts to give. It's no longer faux pas to tuck a gift card into a card, as you are telling your recipient that you know they will choose something they love. There is something to be said about what runs through your mind when you open up a gift card, and you are already thinking of where you'll go and what you'll buy – making it a bit of a fun gift that lasts through the holidays.
Your recipient has access to hundreds of stores, boutiques, and more that accept the card nationwide. Help that hard to shop for person on your list get exactly what they want this Christmas – by letting them choose themselves – while keeping it stress-free on the holiday gift hunt front. Already have a gift? Attach a Metropolis at Metrotown gift card to matching paper like I did to give your loved one a bit extra to scoop up some accessories to go with their gift.
Metropolis at Metrotown wants to help take the stress out of your holiday shopping and has generously given us a $100 gift card to share with one of our readers! Contest is open to residents of British Columbia that are able to visit Metropolis at Metrotown. Enter below!
{Disclosure: Metropolis at Metrotown was kind enough to gift us a gift card to try out within the mall. All opinions, crazy holiday shopping, joyful christmas singing and love for Christmas are my own.}