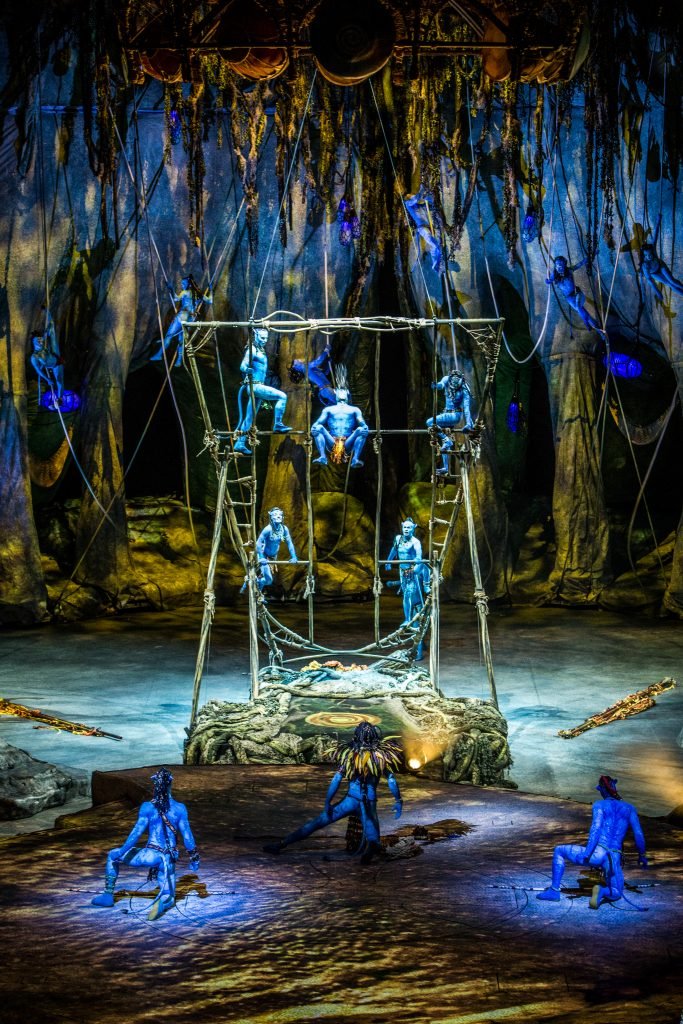 It was exactly 2 years ago that I was curled up in a theatre seat in Las Vegas, about to partake in my very first Cirque du Soleil show. This was my goal the entire trip, I didn't care what we did or where we went, as long as there was time for me to take in my very first show. I talked about it for weeks, as I always seemed to miss the Vancouver shows – I was not missing the ones in Las Vegas! I was not disappointed, the show kept my attention the entire time, with moments that left my mouth hanging open.
When I was asked to attend Cirque du Soleil: Toruk The First Flight, I eagerly accepted, excited to finally have the chance to see this show on the home-stage, though I was a bit disappointed it wasn't under the "big-top", I was thrilled to see how wonderfully the Cirque stage was done, it truly pulls you in to the world of the Na'avi.
TORUK – The First Flight is a live immersive multimedia spectacle that brings to the stage the breathtaking world of James Cameron's AVATAR like you have never seen it before.

Through a riveting fusion of cutting-edge visuals, puppetry and stagecraft buoyed by a soaring cinematic score, Cirque du Soleil applies its unique signature style to James Cameron's imaginary world and "makes the bond" between two kindred artistic visions that capture the imagination.

This live immersive experience also bears the distinct signature of directors and multimedia innovators Michel Lemieux and Victor Pilon. It is a living ode to the Na'vi's symbiotic coexistence with nature and their belief in the basic interconnectedness of all living things.
Unlike traditional Cirque du Soleil shows, I found Toruk to have much less focus on acrobats and much more on theatrical  immersion in the story. The stage was absolutely breath taking and it was amazing to see what the blank slate of grey turned in to with lights and special effects. We were lucky enough to be sitting next to an aisle and on more than one occasion the performers would come down the stairs, leaving A staring in awe at their incredible costumes and make-up!
We went to the show with 2 kids, and 2 adults, while I was a little bit worried that A might lose interest part way through the show – I was pleasantly surprised at the perfect mix of action and story-telling, A's favourite scene was the "flowers" and the "blue kitties" flying from the ceiling. She was very wise though and noticed the wires, and would panic a bit about their safety if she didn't see them!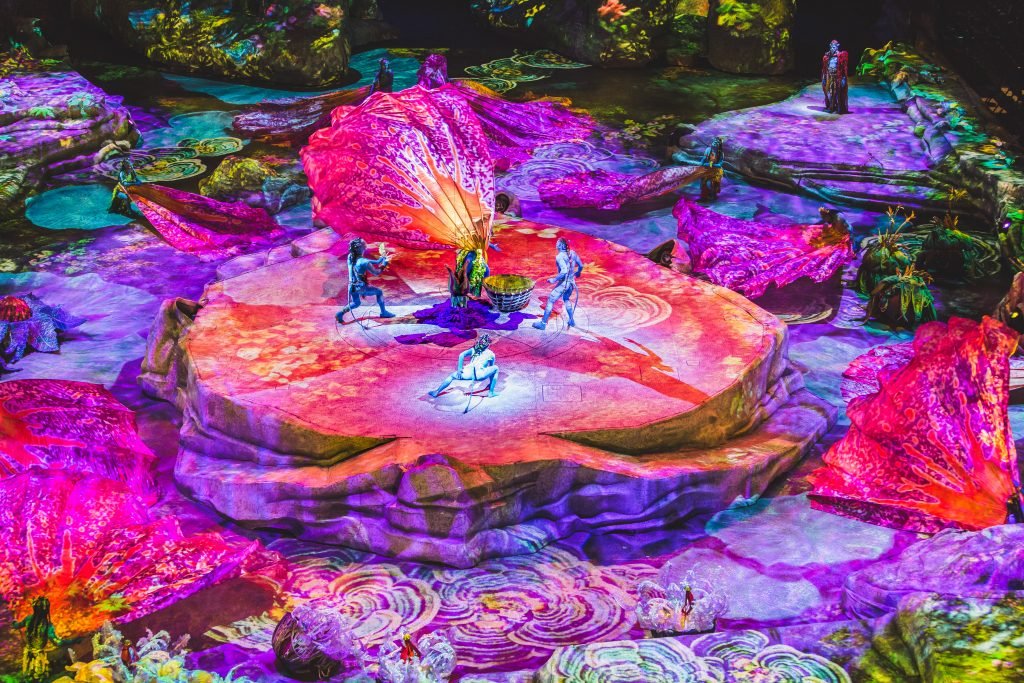 Unfortunately due to being stuck in the food line up when we first got there, I missed the opening scene that transformed the blank slate stage in to Pandora, but it certainly caught my eye as I came down the walkway and got to my seat! While not what I expected from a Cirque display, I was immediately impressed at the fluidity of the stage. Larger projectors turn the scene in to an immersive, interactive stage scene that draws your eye from one end of the stage to the other, with nothing left un-transformed.
Though we did find the show to be lacking in some of the amazing acrobatic feats we would expect from a Cirque show, we were pleasantly surprised by the puppeteers that turned many of the Pandora creatures from mere props to amazing live displays. A loved watching the birds and kites fly around the room and I thought it was incredible how even though you knew they were being controlled by someone, their movements were fluid and graceful across the stage.
My only complaint would be, if you are not familiar with the Na'avi, Pandora or Avatar, this story is a bit hard to follow – though the narrator does a wonderful job of explaining some parts, the performers often speak in Na'avi and it can be a bit of a lost point on kids and those who aren't familiar with the story. The music however was unbelievable and captured A's attention immediately, she was mesmerized and swaying, bouncing and rooting for the "blue people" to win against the predators and ultimately tame the Toruk who later makes an appearance in the motion picture.
Though we went to this show expecting a lot more acrobatics in Cirque fashion, I can say I was pleasantly surprised at the mix of story-telling, music and eye-catching action that TORUK provided. And don't get me wrong, there is definitely some acrobatics to be seen, from our favourite ribbon circus display that transformed the stage in to dancing flowers, to the climbing of the great waterfall – this show does not disappoint – after getting over the original wonder of comparing it to the other shows, I came to appreciate the unique rounding of this show.
When the show was over, A was very lucky and spotted one of the performers near an exit and ran to say hi. He was kind enough to let her take a photo and see his costume and make-up up close. She was so proud that she was able to see them up close and I truly appreciated how much time and dedication goes in to training for the event, styling the costumes and creating these make-up looks for each character.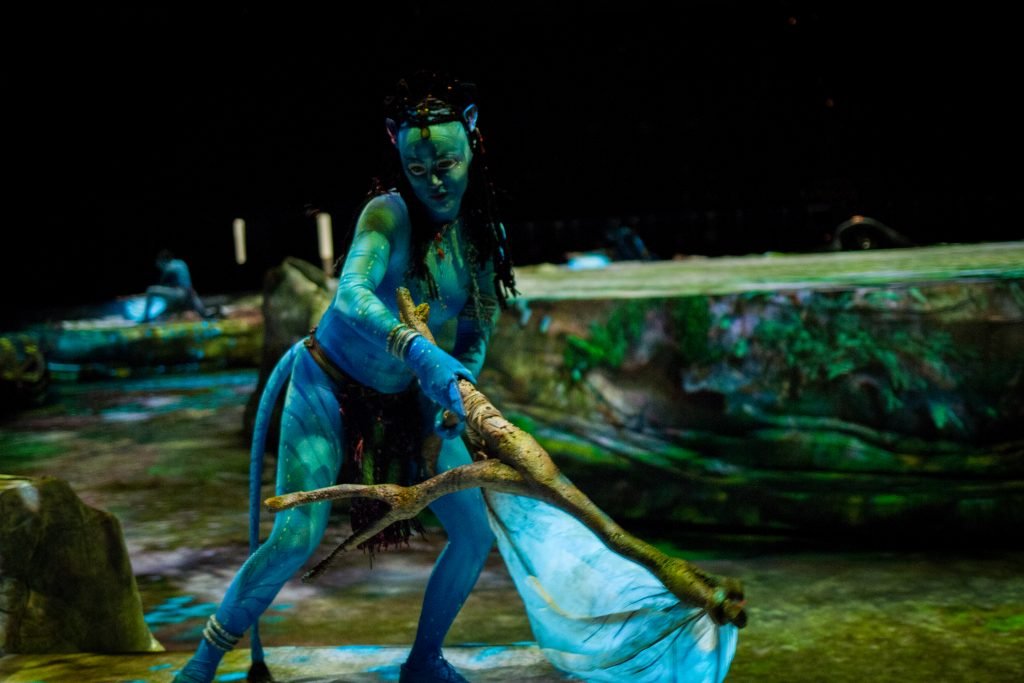 Cirque du Soleil: Toruk – The First Flight is only in Vancouver for a few short days, if you haven't already grabbed your tickets yet I highly recommend checking out the show for either a date night, or a family trip. You don't need to be a lover of Avatar to appreciate the theatrical story-telling, creative set designs and amazing puppetry that goes in to making this unique Cirque show.
Event Details: TORUK – The First Flight
When: December 14 – 18,  2016
Where: Pacific Coliseum, 2901 E Hastings Street, Vancouver
Tickets: Priced from $41.50 – $130.00 + applicable fees. Take advantage of the family 4 pack of tickets to save $10 PER ticket! Tickets available online at – https://www.cirquedusoleil.com/canada/vancouver/toruk/buy-tickets/
More Information:  www.cirquedusoleil.com/toruk
{Disclosure: We received media tickets to experience Cirque du Soleil: Toruk in exchange for promotion of the event. All opinions and crazy love of Cirque is my own.}