With Christmas literally nipping at our heels right now, I'm ready to get a jump start on my holiday shopping! With one of the best shopping weeks coming up with Black Friday deals, it's the perfect time to start crossing some gifts off the list – and give yourself enough time to actually enjoy this festive season. How would you feel if you could get all your shopping done in one day? Pretty amazing right? Metropolis at Metrotown is THE place to be this Black Friday with deals for just about everyone on your list this year.
Whether you are a seasoned Black Friday shopper or just need a few things to finish up your holiday shopping, Metropolis has you covered with literally dozens and dozens of deals and promotions at some of their very best stores!  Starting Starting November 24 at 8am you can enjoy incredible deals mall wide from clothing stores, accessories and much more. Are you eyeballing a certain door crasher deal? The entrance closest to Customer Service Ground Level will be open at 6:45am on November 24th to allow eager shoppers the chance to line up! The mall itself will be open at 8:00am on November 24th and doors open at regular mall hours on November 25th and 26th.
Promotions are valid for Black Friday weekend (November 24-26) unless otherwise specified, and all deals and promotions are subject to change so make sure to check in-store for details. Keep an eye on the list of participating retailers at MetropolisatMetrotown.com, the list of promotions and stores will be updated regularly leading up to the Black Friday weekend!
Since we're chatting Christmas… you know what's coming… SANTA.
I don't know who is more excited for this honestly, me or the kids but our annual visit to the big man in red is always something we look forward to and full disclosure, we've been visiting the Metropolis Santa since long before I started blogging, he's always been our go-to and the displays are incredibly beautiful!
They've also got parents in mind with pretty much the best set up including games kids can play when you are in line, as well as the SMS text to return system! Register at one of the kiosks at grand court and have the option of leaving the line to grab a bite or do a little bit of shopping before coming back to see Santa! If you choose to wait in line, there's staff on hand with activity sheets or a Santa letter template kids can fill out while they wait and drop in the letterbox to send off to the North Pole.
I really like that the photos with Santa at Metropolis are by donation (suggested minimum of $3.00 per photo) with all of the proceeds benefitting the Burnaby Christmas Bureau. By getting your picture taken with Santa, you're helping to provide a bit of Christmas joy to those in need just in time for the holidays. The Santa photos are available digitially, once you have them taken you'll receive a unique link via the email you registered with and a website address to access your photos, you can then share them on social media with your friends and family or print as many copies as you'd like for holiday cards or to share!
Last year, A was a little bit shy with the big guy but wanted to share something special with him. She said "Mom, Santa always has candy-canes for the kids, but he doesn't have any! We should bring him one" so she packed 2 of her favourite flavours and brought them to share. The photographer captured this sweet heart moment, and Santa was very grateful someone thought of him.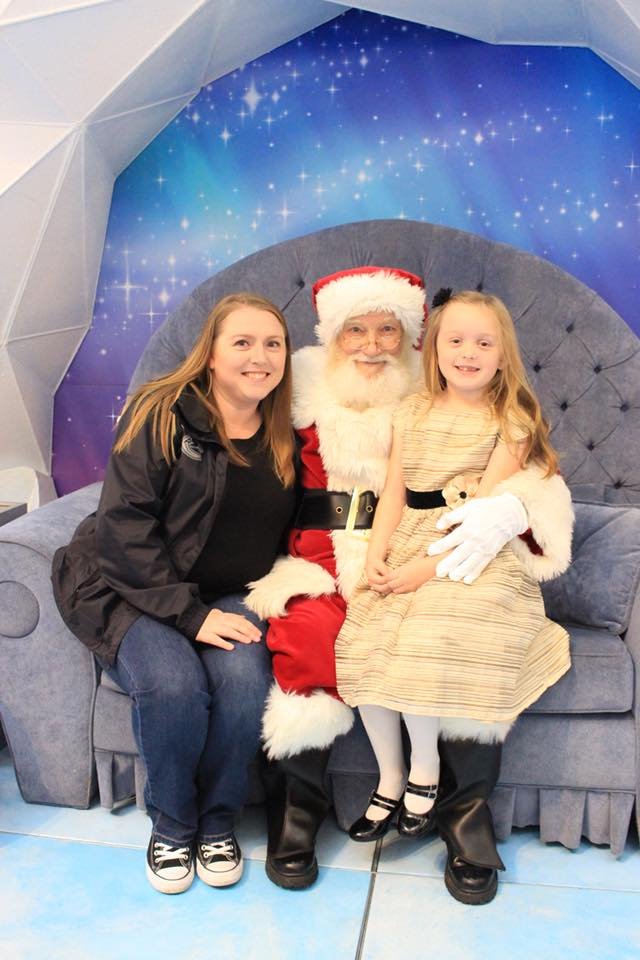 Santa is a busy guy leading up to the holidays, it's recommended that families come early or during non-peak times to avoid long waits, or to take advantage of the SMS text to return system.
Santa Event Times:
When: November 17th to December 24, 2017
Monday – Saturday | 

11:00am – 1:00pm

 /2:00pm – 

5:00pm

/6:00pm – 

8:00pm

Sunday's in November |

11:00am – 2:00pm

/3:00pm – 

6:00pm

Sunday's in December | 2:00pm – 5:00pm 

/2:00pm – 

5:00pm 

/6:00pm – 

8:00pm


*Santa photos close at 

5 p.m.

 on Christmas Eve.
Location:    Grand Court (Lower Level)
More Details: https://metropolisatmetrotown.com/promotions-events/events/2017/11/17/photos-santa-2017/
{This information is shared with you in partnership with Metropolis at Metrotown, all Santa memories and love of the mall are our own.}