I have a bit of an obsession with personalized items for Alivia, we have her name spelled out on her wall in hand painted letters, an artwork display board with her name, pillow cases friend's have made for us; all kinds of things that get a smile out of Alivia when she recognizes her name.
We are a family who reads together a lot and the one thing we didn't have was a personalized book. Her little library has slowly grown to over 200 books with more stashed in the closet and we always seem to choose ones that are interactive, fun and educational. Books that foster imagination, excitement and have us guessing what might happen next are a hit in our house.
When I discovered Lost My Name it was by accident, it showed up in my sponsored news feed on Facebook and in true mom fashion, I had to know what this amazing book was all about! I quickly learned they were a Dragon's Den UK success story and it's easy to see why, they offer a unique, engaging tale for kids of all ages.
Lost My Name was created by 3 dads and an uncle with a dream to make the *best* personalized book in the world, ambitious? You bet, but why try if you aren't going to really try!? They started this journey in the UK and discovered that with 14,000 names in the census, they would have their work cut out for them. It was a labour of love with over 200 illustrations and 2 separate books to cater to both girls and boys!
Lost My Name tells the story of a young girl (or boy!) who wakes up to discover their name has disappeared. Oh No! With the help of a little bravery and a lot of curiosity they go on an adventure to find their name. With each page they discover a new letter with the help of recognizable characters.
When you are creating your masterpiece, you can flip through the entire book and preview it before ordering, this is a great way to get an idea of what story your child's name will create and how it may differ if you have more than one child you are ordering for. I loved flipping through just to appreciate the artwork, it's eye catching and colorful with so much detail.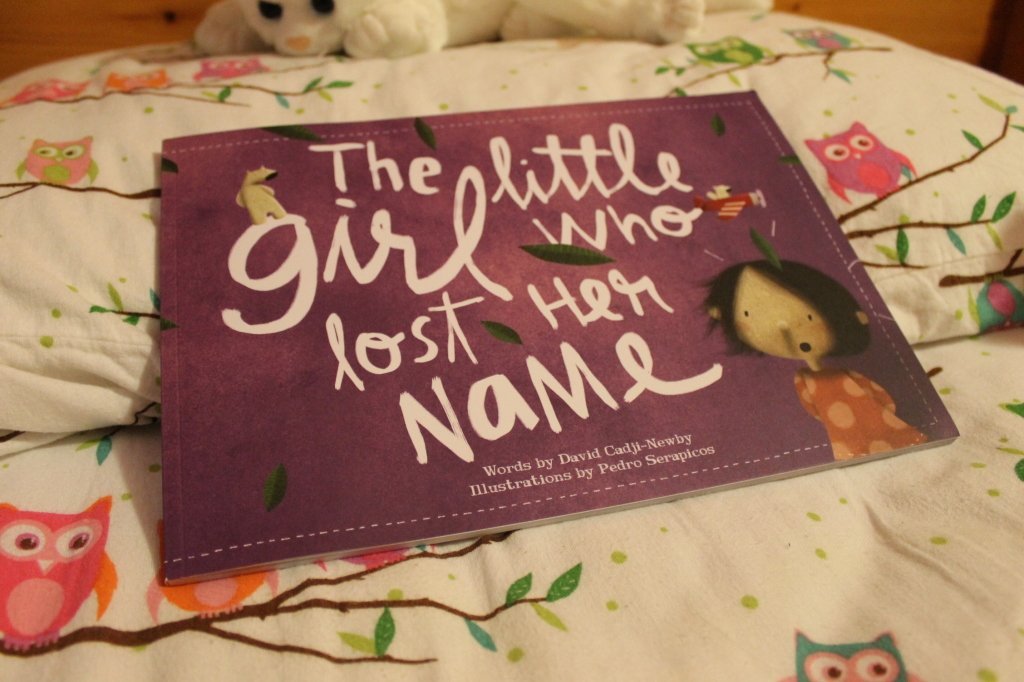 I managed to sneak this new treasure onto Alivia's pillow one night before bedtime, I told her this book was very important and that it had a special story to share about a brave little girl just like her.
Our favorite features of this book started before we even opened it, I was immediately impressed at the size of the book and the weight of the paper it's printed on.  It's a big book, with thick (environmentally friendly) pages and we found this made it much easier for Alivia to turn the pages on her own. When ordering the book you have the option to add a bit of customization in the form of a personal note at the start of the book, this is a fantastic time to leave a little love note, words of encouragement, a meaningful quote or a funny anecdote for your little one to look back on as they explore this fun book.
You know that look of excitement your child gets when they KNOW a word they are looking at? Or even better, they can read it to you? That was what happened with us and this book. Alivia knows how to spell her name and recognizes it, but we're still working on other words. As we turned the pages and made a point to really focus on the found letters and watched as it slowly dawned on her what we were spelling. The look on her face was priceless! She still asks for this story often.
Lost My Name personalized books are  reasonably priced at $34.99 CAD per book with FREE worldwide shipping. We recommend grabbing yours as soon as possible to avoid delays at the post office if you plan to use it as a holiday gift. This book will surely delight any child (and adult alike) and is a perfect addition to a Christmas Eve box! Why not cuddle up with a new tradition, a fun story & warm pajamas?
(Disclaimer: We were provided with a free Lost My Name personalized book to facilitate a review, all opinions are our own)