Life is busy. I know this first hand – most days I am scrambling to get lunches made with one foot out the door. I try my best to make sure my little bug knows how much she is loved before I drop her off at school with grandma. Days get away from us though. I was so thrilled to be introduced to Little Jots at an Easy Daysies event and knew this was a product I wanted to try out – and it's certainly become a favorite quickly in our home. I'm a sentimental mom – even more so now that Alivia is learning to read. She absolutely loves getting "mail" each day from the mailbox so I was so excited to be able to include a little bit of mail in her lunch box each day for her.
Maria, the creator and mom behind Little Jots had one mission – to help kids receive positive messages in this busy world. Little Jots are just that, a unique – one of a kind lunchbox addition – little notepads you can jot down love notes, words of encouragement, uplifting quotes or sentiments. Not feeling super inspired that day? Little Jots even includes a pad of pre-made notes for you. You can take a moment to scribble an additional message with it, or just an xo mom or dad. Either way, it gives you the perfect avenue to leave a little note for someone you love!
Little JOTS makes it easy to grab a heartfelt pre-written lunch note or simply write your own special message on one of our blank lunchbox note cards. The Little JOTS lunch notes have been specially designed so no matter how busy you are; you can always write your child a hug. These colourful and funky lunchbox notes have been designed with your child in mind. Fold and seal with a hug or a kiss sticker that makes it fun and memorable to receive.
Kids have rough days just like the rest of us, and though every child's love language is different most definitely thrive on positive affirmation and love. These handy little notes come in pad form, with pre-written notes like "I love you because you're you" "Your hugs fill my heart" and many more uplifting sweet anecdotes. Have something extra special to say that day? Write a personal message on any of the blank pages. These rectangular papers then fold into a square with pre-scored lines already made for you – seal with a hug or a kiss sticker and stash it somewhere that someone you love will be able to find it.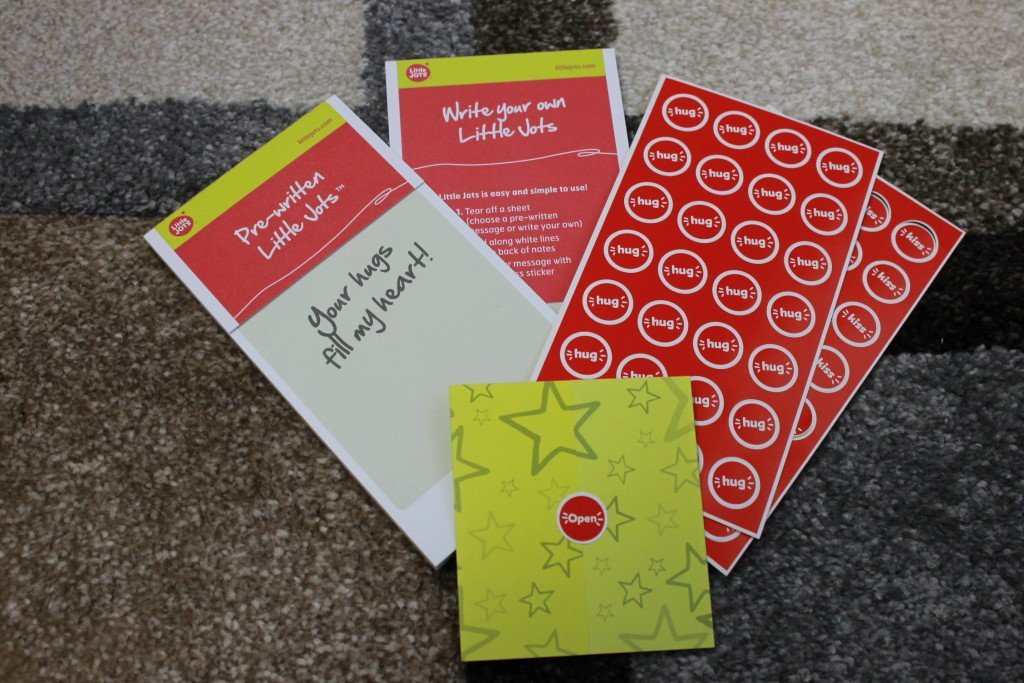 Just recently, my mom had to fly home to spend time with her dad who was in pallative care – normally Alivia stays with her most days and it was a hard transition for her. She was so used to Puma's house and getting to talk about her day with her everyday that she was having a hard time understanding that she wouldn't be going to visit her each day. Well, we were smart! In advance, my mom filled out a few Little Jots notes for her, when I knew Alivia was having a bit of a rough day, I would stash one somewhere special – by her ponies, near her toothbrush, by her coat at the door – for her to find. Just reading a little note from Puma when she needed it most was a great way to lift her spirits!
Little JOTS Lunchbox Notes includes:

20 colourful and funky pre-written lunch notes
20 colourful and funky sheets to write your own lunchbox note
Kiss and hug stickers to seal your lunch note with
Little JOTS Lunchbox NoteCards Deluxe Kit includes:
Hard Cover folio
20 Pre-written Little Jots Lunch Notes
20 Blank Little Jots Lunch Notecards
28 'Kiss' Stickers
28 'Hug' Stickers
Refill Pockets
Pen

Do you have someone special who would enjoy a Little Jots love note? We have a full deluxe kit + Lunchbox notecards to giveaway to one lucky reader! Enter below!