If you know me, you know that when it comes to the traveling Jurassic-themed shows in Vancouver, I haven't had a whole lot of good things to say. Jurassic Quest, Jurassic (Fyre)Fest…. and now Jurassic World Live Tour? What's the difference between the three you may ask? Well, the only one worth seeing in our opinion is the Jurassic World Live Tour! Put on by world-renowned Feld Entertainment, the team behind the beloved Disney On Ice shows, the standards are high and they want to make sure audiences are fully immersed in the experience… jump scares and all!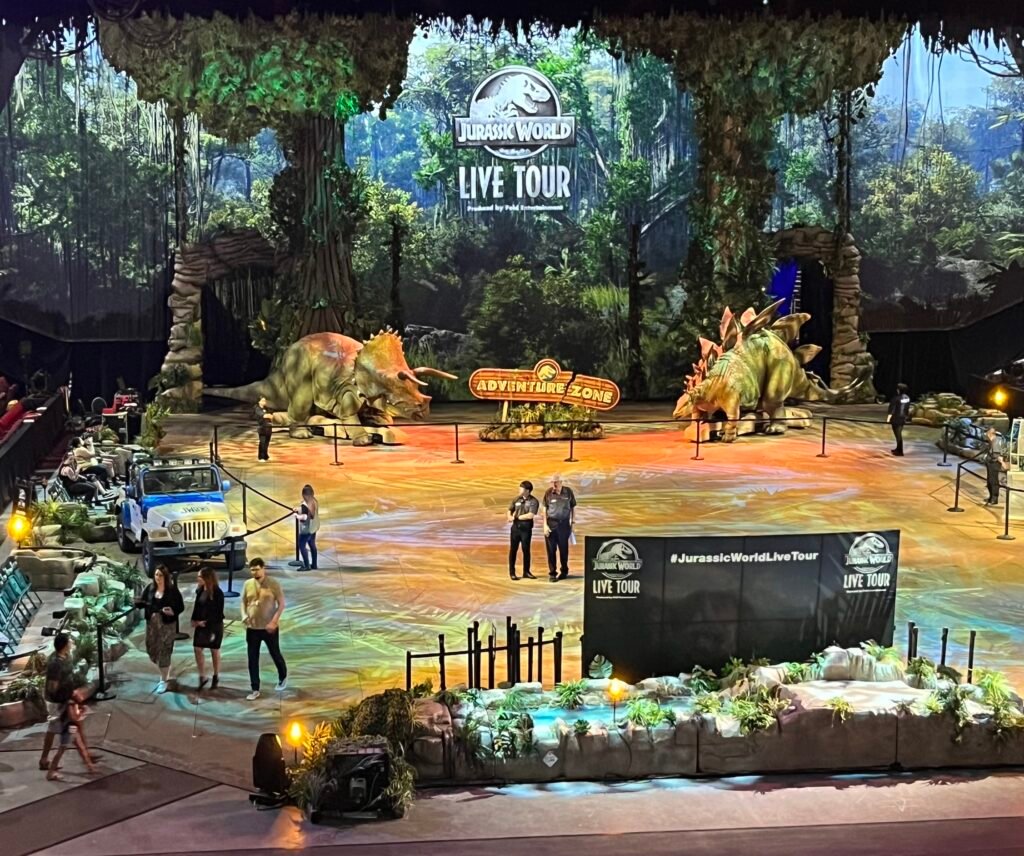 The Jurassic World Live Tour is an action-packed adventure story full of a variety of our favourite dinosaurs from the Jurassic World cinematic universe including cameos from Blue the Raptor and Bumpy the Ankylosaurus. We're big fans of Blue around here, an immediately recognizable cameo for many Jurassic Park fans.
And I'm not kidding when I say action-packed. While your trip to Isla Nublar starts out with herbivores and a research project; monitoring the brainwaves of a Troodon dinosaur named Jeanie to gauge her emotions. However, things take a terrifying turn when the Indominus Rex escapes and unleashes chaos in the park. Sound familiar? The worst part is… this time, you're ringside for the chaos. There's no escaping now!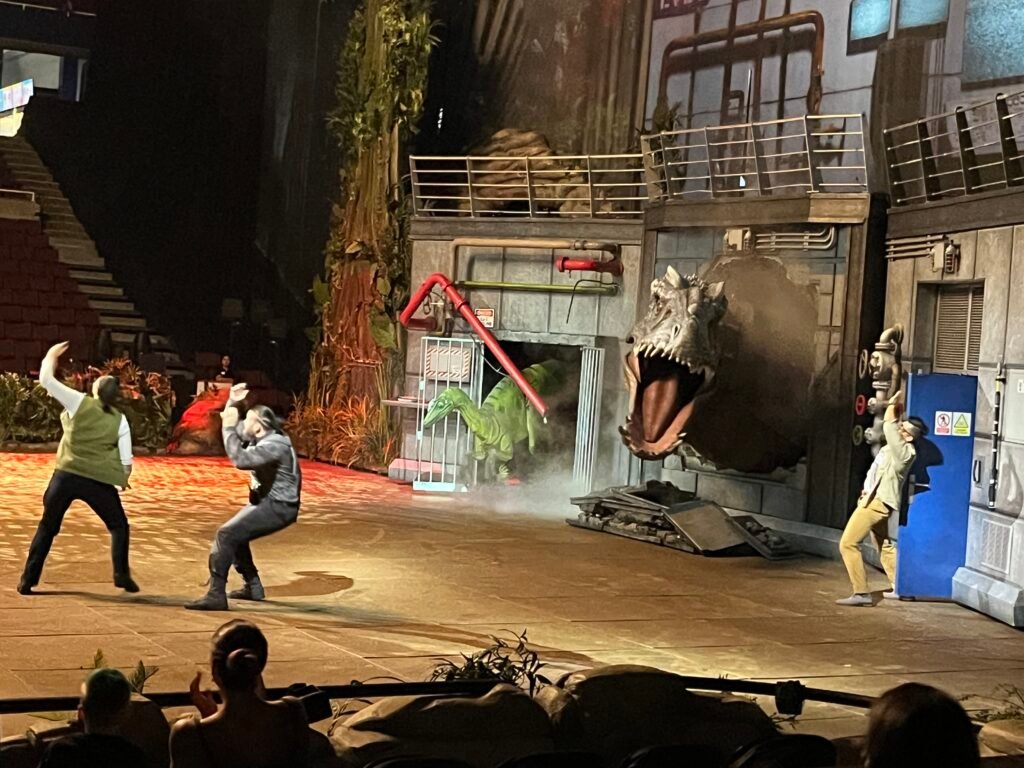 This live-action production features multiple violent fight scenes, dinosaur roundups, explosions, and edge-of-your-seat encounters with vicious predators and protective herbivores alike. Jurassic World Live makes you feel like you're right in the action as a secret plot is uncovered, a family is reunited and a romance unfolds. You can expect a bit of an immersive experience when the Indominus Rex escapes, with armed security running down the aisles screaming at you to evacuate…. or in our case, to get off our phones. It certainly brought a few chuckles to the group!
And of course, it wouldn't be a Jurassic World franchise show without at least one person being assumed to be eaten. It's just an assumption… but heavily implied if you get our drift. RIP to them.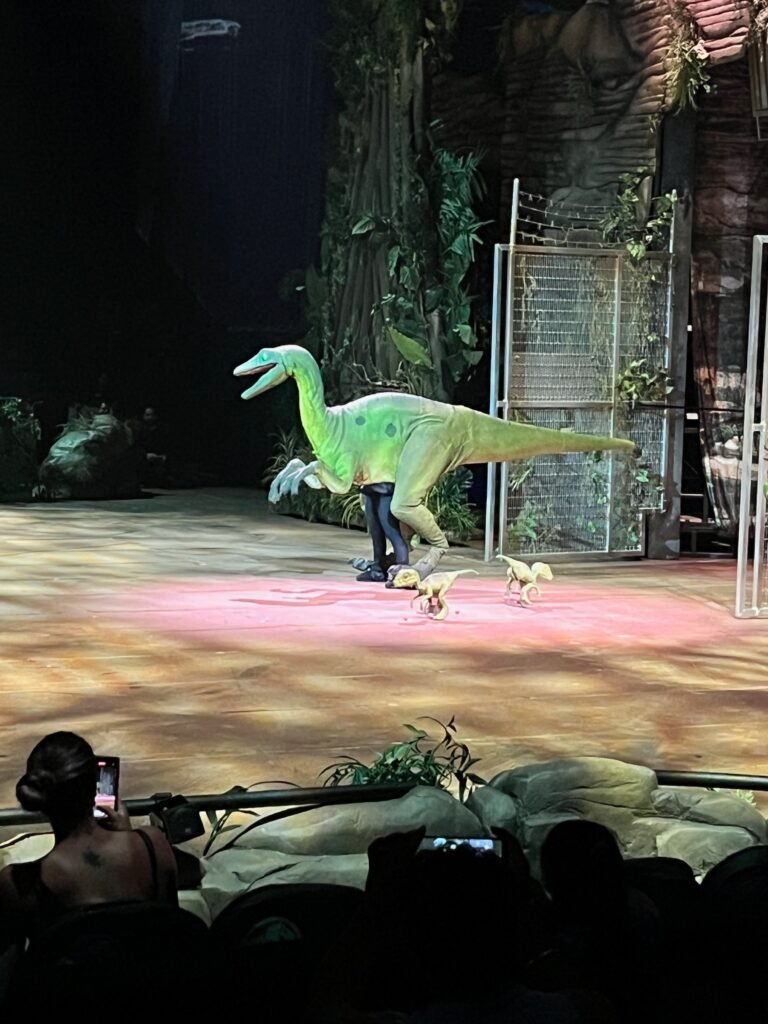 Some scenes with violence or rampaging dinosaurs may scare younger viewers, and it should be noted that the production employs the use of strobe effects, safe theatre fog, pyrotechnics, and explosions. Jurassic World Live is an amazing experience for franchise lovers, dino lovers, and anyone who loves to see live-action and incredible set work. You also won't want to miss the teeny tiny Troodon babies that may have made us all "aww" at least a few times. I mean just look at how cute they are!
Running time is approximately 1 hour and 45 minutes with a fifteen-minute intermission. The pre-show starts 1 hour before showtime. Ear protection is not a bad idea if you are noise sensitive or have teeny littles who are easily scared by unexpected noises as the show can be quite loud (you know… explosions and dinosaur fights and all).
Overall, the show is absolutely worth seeing if you are a dinosaur fan or a hardcore Jurassic Park fandom lover, the storyline is sure to leave fans wanting a sequel!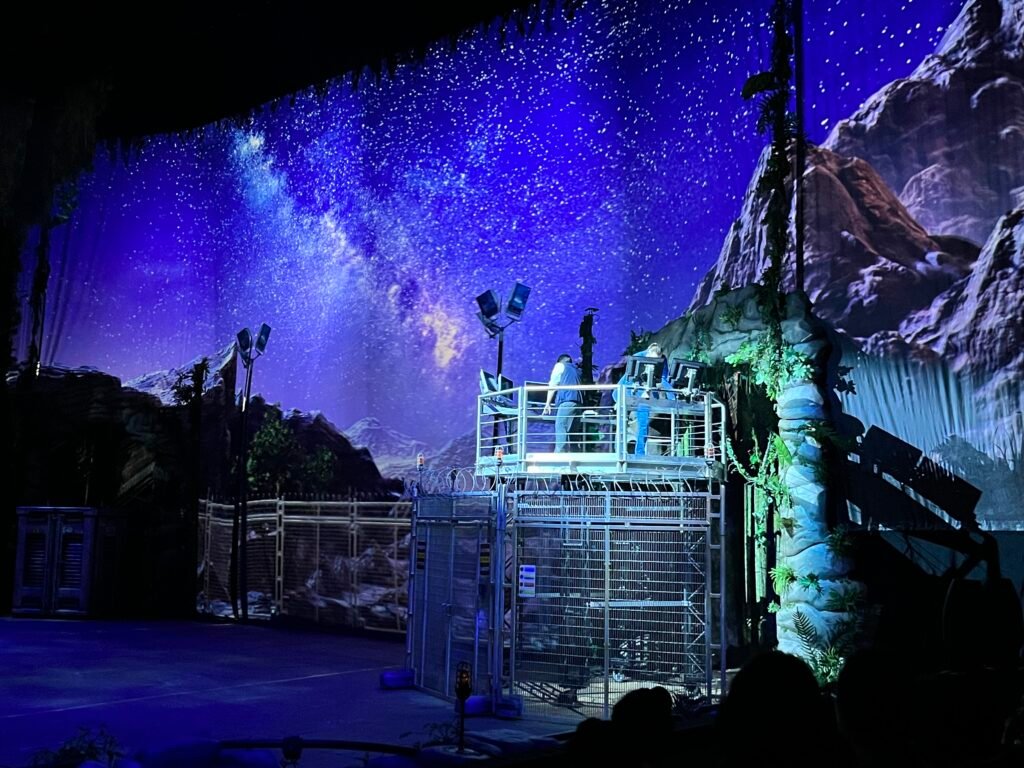 Jurassic World Live Tour Event Details
When: May 20-28, 2023
Where: Pacific Coliseum, 100 N. Renfrew Street, Vancouver
Tickets: Purchase online or at the Box Office, prices range from $22-$115 depending on location. Guests over 2 years old are required to have their own ticket
BONUS PRESHOW: Included in the price of your ticket is the must-see preshow experience! Get up close and personal with some of your favorite Jurassic World dinosaurs and vehicles! This special pre-show experience includes photo opportunities with Triceratops, Stegosaurus, Baby Bumpy, the Jurassic World Jeep, Gyrosphere, and Utility Terrain Vehicle.
Parking: The closest lot can be accessed via Gate 6 from Renfrew Street just north of the Pacific Coliseum (at Cambridge Street). Parking is $20 per vehicle.
(A huge thank you to Feld Entertainment for inviting us to the opening night of the Jurassic World Live Tour! All opinions and love of teeny dinosaurs are our own, we're confident you'll love the show!)