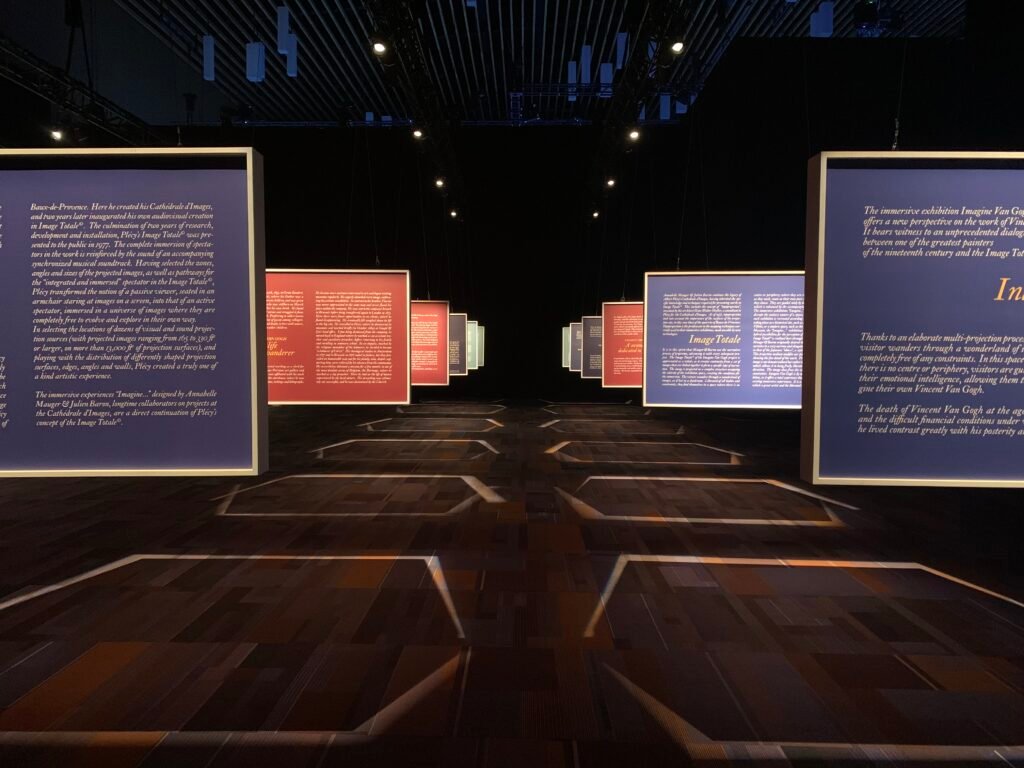 Swirls of colour, thick globs of paint, brush strokes seemingly so random yet purposeful, colours that seem to dance and move around a still canvas… experience Vincent Van Gogh's original artwork in a way like never before with Imagine Van Gogh the ORIGINAL immersive exhibition in Image Totale©.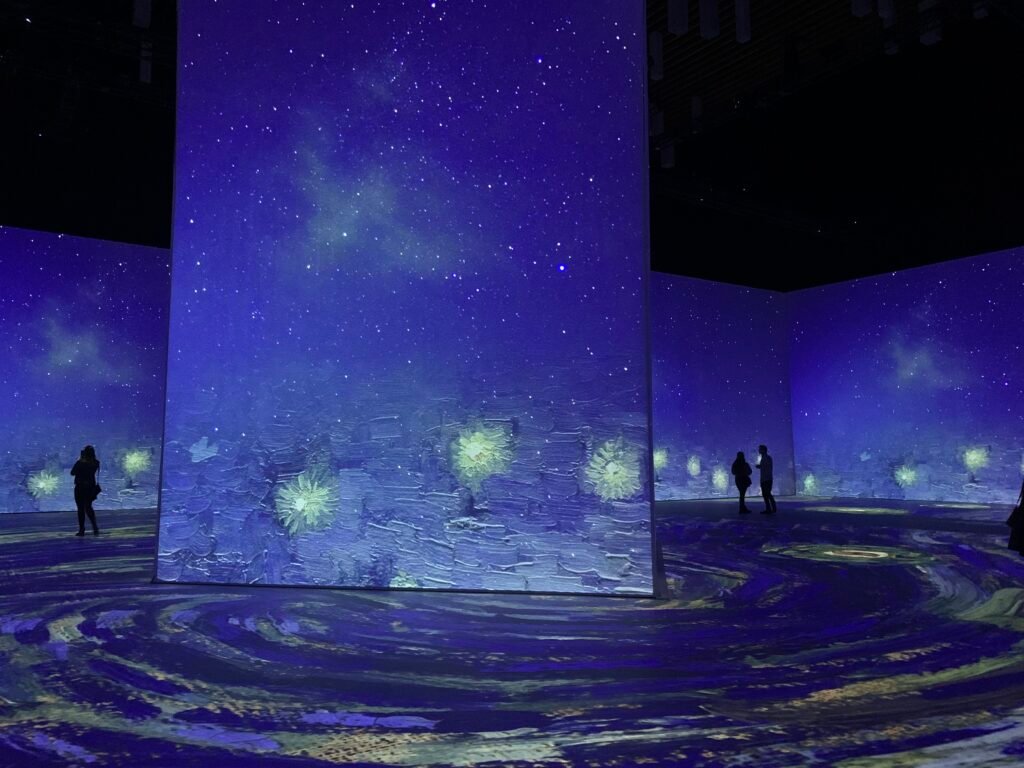 There are quite honestly not nearly enough words to describe the incredible experience that is Imagine Van Gogh. Vincent Van Gogh is renowned as one of the most incredible artists to have ever lived, though his fame came significantly after his death. Having struggled with mental illness throughout his life, his art shows a painful yet beautiful outlet for much of his life experiences. It amazes me to this day that he didn't start painting until he was 27, and his career was shorter than you might expect, a mere 10 years. In that 10 years, he captured beauty, sadness, stillness, natural movement in nature and many people he encountered in his travels.
It's important to note that much of Van Gogh's art is tiny in comparison to the scale you'll see it displayed at Imagine Van Gogh. Unique to Vancouver, his art is on display on 9-metre tall screens! This gives a unique opportunity to study his brush strokes, to see cracks in the hundred year old paint up close and to feel quite literally immersed in the moment. I wondered prior to the event if some of the quality would be lost in his paintings seeing it blown up to such large proportions, but the Imagine Van Gogh team has uniquely displayed his art in a way that honors the original painting and detail in a way that is absolutely breathtaking.
For my part I know nothing with any certainty, but the sight of the stars makes me dream.

– Vincent Van Gogh
From start to finish, the exhibit will take you between 40 minutes to 1 hour to fully experience, depending on if you choose to stay for the second cycle to experience anything you may have missed in the first one. You will start in an educational gallery presented in both English and French with framed panels that give you an inside look into Vincent Van Gogh's early life, his discovery of his love for painting, his eventual realization that he would never be famous while he was alive and his mental unraveling. Towards the end of the panels, you'll learn more about the history behind Imagine Van Gogh, how it came to be and the mission behind the exhibit.
This room is somber, with purposeful spot lighting on the panels and black throughout. It isn't until you walk through the panels that you may catch a glimpse of the most captivating splashes of colour dancing behind a black partition…. admittedly, I was so drawn to the colour that I may have skimmed the last couple of panels to make my way towards it a bit quicker.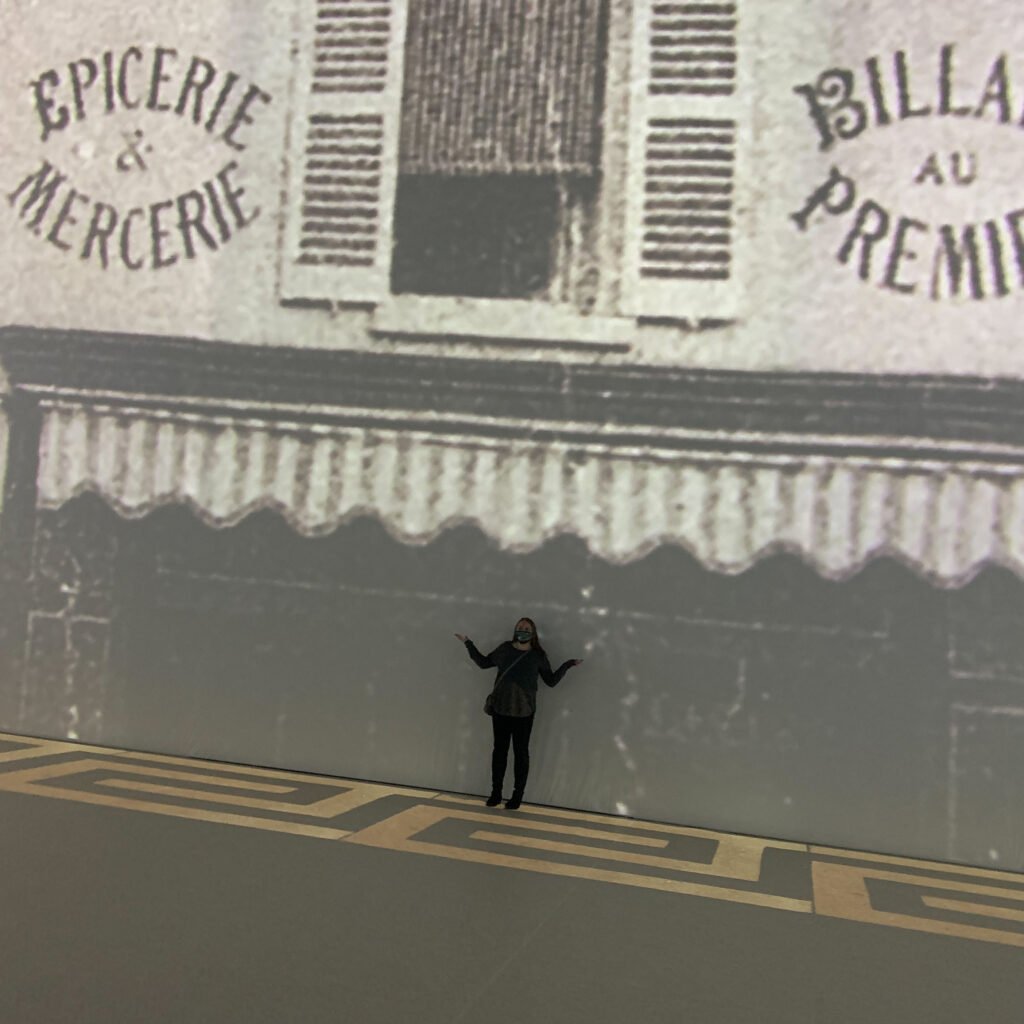 Once you are fully inside the staggering 25,000 square feet exhibit you are met with screens that make you feel like you are inside a completely different world. Projectors move through over 200 pieces of art of Van Gogh's time between 1888-1890 in Provence, Arles and Auvers-sur-Oise and leave you staring up at some of his most impressive work.
It is a fully immersive experience, with additional projections splaying the ground in front of you, dancing at your feet and creating an environment that truly leaves your eyes moving in every direction to catch glimpses of colour. That's not all though… the paintings are also accompanied by the music of great composers Saint-Saëns, Mozart, Bach, Delibes and Satie.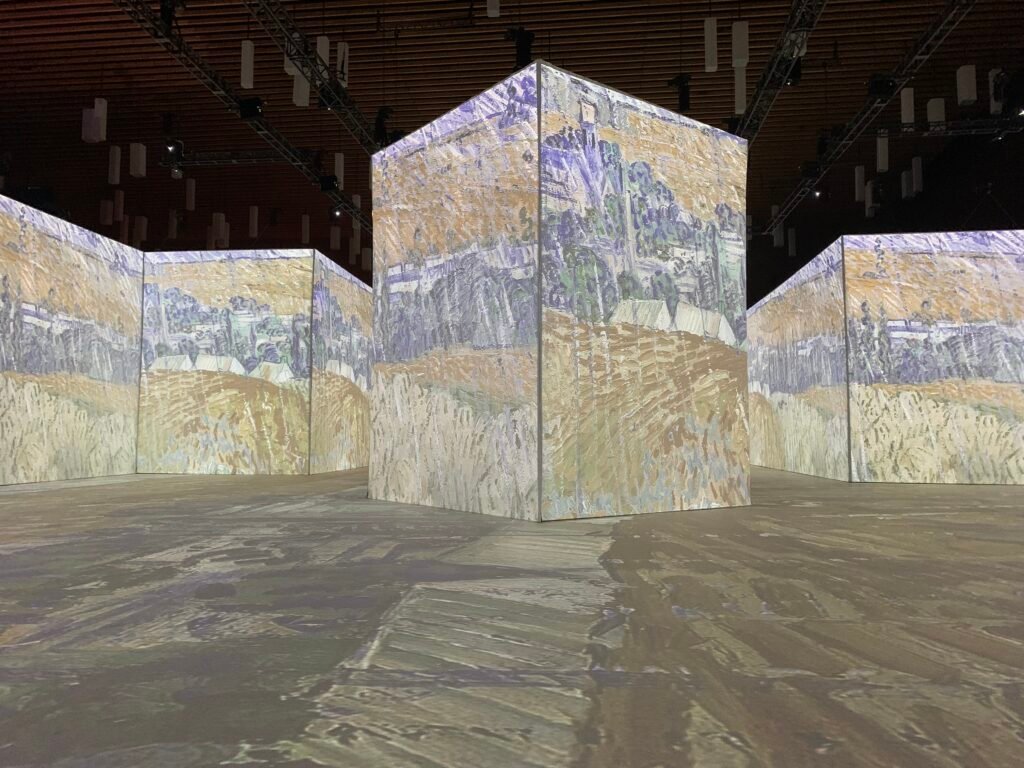 If I had to pinpoint the moment that left me absolutely speechless, it was when Landscape at Auvers in Rain transitioned to the screens, the lights dim slightly and your ears are met with the sound of splattering rain while staring at the streaks of paint that represent the rainfall Van Gogh was witnessing while painting. He captured the movement in nature in a way like none other. While there was many incredible moments through the display, this is one I will absolutely never forget.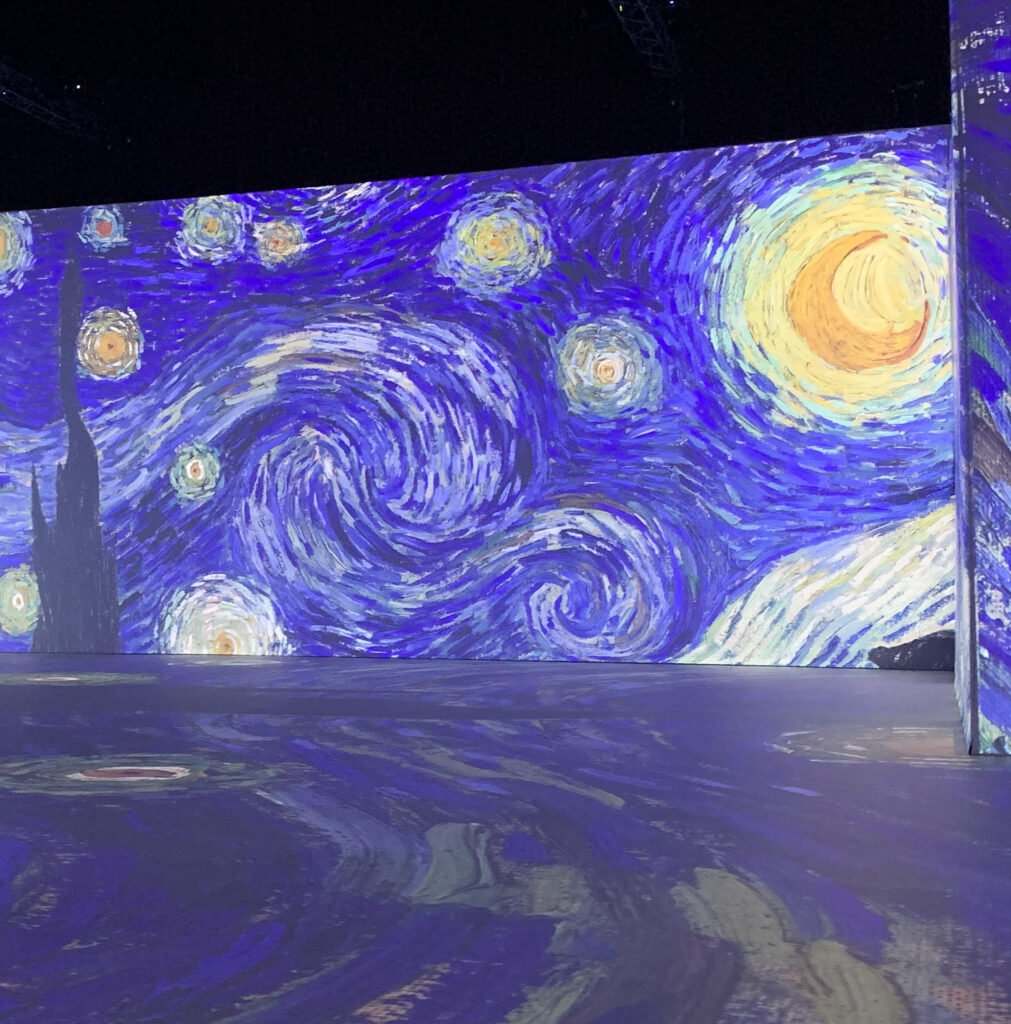 Similarly to the purposeful strokes, the Imagine Van Gogh creators French Artistic Directors Annabelle Mauger and Julien Baron have designed a purposeful exhibit where each thing you experience is meticulously thought through. From the art fractured on some screens, to the words of Van Gogh himself splashed on the floor, down to each music choice to accompany each transition, it's a must-see immersive experience that leaves you leaning into some of the most vivid paint colours, examining every brush stroke and stepping into a world inside Van Gogh's mind.
Don't forget to stop in the gift shop on your way out either, much of the favourites seen inside can be purchased printed on art, carts, pins, clothing, reusable mugs and bags and my personal favourite… bring a tiny Van Gogh home with you in crochet or vinyl form… complete with a tiny detachable ear, bandage and easel. There is a gift for everyone, I highly recommend the program book that details more about Imagine Van Gogh, has the same educational panel information inside and more about the specific pieces and periods you'll see on display. It's a glorious coffee table book that anyone would be drawn to flipping through.
Imagine Van Gogh Event Details
Where: Vancouver Convention Centre, West Building (Jack Pool Plaza Entrance) – 1055 Canada Place, Vancouver When: March 19 – August 29th, 2021
Open Daily 9am – Midnight
Last entry 1 hour before close
June, July and August : Not open on Mondays
Tuesday-Friday 10:00am start time to 10:00pm (last entry)
Saturday: 9:00am to 11:00pm (last entry).
Sunday: 9:00am to 8:00pm
Cost:
Adult (16+): Mon-Thu $39.99, Fri-Sun $49.99
Child (4-15): Mon-Thu $34.99, Fri-Sun $44.99
VIP packages: $99.99 (includes : Imagine Van Gogh's 1 mask, 1 poster and 1 program)
Children 3 and under admitted free, however, they require a ticket due to capacity restrictions. Please ensure you add a free Child 3 and Under ticket to your order. Please note, there are a limited number of Child Under 3 tickets available per time slot.
Things To Know:
Masks are mandatory inside the exhibit, a face shield will not be permitted unless accompanied by a mask
Imagine Van Gogh is cashless, plan accordingly if you'd like to take home a souvenir
You are encouraged to take photos to share, but please no flash or tripods
Pack light, there is no coat check and personal items cannot be put on the exhibit floor
Please do not sit on the floor or touch the screens
If you hope to catch this exhibit, the good news is that you have until August 29, 2021 to experience it! Tickets are on sale now at https://www.imagine-vangogh.com/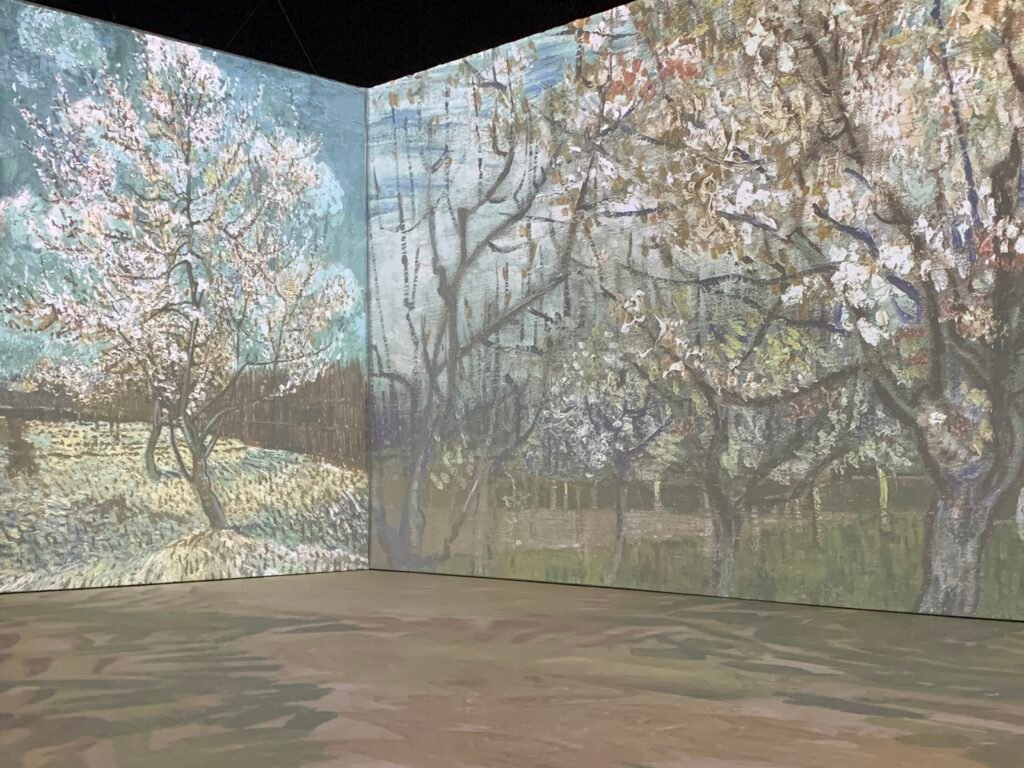 {Disclosure: This was a gifted experience, however all opinions and love of the beautiful exhibit are my own.}