Buckle up, car enthusiasts, because Hyundai has once again hit the automotive scene with a dazzling new addition to their lineup: the Hyundai Ioniq 6! This revolutionary electric vehicle combines cutting-edge technology with a super sexy design, taking your driving experience to a whole new level. Get ready to embark on an electrifying journey as we explore the incredible features and captivating body of the Hyundai Ioniq 6!
I've driven a lot of cars, but few have left people pointing and staring quite like the Ioniq 6. I was a bit shocked at how many people came up to look over the car, trying to place why it looked so familiar but so different at the same time. And wondering why it was parked at an EV charger….
Ioniq 6 boasts an Electrifying Exterior
The moment you lay eyes on the Hyundai Ioniq 6, you'll be captivated by its slender and stylish exterior. With its aerodynamic silhouette and futuristic lines, this beauty effortlessly merges form and function giving you that feeling of a Porsche without all the gas guzzling. The carefully sculpted body is not only visually stunning but also plays a vital role in enhancing the car's overall efficiency. From the bold grille to the sweeping roofline, every detail has been meticulously crafted to maximize aerodynamic performance. You will glide like a leaf on the wind in this beauty and driving it was a dream. The kids love the pop out door handles as well, they insisted I include that.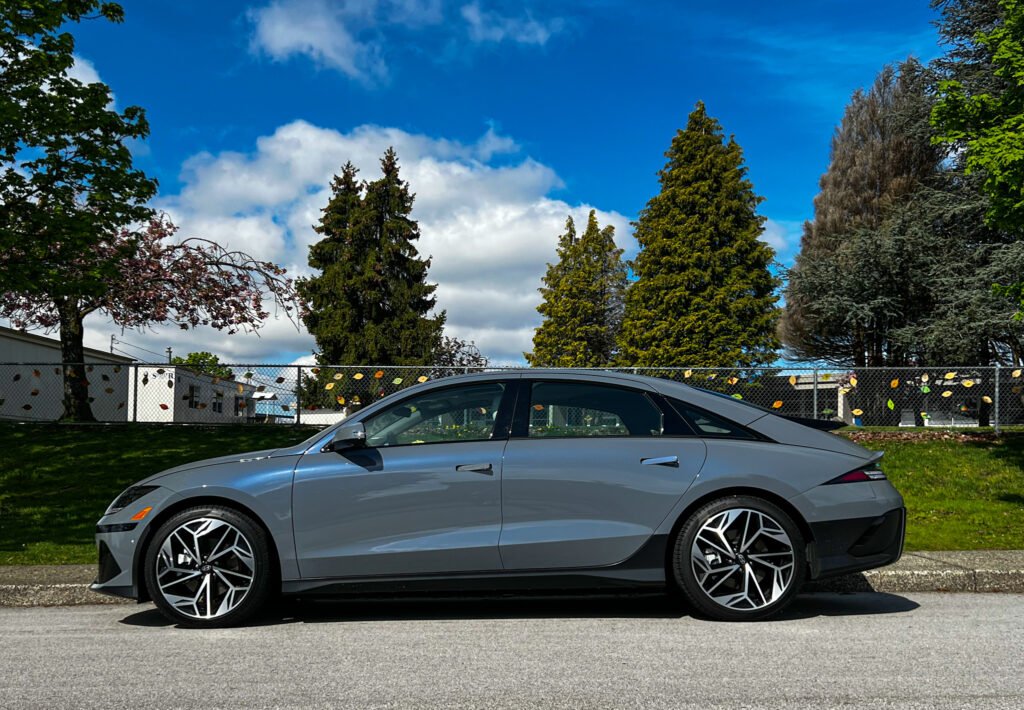 Don't forget the Luxurious Interior
Step inside the Hyundai Ioniq 6, and you'll find yourself immersed in an environment that blends luxury with advanced technology. The spacious cabin in this midsize vehicle provides ample room for both driver and passengers, ensuring a comfortable and enjoyable ride. Premium materials, like plush leather upholstery and sleek metallic accents, create an atmosphere of sophistication and refinement.
While luxurious, you can still pack the kids in the back seat with enough space generously for 2 car seats with Rear LATCH Lower Anchors and Upper Tether Anchors on both outboard seats. Note: There are no anchors for the middle seat and you cannot borrow form the outboard seats. If you are planning to utilize the middle, you'll need to use the belt system, and it'll be right. With the 2 seats outboard, you can drop the middle console for sippy cups and snacks… and a barrier from the siblings on long drives.
But wait… there's also Technology Galore
Prepare to be wowed by the technology that awaits you in the Hyundai Ioniq 6. The centrepiece of the dashboard is a large, high-resolution infotainment display that seamlessly integrates with your smartphone, putting all your favourite apps and features right at your fingertips. Advanced driver-assistance systems, such as adaptive cruise control and lane-keeping assist, make every drive safer and more convenient.
With wireless charging, you can say goodbye to tangled cords and keep your devices, and your kids let's face it, powered up effortlessly. Y'all know that normally, I am not a huge fan of driver assist functions and oftentimes find them very distracting, though somehow, Hyundai has made them perfectly integrated in a way that even I found myself loving them.
Generous Electric Performance
Underneath the stylish hood, the Hyundai Ioniq 6 is powered by an impressive electric drivetrain. This zero-emission powerhouse delivers exhilarating performance while keeping your carbon footprint in check. The electric motor generates instant torque, propelling you forward with lightning-fast acceleration. With a generous driving range of approximately 581km, you can embark on epic road trips without worrying about constantly searching for charging stations.
Smooth and Whisper Silent Ride
The Hyundai Ioniq 6 is designed to offer a smooth and serene driving experience. Thanks to its advanced suspension system and carefully tuned components, bumps and road imperfections are absorbed effortlessly, ensuring a comfortable ride for everyone on board. And with the near-silent operation of the electric motor, you can enjoy the tranquillity of the cabin, free from the typical rumblings and vibrations associated with traditional vehicles.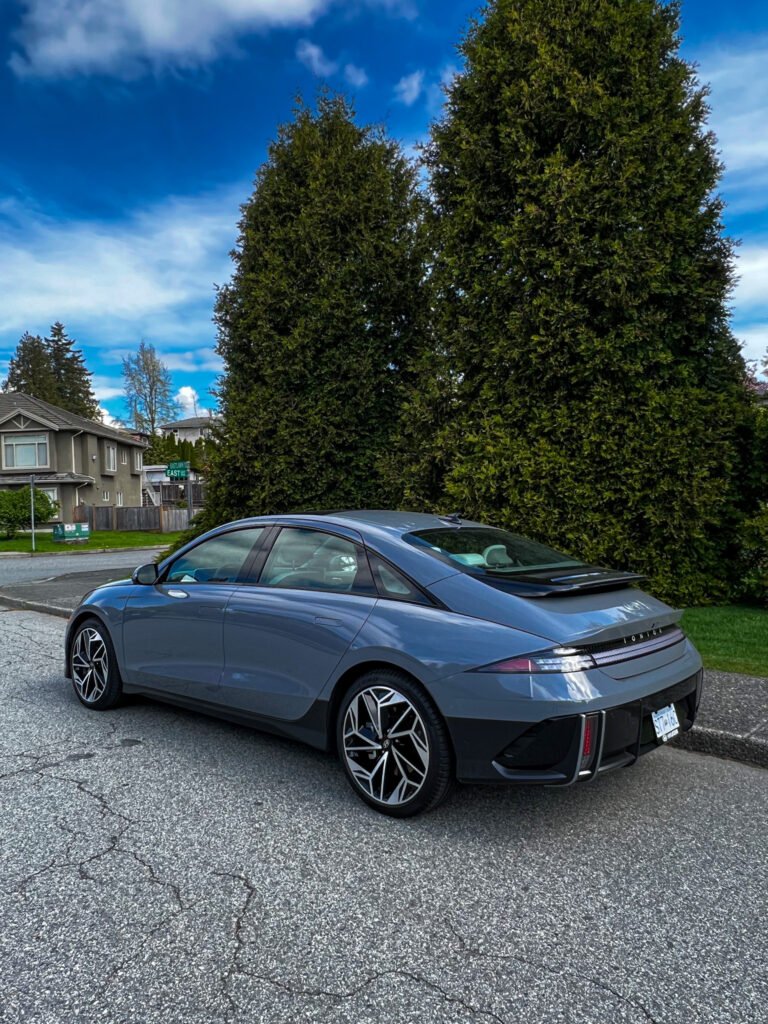 Environmental Responsibility
Hyundai's commitment to sustainability shines through in the Ioniq 6. By going all-electric, this car contributes to a cleaner and greener future, reducing our dependence on fossil fuels and combating climate change. With its advanced energy management system, the Ioniq 6 maximises the efficiency of its battery, extending its life and minimising waste. Which makes longer Summer trips even easier.
The Hyundai Ioniq 6 is a true game-changer in the world of electric vehicles. With its captivating body, luxurious interior, advanced technology, and impressive performance, it's a car that combines sleek style and substance effortlessly. Get ready to embrace the electric revolution and experience the thrill of driving while making a positive impact on the environment. The future is here, and it's called the Hyundai Ioniq 6!
Let's talk price… and rebates
Though not one of the cheaper options on the market for a fully electric vehicle, the model we reviewed was the 2023 Ioniq 6 Preferred Ultimate Package, all wheel drive 4-door electric vehicle and you're looking at just below $64,000 CDN to take home this model. However, if you're looking more baseline, you can scoop up one of the rear wheel entry model starting at $54,999. Hyundai really considered rebates when pricing in the Ioniq models and all 3 trims quality for provincial EV rebates. Unfortunately for us in BC… it is based on your income, so you'll want to double check what you will qualify for before factoring that into your buying power. You can find income levels and rebates on GoElectricBC.
A major consideration when thinking about your next vehicle being EV is the cost of maintenance (there is barely any) and the cost to recharge. The Ioniq 6 will set you back approximately $600 a year on 20,000KM of driving. if you are currently driving a gas car, you're looking at considerable savings that can easily be put towards an upgrade.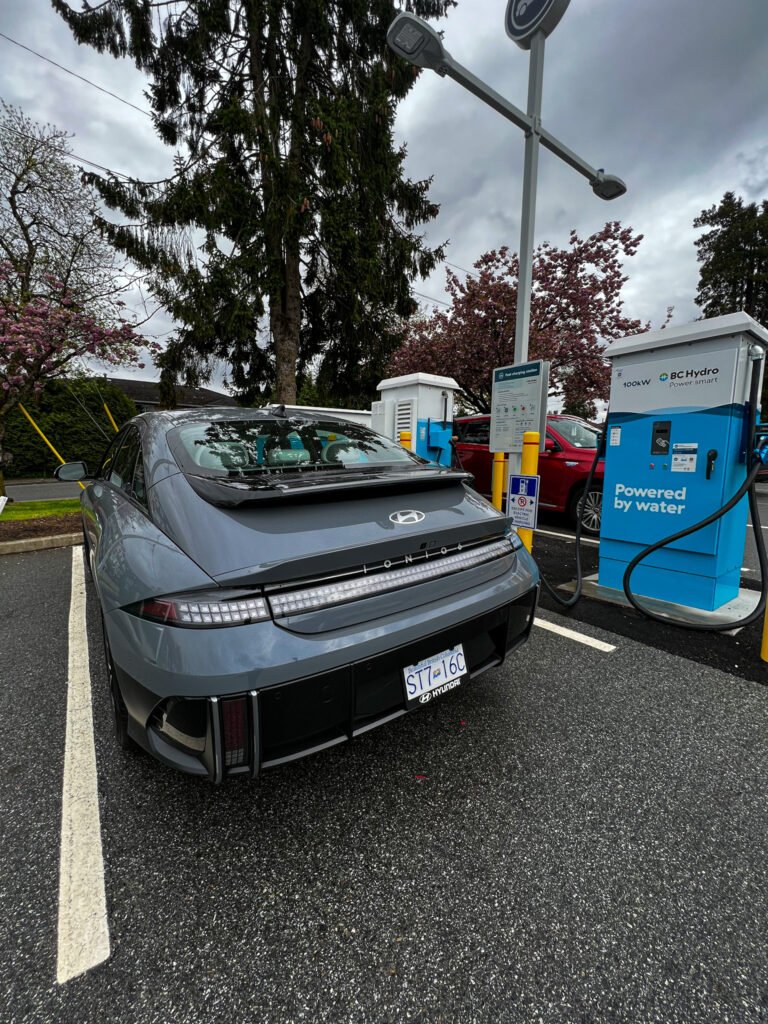 Final thoughts
This one was a hard one to give back at the end of our review period, the ride was incredibly smooth and easily managed our North Burnaby mountains and hills. We never struggled with space during grocery shops or school pickups with many kids in tow and it may have brought me immense joy to trick my husband into thinking there was a Porsche in the driveway. Over all, there are nothing negative to report on with the Hyundai Ioniq 6 and it would absolutely be an EV I would recommend considering. Considering a new vehicle? Make sure to check out our reviews.