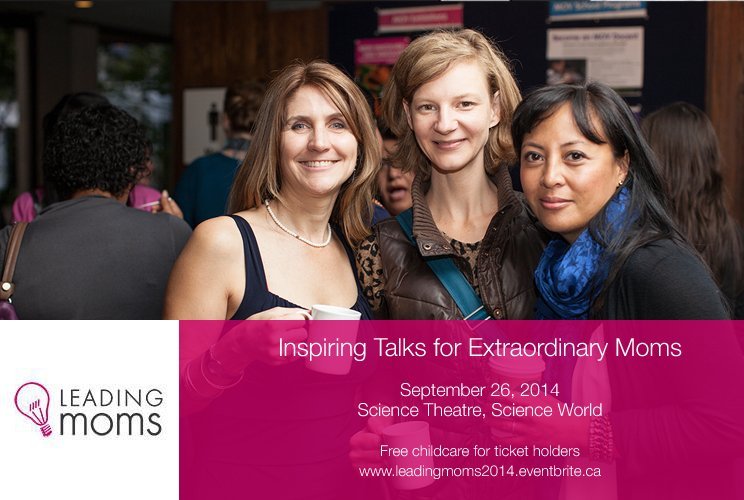 Have you grabbed your ticket yet for Leading Moms? If not, there's still time to  get your early bird ticket and join some amazing women for this special one-day event hosted by VancouverMom.ca, Entrepreneur Mom Now, and JellyBeen, as well as sponsors Kidoodle.tv & Chevrolet. The event is a half day and held at Science World On September 26, 2014 in Vancouver, B.C.
Come listen to like minded women share their stories and network with some inspirational women in your community at the leadership breakfast!
The event boasts keynote speakers  award winning broadcaster, Tamara Taggart and philanthropist, Andrea Thomas Hill as well as some key influential women in arts, business, health, media and more! See the list of speakers here.
This year will also feature a special Leading Mom Award, an everyday mom will take home an amazing weekend prize package for showing exemplary leadership and for making a difference on a local, national or international level.
Frugal me has to share that purchasing your ticket during the early bird pricing will save you $25, that's a HUGE savings, combine that with free child care provided by Kids & Co available and there's no reason not to attend. Come listen, soak it all up and be inspired! Tickets are only $45 for early birds. Come treat yourself to a heart opening experience, this event will not disappoint!
Early Bird pricing ends September 9, Get your tickets now! 
Check out the highlights from last year's event… we hope to see you there this year.

Twitter party alert!
Join us on September 9 from 8-9pm (PST) for the Leading Mom's twitter party! There will be prizes and great information so don't miss out! Follow @leadingmoms on twitter and the hashtag #LMinspire. If you aren't sure how to attend a twitter party feel free to message me, I'm happy to share some tips and tricks on how to get started.

Disclaimer: I am an official Blog Ambassador for this event and have received a free pass to attend. Opinions of the event remain my own, and I am SUPER excited to attend!