Fall and Winter are hands down my favourite time of year. We're dusting off our puffy vests, donning our comfy hoodies and heading out to enjoy the leaves and cool weather more often as a family. One thing I don't enjoy is that it's getting darker much quicker and our family walks are sometimes pushed side if I get home too late as it's too dark outside! When A asked me for a pair of "light-up" shoes one day, I didn't even know these were a thing! Thanks to Skechers, both her and B will be rocking the Energy Lights by Skechers and staying safe (and cool) this season.
True to their name, the Energy Light shoes are the perfect mix of high visibility shiny goodness and the right amount of flashy flair. These adorable kids shoes come in an assortment of colours including shiny patent rose gold and blue and cycle through some seriously neat light sequences that are very reminiscent of a disco dance party! Easily rechargeable with the provided dual prong USB charge cord and hold a considerable amount of charge for how much the kids use them.
With a super easy "on" switch hidden inside the tongue of the high top sneaker, kids can switch on their party whenever they want, and still turn them off on their own. The shoes cycle through solid light patterns and a few surprise disco ones that had the kids chuckling in the dark hallway having their own little dance party!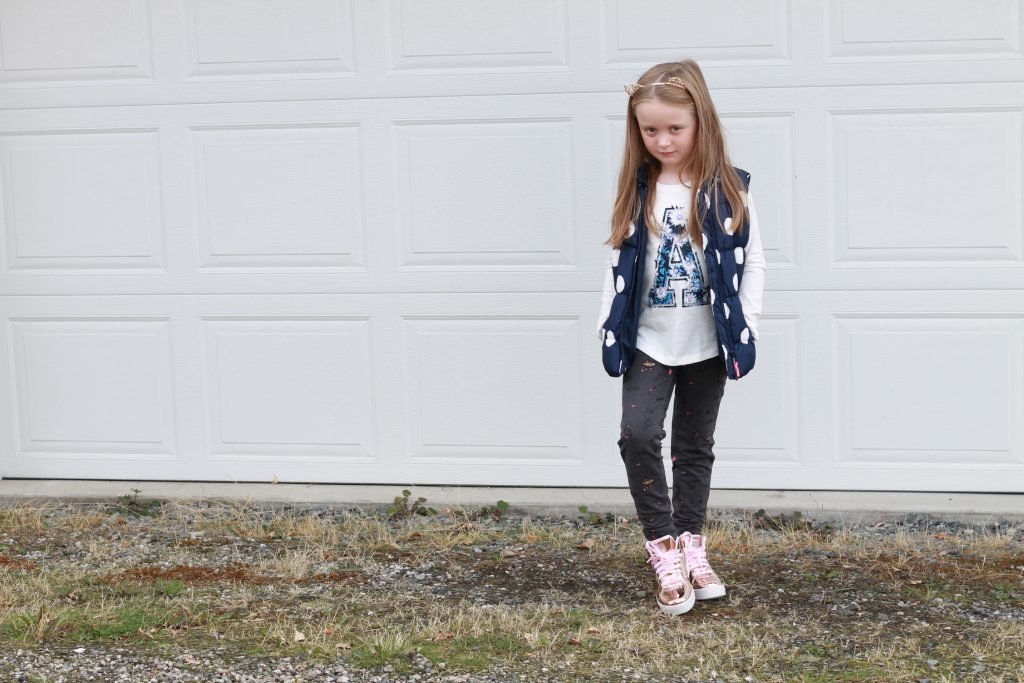 Both A&B were stoked to have matching shoes and even decided they were the "must-have" Halloween accessory this year and we loved that it made the kids easy to spot in the dark and lit up the path on their Trick-Or-Treat adventures! It's hard to miss a kid who's shoes are flashing through colours bright enough to light the pathway.
After a long night out, I really appreciated that the shiny metallic patent leather is super easy to wipe off, which has been quite convenient with our iffy wet Vancouver weather, they keep their feet dry and are super easy to tidy up if they come across an irresistible puddle along their way. Add in the durability that Skechers Shoes are known for and you have a pretty indestructible, perfect for kids of all sizes shoe! Not sure on sizing? Skechers has a super handy printable sizing chart that has never failed us, we usually go about a half size up and have tons of room to grow.
Unfortunately for the big A, the Energy Lights didn't come in her size but she was able to find a killer pair of back to school kicks that she loves pairing with just about every outfit! The Moda – Walk Streets are a versatile pair of white sneakers that pair perfectly with skinny jeans, leggings and everything in between! She's been nursing a dislocated knee over the past few weeks so she's really appreciating a pair of shoes that is both comfortable, stylish, easy to slip on and has a flexible traction sole so she is much more stable when on her crutches!
Similar to the Energy Lights, the Moda are also super easy to wipe down and keep clean. A loved the green accent on the back of the shoe that just so happened to be a perfect fall colour to incorporate into everyday outfits.
We were super impressed that even though A wanted the light-up shoes because she still is a kid at heart, there were plenty of options for her in the women's section for her to choose from that she still loved! In fact, she's already made a list of other styles she wants to add to her shoe collection.
Skechers Shoes have come a long from way what I remember as a kid and I have to say, I love that they are so versatile for the entire family and really have something for everyone! Last year, we reviewed some of their fall boots and they came at the perfect time for the winter weather! Even now, almost a full year later all of our shoes are in almost new condition and ready to rock the upcoming cold weather.
Skechers Canada wants to give one lucky fan the chance to pick their Kickin' It This Fall style and is giving one lucky reader a pair of shoes of their choice! Want to win? Enter below!
Want another chance to win? Head over to A Moms Perspective who is also giving away a pair of Skechers to one lucky fan!
{This post is brought to you in partnership with Skechers Canada, all light-up shoe love opinions are the kids and not influenced by the sponsor}