Finally, for the first day in July the West Coast is actually starting to feel like summer! This dreary weather hasn't slowed us down though and we're already planning our second camping trip of the summer and gearing up for more day trips, road trips and exciting summer fun! We had our very first family camping trip a few weeks ago and phew, let me tell you…. if you think kids have a lot of stuff, try taking them camping! We packed an SUV full of everything we "thought" we would need and goodness, there was hardly any room for me in the car.
The truth is though, whether you are taking family camping or just going on a trip with someone special, you do need a few key things for an enjoyable camping trip, and – believe it or not – most, if not ALL of these items require batteries!
We were pretty shocked at the amount of batteries we counted on our trip. In devices ranging from flashlights to air pumps, bug repellent fans, radios and more, we counted close to 25 batteries total! How crazy is that?
We spent a good part of our camping trip teaching the preschoolers about conservation at our camp site, cleaning up after we were finished and making sure to leave our camp site as we found it. We also thought it was important to go one step further and help them learn the importance of recycling, and how important it is to make sure those batteries we used also made it into a safe disposal area. What the kids found most fascinating was that recycling batteries does more than just keep them out of our landfills, it gives them a new lease on life! Did you know that many summer staples are actually made out of recycled batteries? Next time you light up those BBQ sets, spend a day using your gardening tools or pack up that camping gear – chances are you are using something that was once a battery. Kinda cool, right?

Call2Recycle is encouraging Canadians to make the most of out of their summer months by exploring the outdoors, rounding up their used batteries and entering to win with their Summer Smile contest! Hey, the #Selfie has a ton of power on social media, and you could win just by taking a selfie with your recycled batteries! This is a fun way to get the entire family involved with recycling and it keeps unneeded items and harmful chemicals out of our landfills and encourages kids to learn a bit more about the importance of conserving our natural resources. It's also a fab way to open up communication about where and how the items kids know and love are made.
Follow the quick, 3-step process below to get your 'Summer Smile' on & enter to win:
Step 1: Gather your used household batteries under 5 kg (not sure what is accepted? Find a full list here)
Step 2: Find a drop-off location at call2recycle.ca/locator
Step 3: Send in your best selfie recycling batteries for a chance to win cash prizes (and a cool selfie stick!) through Call2Recycle's online form, Twitter or Facebook using #Call2RecycleNSmile
This contest is a fun way to encourage the entire family to get involved! Spend some time as a family finding out what may need to be inspected or replaced in your home. Hint: During the summer months, have your furnaces and other natural gas appliances (ahem: that shiny BBQ…) inspected and check those clocks and remote controls to see if those batteries could use a refresh. Many of the items we store away in the fall/winter are unpacked again this summer and could probably benefit from some fresh batteries. Double check those fans, GoPro/Camera chargers, flashlights and of course, your carbon monoxide detectors and smoke alarms.
Good luck! Make sure to tag #Call2RecycleNSmile in social media posts so we can follow along. Happy Recycling!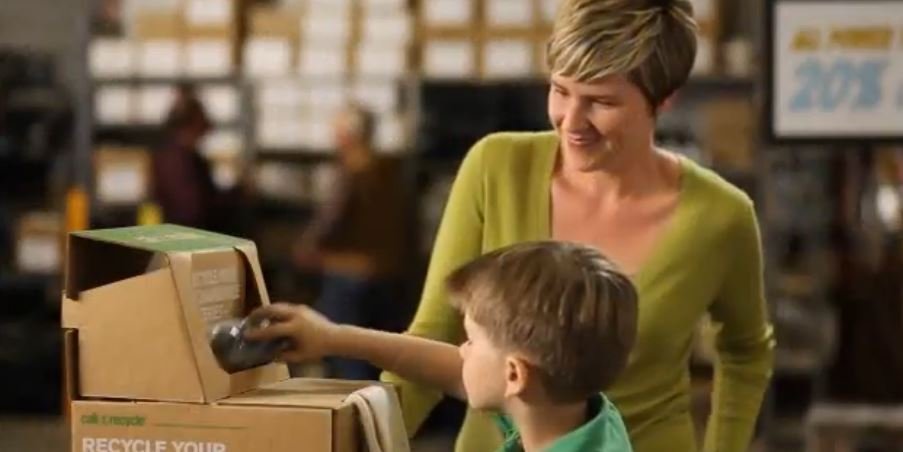 Tips for Responsible Battery Recycling
As always, Call2Recycle wants to make sure consumers are recycling their batteries in a safe and responsible manner. Here are a few safety tips to keep you on track
i. Always individually bag Lithium Ion, Small Sealed Lead Acid rechargeable batteries and Lithium Primary batteries. Alternatively, you can cover their terminals with tape before they are shipped
ii. With powdery batteries, it's best to be safe and bag them individually to avoid contaminating other batteries in the boxes. It also avoids a mess when shipping!
iii. Button Cell Lithium batteries must always have their battery terminals covered before  they're placed in the box for shipping. What's the best way to do this? Take a strip of tape and make a 'battery ribbon.'
For more information on what you can bring to a Call2Recycle drop-off and how to properly prepare your batteries for recycling, check out http://www.call2recycle.ca/faqs/
{Disclosure: This is a sponsored post, all opinions and ridiculous amount of camping stuff packed is our own.}