Crazy bread, it is one of my weaknesses and I know it's many others as well. I am fortunate to have a Little Caesars close to my home, but I am trying to cut back on my eating out, it's pricey and I often find that I end up getting things that are more than just the crazy bread I wanted. The other night I had a craving for crazy bread and I figured, why not make it home, a much more frugal option! Best part? It's warm and fresh right out of the oven for you.
I love how easy this recipe is, easy enough that you can prep it in advance and have it alongside anything you plan to make for a weekly dinner idea. Switch up the dips for different flavours and whip this recipe out for appetizers at an event and it's sure to be a hit!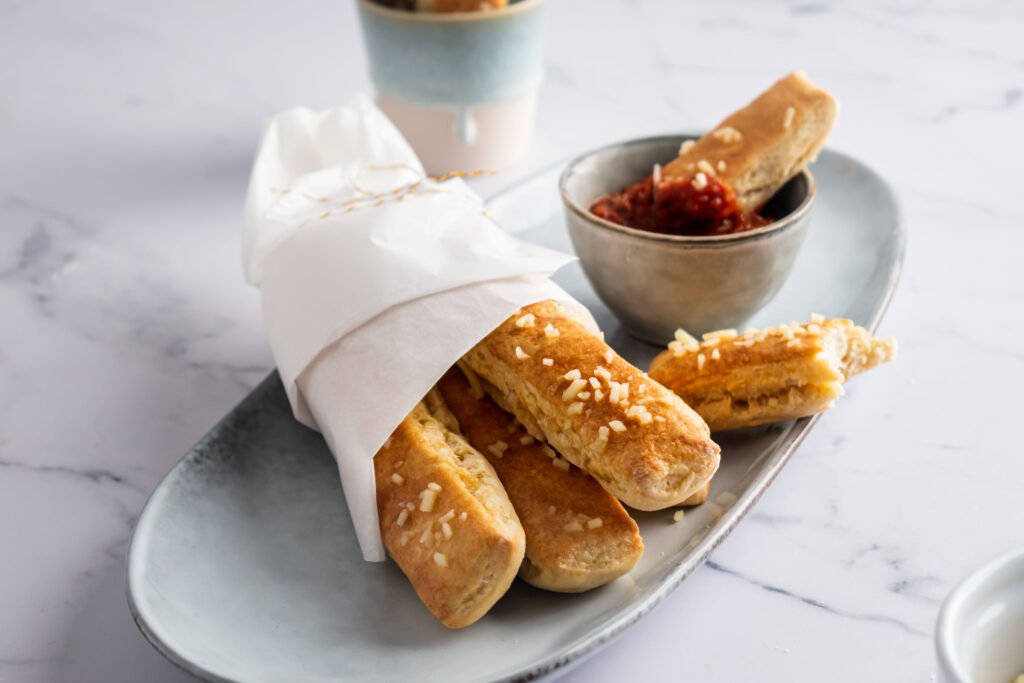 When I say that this bread is absolutely delicious, I'm not exaggerating either. Unlike what you may receive from the warmer at Little Caesar's, you're able to enjoy this bread fresh out of the oven while it's still delicious, crisp and warm. You control the amount of cheese, delicious garlic taste and no one is going to say a word if you decide you need a whole jar of marinara sauce for dipping (at least we won't!)
Ready to tackle this delicious recipe? You probably have most of what you'll need already on hand, and it's such an easy recipe you can easily stock these pantry staples so you can enjoy this mouth watering bread anytime.
Copycat Little Caesars Crazy Bread Recipe
What you'll need:
2 cups all-purpose flour
3/4 cup warm water
1 1/2 tsp dry active yeast
1 1/2 Tbsp light brown sugar
2 tsp olive oil
1 clove garlic, crushed
1 Tbsp butter
1/4 Tbsp olive oil
Parmesan or pecorino cheese
Marinara sauce for dipping
Directions
1.  Gently stir the yeast into the warm water and let sit for about 5 minutes in a warm area.  Then add the oil to the mixture.
2.  In a mixing large mixing bowl, mix together flour and sugar.
3.  Slowly add the yeast mixture to the flour mixture and mix gently until a ball forms.  Mix for an additional 5 minutes.
4.  Lightly oil a large bowl, place dough ball in and cover with a damp cloth or saran wrap and leave to rise in a warm area for 1 to 3 hours. 
5.  Knead the dough by hand for 5 minutes until it forms a smooth ball.  
6. Roll out dough into whatever shape you desire and cut. We liked the strips best for dipping, but you can play around with whatever works best for what you're serving it alongside.
Place on parchment lined baking tray.  Cover again and let rise for 30 min.
7.  Preheat your oven to 425F (220C) and place a rack in the middle of your oven.
8.  Bake until light golden brown, about 10 minutes. 
8.  Mix garlic, butter and olive oil in a microwave safe dish.  Microwave in bursts of 10 seconds until butter is melted and everything is well combined.
9.  Brush bread with butter mixture and sprinkle generously with cheese.
Extra Tips
If you find that your bread tastes yeasty, try proofing it first. It will also give you a better rise. To proof my yeast, I added the yeast to the warm water and then added 1 tsp of white sugar. Yes that means there is an addition tsp of sugar in the dough but I did not find the dough sweet at all. Wait about 10 minutes or until it has doubled in volume.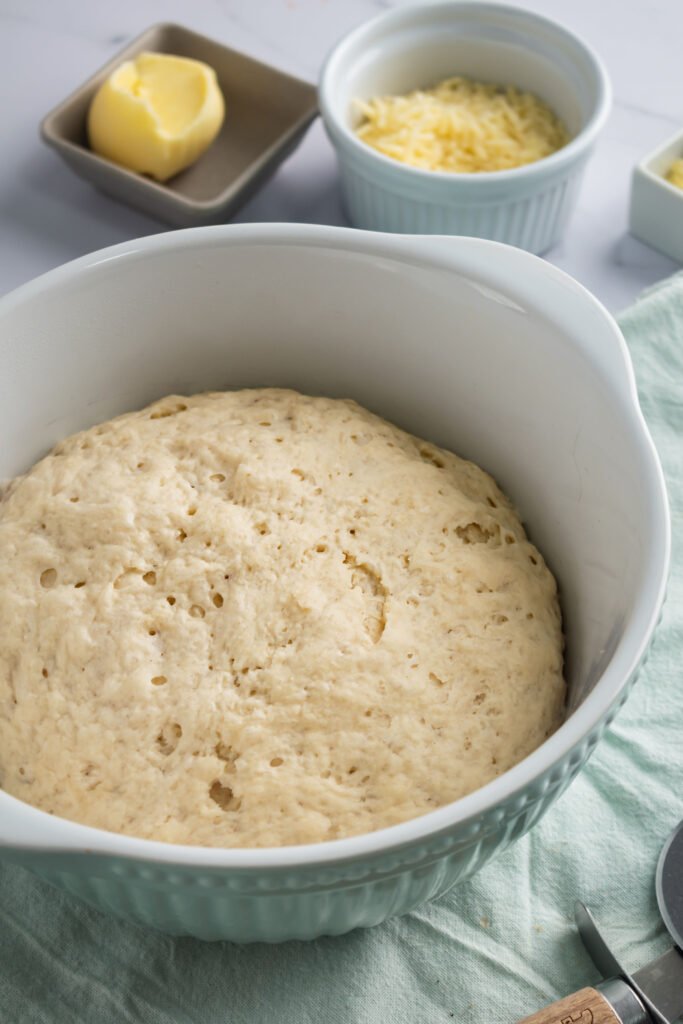 I had to add 2 Tbsp of water to my dough mixture for it to form a smooth ball. Add water or flour 1 Tbsp at a time to get a smooth ball.
I kneaded the dough on parchment paper. My dough was not sticky so no additional flour was needed during this process.
Next time I make this, I will form 2 balls after kneading and create 2 baking pans of bread. This would allow me to roll the dough out thinner, to resemble Little Caesars crazy bread more in shape and dough consistency.
Be generous when brushing the bread with the butter mixture but not too generous that the mixture starts to run off the bread. Then generously sprinkle the cheese (I prefer Parmesan). If you like your cheese coated in the butter mixture, like I do, you can always tap your brush full of butter mixture over the cheese so it can soak in more butter.
There you have it! One of our favourite restauraunt recipes made easy enough you can whip this up anytime the craving hits. As with any recipe, you may need to make a few small alterations as you go depending on your oven but we're fairly confident with these notes that your Copycat Little Caesar's Crazy Bread is going to be just as amazing as you're hoping it to be! Enjoy!
What restaurant dish have you been wanting to try at home?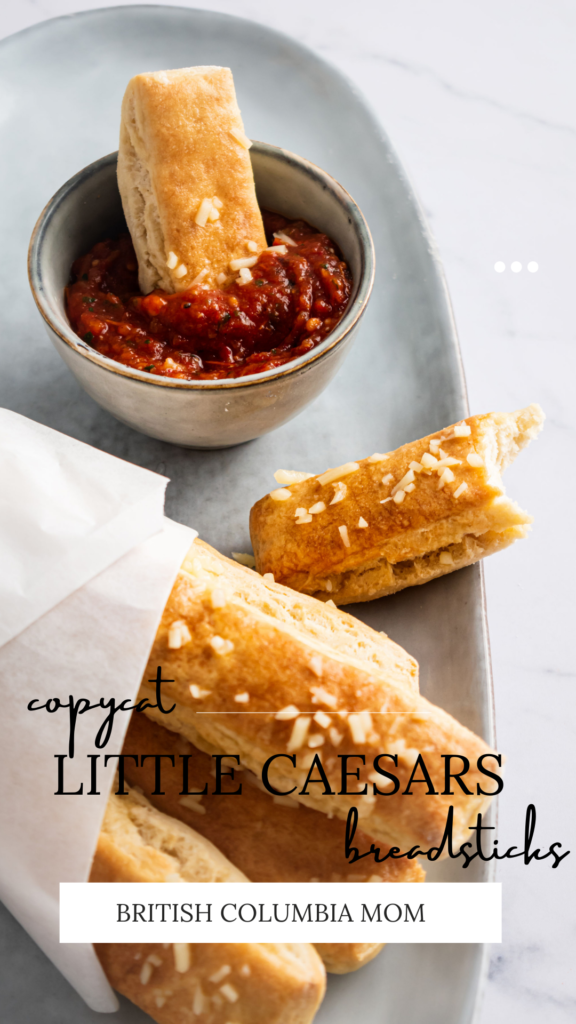 More great recipes