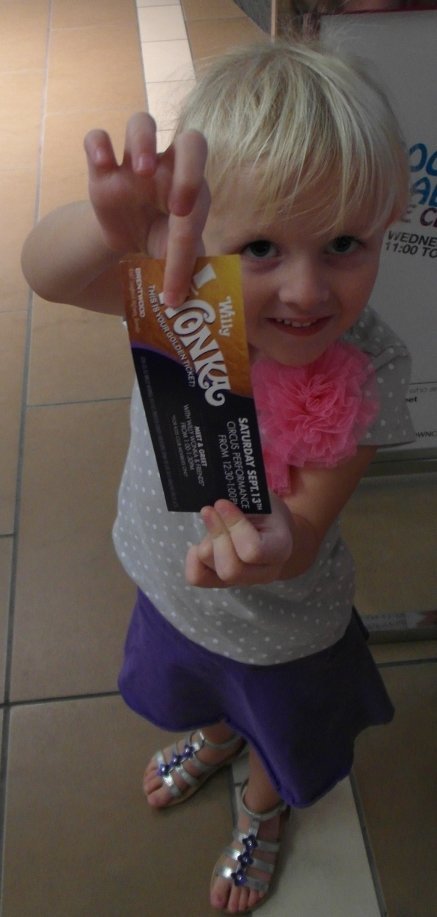 On Saturday September 13 I had the opportunity to attend a Willy Wonka circue performance at Brentwood Town Centre.
Tara had to work, so I took both Nicole and Alivia with me to the 30 minute circus performance. We arrived 30 minutes before the show. Since I'm not too familiar with Brentwood Town Centre, I was glad to see Brentwood staff at the entrance directing people to where the show was taking place.  We were able to find floor space right by the stage and I prepared for a half hour of trying to keep two 3 year olds entertained. Thankfully, I didn't have to do much. They were playing all your iconic "candy" songs  and handing out candy to the kids. Once the girls adjusted to the volume level they were (well Alivia was) dancing in their spots.
Just when I though the girls were going to get bored with waiting, out came one of the performers to keep the audience intrigued for what was to come.
Then the show started. I was amazed at the show, from the silks, rings and trapeze as well as the magic globes, which were my favorite! Alivia and Nicole were both so into the show it was difficult to get any answers out of them when I asked them questions about what was going on.
The performers were amazing and very talented, from their comedic performance to the music to their acrobatics and tricks, all ages were entertained. They were fantastic at keeping the audience engaged and it was great to see so many kids laughing and smiling through the show.
Willy Wonka Performers
 Oh, and you can't forget…a Willy Wonka must have, the oompa loompas!
After the show, there was a little confusion and we were directed to the wrong area for the meet and greet so we missed out on some up close photos. However, the girls were still able to both get balloon flowers, meet DJ Willy Wonka, 2 of the Candy Girls and 2 of the Oompa Loompas.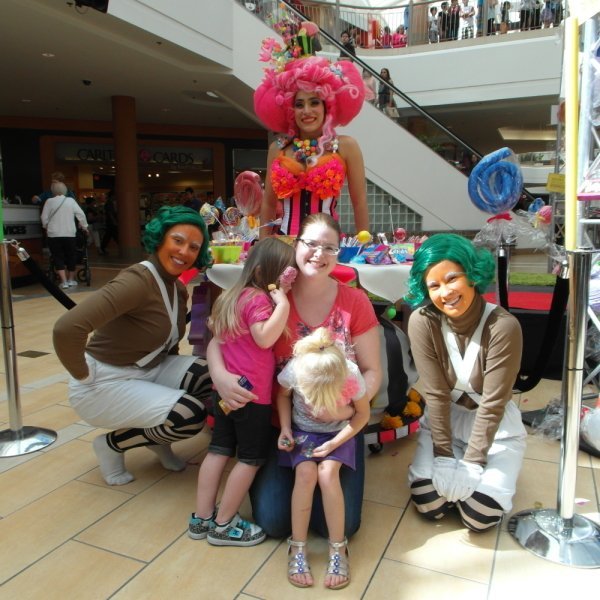 Overall, we all had a blast.  Thank you to Brentwood Town Centre for hosting the event and we can't wait to see what performances they will be bringing out next!
What is you favourite Wonka candy?
*We received complimentary passes to the meet and greet in exchange for an honest review of the event. All thoughts and opinions are my own.
Other mall events