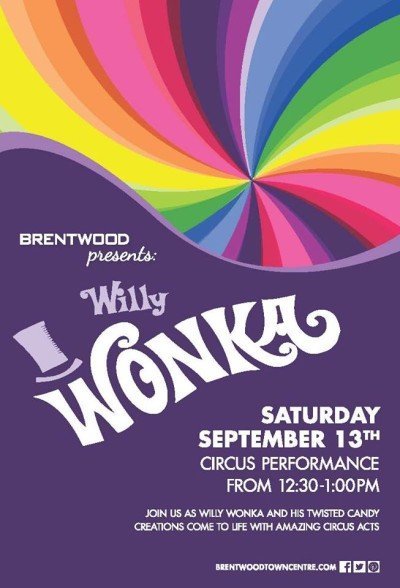 I am a serious Willy Wonka junkie. One of my favorite movies growing up and still to this day! I was thrilled to see the ads going up for the Willy Wonka Circus Performance at Brentwood Town Centre and knew we had to share it!
Event details; Saturday September 13 from 12:30-1:00pm in the centre court (located in front of the elevator and customer service). Admission?
FREE. 
Have littles? Come a bit early to reserve a great spot for them to be able to see. I've gone to a few events at Brentwood and they definitely draw a crowd! They always find a way to make it fun for all ages! Don't forget to check out the kids play area after the show and let the littles burn off some energy after the show.
Danielle will be attending with Alivia & Nicole and Brentwood Town Centre was kind enough to give us passes for the meet and greet to review the event and the performance. Watch for our review!
Will you be joining us at Brentwood Town Centre? What's your favorite Willy Wonka memory?