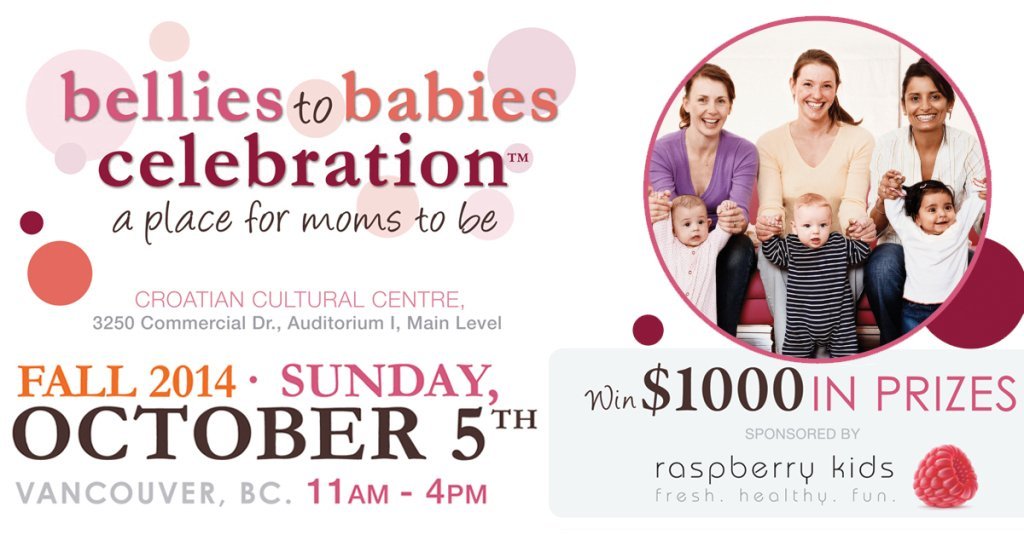 I am super excited to help spread the word about the Bellies to Babies Celebration; a place for moms to be. I've personally attended the event 3 times (I know!). I was a very eager first time mom and wanted to learn the absolute best products on the market, meet some amazing vendors and learn from some of the best in the industry.
The celebration isn't just about showing up, walking around a room and leaving with a few pamphlets, oh no… if you happen to be one of the first 100 people in line at opening you'll walk out with a super cool (and gender neutral!) diaper bag that even dad would be proud to carry. These bags will be full of goodies from vendors, coupons, samples and more! Not bad for showing up a bit early, eh?
Whether you are a soon to be first time mom, or a veteran mom in the know, this event is for YOU! With exhibitors covering just about everything you'll need to know and door prizes totally over $2000.. you don't want to miss out on the fun! Entry is by donation to Basics to Babies, bring something a new mom may need or leave a cash donation, either will get you entry.
My favorite aspect of the show is definitely the opportunity to recycle your old car seats. Often times people leave them on the side of the road or throw them in the garbage, with car seats having expiry dates that should be strictly followed it's such a great way to get rid of your seat and know that someone may not use it accidentally. Just bring your old car seat with you to the show and leave it under the tent, recycling is by donation courtesy of WCS Recycling.
Celebration Info:
Admission by donation for Basics for Babies
One lucky attendee will be win our Grand Prize $1000 in prizes from Raspberry Kids
First 100 Moms at the show receive a complimentary Diaper bag sponsored by
Urbanbaby & Toddler Magazine 
Over $2000 in Door Prizes
Relax in our Mommy Lounge
Maternity and Baby Fashions
Enter the Urbanbaby & Toddler Magazine Cover Model Photo Contest
Extensive Range of Exhibitors
Community Resources & Support Networks
Workshops by "Baby Experts"
Free Parking
To kick off the celebration a little bit early, head over to the Bellies to Babies facebook event page HERE for daily giveaways and information about the show.
Now the super exciting part! Bellies to Babies is graciously giving one British Columbia Mom reader a chance to win $100 to spend at the exhibitor booth of their choice at the celebration!
Enter to win!
Win a $100.00 gift certificate to spend at the Bellies to Babies Celebration trade show on Sunday, October 5, 2014, at the Croatian Cultural Centre, Vancouver. To enter, check out the exhibitors on the Bellies to Babies Celebration website, then write a comment below this post naming the exhibiting company where you would spend your $100!
Winner will be announced on October 3, so be sure to check back! Please note you must pick up your prize in person at the registration desk at the show.
The Bellies to Babies Celebration is a one of a kind event, offering a unique opportunity for new and expectant parents and grandparents to explore and shop for trendy baby fashions, decor and so much more! Moms-to-be can participate in educational workshops. Varied support groups will also be on hand to answer questions for new and expectant parents.
To Attend: Register at Bellies to Babies Celebration or call 604-908-8835. Follow us on Facebook at www.facebook.com/BelliestoBabiesCelebration for more ways to win.