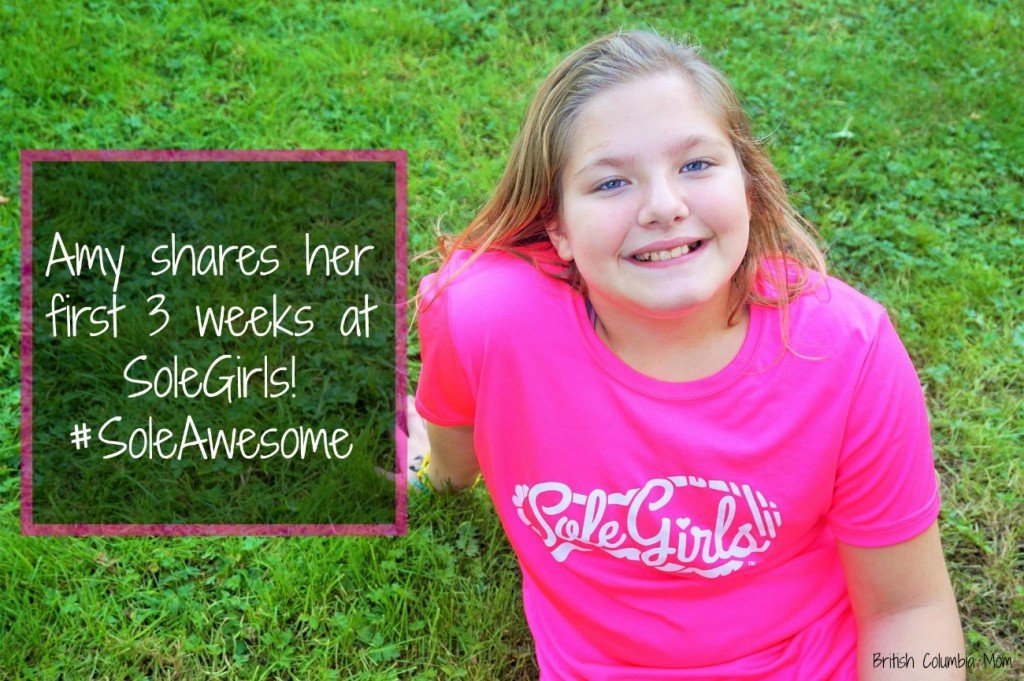 My daughter recently started her first semester of Sole Girls; an empowerment program for tween girls with focus not only on issues girls face day to day, what with hormones, growing up, body image and more, but also has a running component. This physical activity addition helps her meet her weekly quota of exercise, but also is building endurance, confidence, and flexibility.
Empowering girls, between 8-12, to set goals, be active, celebrate successes,
be confident when facing peers, and understanding media, can have
incredible benefits in how girls use their ideas, handle their relationships
and plan their futures.
With several program locations, it was easy to find a day that worked with our schedule, and Amy had met Ashley, Sole Girl Founder and the program leader, previously when we cheered on a troop of Soul Girls as they did their 5k run. She had a chance to talk with some of the participants and see the look of pride on their faces as they crossed the finish line, and she figured this would be a positive and enjoyable activity to enroll in. But still, my outgoing girl was a little nervous to go join a group where she knew no one, and asked me to hang out a little bit on the side lines.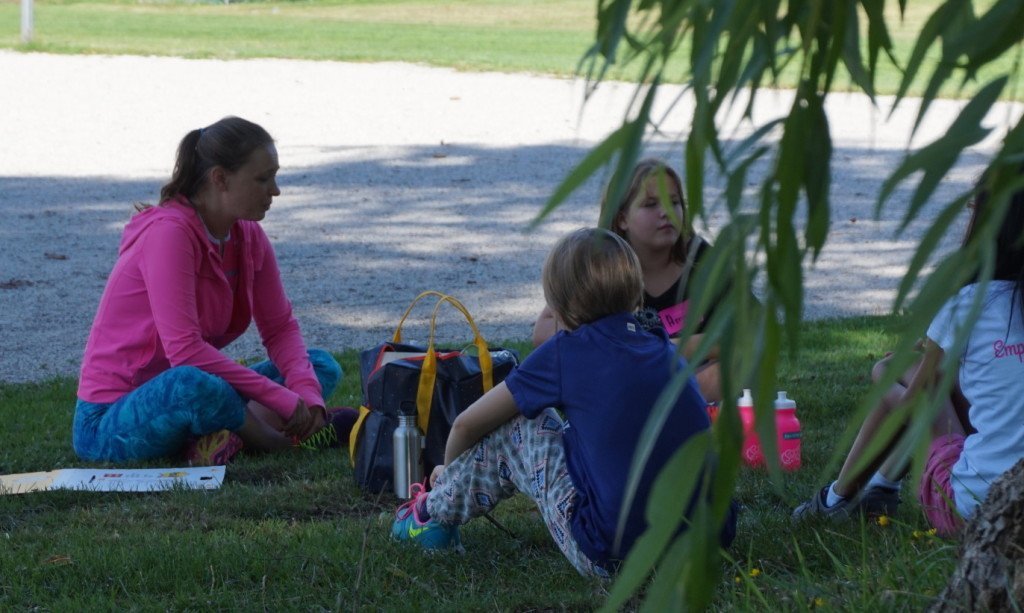 WEEK 1 started on a gorgeous summer like day and so once the group was assembled, they headed outside to sit under a tree and get to know each other. It's important to feel comfortable in your group, and so several icebreaker games/questions were presented to allow the girls to open up about themselves. Not just their name and where they were from, but what they liked to do, and what makes them awesome – it feels great to voice a reason you are proud of yourself! They got a little deeper too, and talked about how they like to be treated, how they know they are treating their friends well, and this really seemed to set a tone of respect for themselves and others. With lots of stretches and several sprints in between, they seemed well on their way in training for the 5k run. They finished up with the Sole Girls cheer, and those girls, previously a little nervous/quiet, were full of enthusiasm and smiles.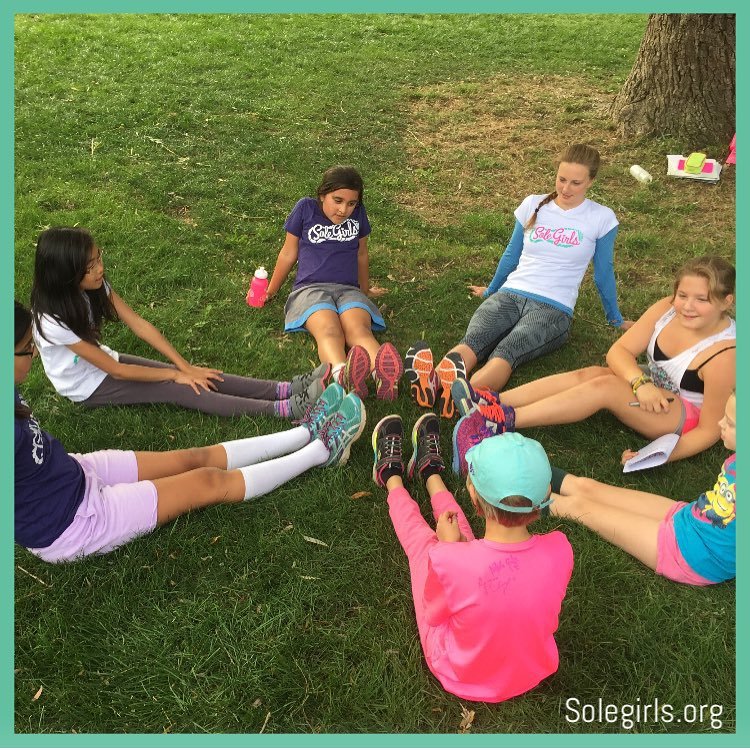 WEEK 2 was another beautiful day for the girls and the topic of the day was values. Naming different values, which ones are important to them, and why to got the discussion going. Questions like 'How do you show your friends what values are important to you?' gave the girls a chance to look deeper at how they treat others and present themselves as well as speak up about their individual experiences. There was a little bit of poetry using each girl's name and values that start with each letter in it and they had a great time running and stretching in the sun.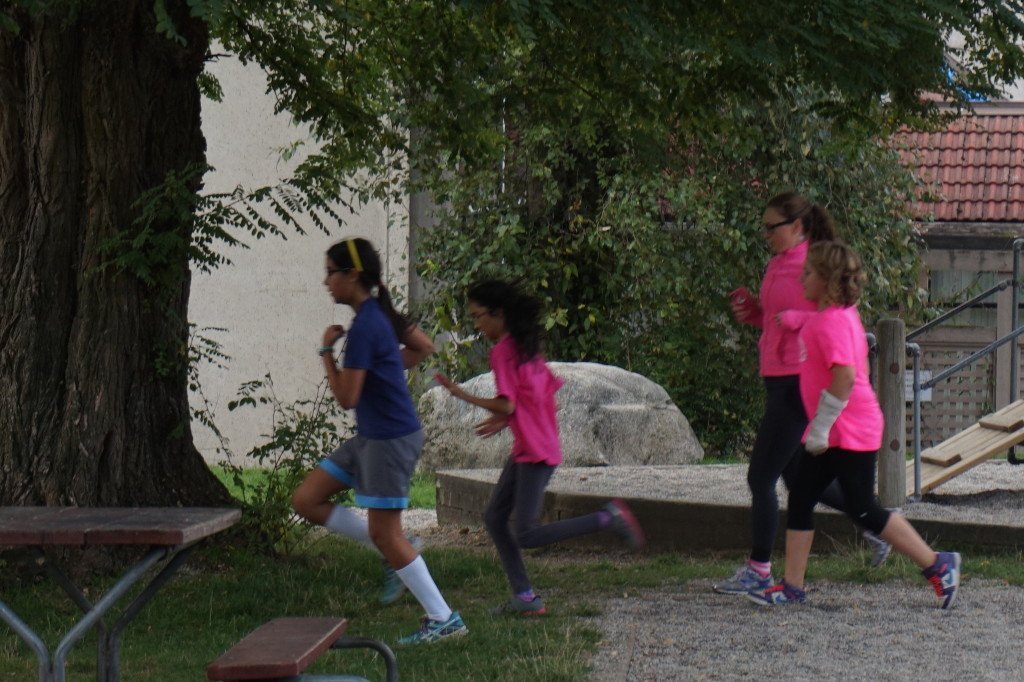 WEEK 3 The topic for this week was goal setting. Long term goals, short term goals, health goals, educational goals, there are all kinds, and it is important to have something to work towards. The girls took turns, sharing out loud, the things that they hope to achieve in the next while, as well as loftier goals (like my daughter's dream of being a famous singer), but, they also talked about how it feels both to succeed with your goals, and how it feels to not achieve those goals exactly as you had hoped. With a longer run/jog around the neighbourhood, it seems their endurance is building nicely for the 5k run on Halloween!
Since starting this program nearly a month ago, Amy has had sole much fun, and it has been building her confidence which is fantastic. What's also great, are the more meaningful discussions we get to have in the car while driving to and from. As a Sole Girl parent, I get weekly emails regarding topics and progress, and these emails also include some topic related questions to start the conversation at home. I look forward to the tougher nitty-gritty topics now that the foundation has been laid, and to seeing my thoughtful girl grow more confident as she reaches adolescence. I'm also greatly looking forward to the 5k Creepy Creek run, Amy's first ever big run. I can't wait to be standing at the finish line waiting to congratulate her on this big accomplishment and cheering her on.
Here's Awesome Amy's recap on weeks 1-3:
Check out our SoleGirls Registration post for more information on classes, what to expect and the SoleGirls Mission Statement, it's easy to see why this is a program that we wholeheartedly love and support.
If Sole Girls sounds like a good fit for your tween, registration is open for the Winter 2016 Semester, with classes beginning January 9th! For registration, soleteer information and more, visit www.solegirls.org or email Ashley Wiles at info@solegirls.org.