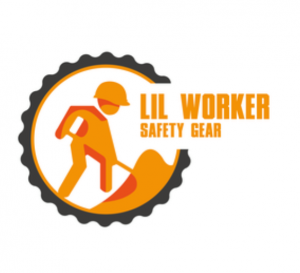 The time has fallen back an hour and the days were already getting shorter. With mostly rainy days and nights here on the west coast, visibility is often quite low to begin with. Add to that our magical mountain fog and visibility can go from low to nil within a block. However, I don't want to keep my kids in the house just because it's dark before dinner. I want to go out to play or for walks. But I also want them to be seen; a concern I'm sure many of us share. Well, James Flawith, a father here in BC, took those concerns a step further and developed Lil Worker Safety Gear; a line of high visibility gear for kids with the same quality and durability he himself wears at work.
With the idea that "the hazards at work are the same as at play", and the determination to help keep children safe, four different products were born so you can #vizyourkids all year long. After all, these items are not just for night time and poor weather. There are so many situations where having your child in high visibility wear will not only keep them safer from traffic accidents, but it makes them easy to spot on the playground, field trips, large public places like fair grounds, zoos and the like. I could go on and on. Plus, who doesn't like 'dress up'? B loves to dress like daddy!
For those reasons and many more, my wild and wonderful Kindergartner now has the Lil Rainjacket (a must here in Raincouver!), the Lil Warm Fleece, and the Lil Work Shirt. The also offer a Lil Viz Vest which can be worn alone in summer time, or over other outer wear, turning anything into safety gear. And, from reading the descriptions in the above links, this dad can turn anything into a 'dad joke'; totally worth reading.
The Lil Rainjacket is perfect for our unpredictable weather, and because it's a durable shell, it can go over other outer wear in cooler weather or be worn alone in warmer seasons. Their Clear View Hood ensures good peripheral vision for seeing traffic or other hazards. B wears his nearly every day at recess over his coat and the super sturdy zipper makes it easy for him to do it himself. On drier days he's loving his super cozy Lil Warm Fleece. And, since I know summer will come around eventually, The Lil Work Shirt will be ultra handy for picking my kiddo out at the playground!
From low light to no light, even in black light, there will be no hiding from mom!
All Lil Worker Safety Gear products are made with the utmost care and attention to details in 'brightacular' contrasting colours and quality 3M Scotchlite Reflective Materials making them look and feel like the real deal. Items range in size from 18mos to a size 7 and are available in yellow, orange and pink.
To keep Lil Worker Safety Gear looking it's brightest and most reflective, simply wash in cold water and HANG to dry. That's it!
Knowing that I can make sure he is visible, whether inside or out, gives me some peace of mind; especially when he is out without me!
Connect with Lil Worker Safety Gear
Where would you #vizyourkids?