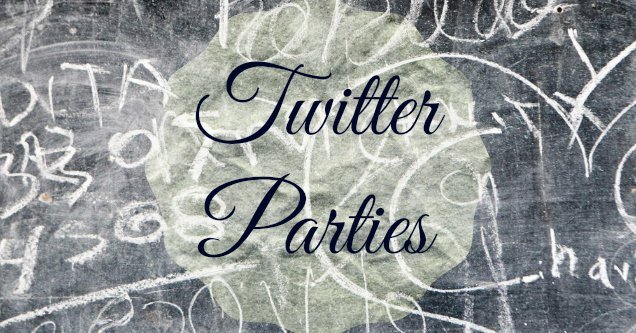 Twitter parties are not only a lot of fun, but a great way to learn about new products, recipes and potentially win prizes! If you've not partied twitter style before, it's fairly simple. Follow the host(s) and the sponsor, answer the posed questions and engage with other party goers using the party hashtag, and have fun! And, if luck is on your side you could be a prize winner. Today is an especially busy day for Twitter parties with a whopping five (5!) parties happening. So read on for details and get those RSVPs in!

Everything kicks off at 4pm PST with the first twitter party and you will want to have some snacks nearby because this one is sure to wet your appetite, the appy of the evening if you will. Join chat about healthy living choices and learn about tasty new products Breton Bean crackers and Breton Bean Popped! cracker chips. I'll be honest, I'm feeling lucky about this one, or maybe I just love that the hashtag for this party combines both my son's name and his nickname…how cool is that?
Date May 21
Time 4pm PST
Host(s) @sheblogsmedia
Hashtag #BretonBean
RSVP here
The next hour, from 5-6pm PST will be very busy with three parties happening at once. You may want to use a little caution this hour and not go Tweet crazy or you may find yourself in Twitter 'jail' and unable to Tweet for 1-24 hrs spoiling your party fun.
The food talk continues with the Sobey's crew and Food Bloggers Canada when the 'perfect burger' is discussed. Grillers and droolers alike will want to attend to share their tips, favourite toppings and more! Expect to see many mouth-watering pics.
Date May 21
Time 5pm PST
Host(s) @foodbloggersca @sobeys
Hashtag #BetterBurger
RSVP none!
It certainly feels like summer as of late, and with the change in weather comes a change in wardrobe. Come talk summer style with Style&Co. and @SassyModernMom, get some fashion tips you just might walk away with a new outfit!
Date May 21
Time 5pm PST
Host(s) @SassyModernMom
Hashtag #StyleCoSummer
RSVP here
With summer often comes summer camps and this year my girl is super stoked for her first ever sleep away camp experience. I'm beginning to realize that it's a lot of work on my end…every item must be meticulously labelled in effort to save them from the abyss of the nameless items that seems to swallow kid's items. Mabel's Labels have all my labeling needs covered and invite you to learn more and talk camp with tonight's party.
Date May 21
Time 5pm PST
Host(s) @Mabelhood
Hashtag #CampMabel
RSVP here
Wrapping up the evening festivities is a party about a party! Chicken Farmers of Canada is getting ready for Canada Day, the biggest birthday party in the nation and they want to send a group of four (4!) people to Ottawa, our nation's capital, to celebrate! That is a pretty amazing grand prize to close the night with, eh?
Date May 21
Time 6pm PST
Host(s) @ChickenFarmers @SJConsulting
Hashtag #TeamCDNChicken
RSVP here
By this point, I'm pretty sure you'll be Tweeted out…I know I will be, so you'll be happy to know that that is the end of tonight's schedule. But, for you die hard tweeps, there is a bonus party tomorrow morning. We like to party at all times of day after all and the one happening at 10am (don't worry, pj's are perfectly acceptable attire) is an important one all about saving money. Have any questions at all? Tweet them out! A TD Canada banking rep will be on hand to answer them.
Date May 22
Time 10am PST
Host(s) @Listen2Lena @TD_Canada @TD @LindaMacKay_TD
Hashtag #StartSaving
RSVP none!
So there you have it, your official invite to the hottest parties this week. Get those RSVPs in, and we hope to see you there! Go ahead, tag us (@Burnabymom2 & @bcmomdotca) and say hello!