Helloooo summer! It's been a crazy few weeks for weather in the Lower Mainland and we are loving it! It's certainly hit BBQ weather – though as I'm sure most Canadians would attest – all weather is BBQ weather.
Recently, our house was put up on the market and offers came in relatively quickly. In a rush to prepare our house for staging we ended up – gasp – turfing our BBQ. Well, it wasn't me.. but I'm not going to point fingers at my other half or anything.. (ahem…).
I was a little heartbroken that I would be enjoying this beautiful summer weather without being able to grill outside but we've found some creative ways around it. Just recently, we tried out a delicious and bursting with summer flavor recipe from Ricardo Cuisine that is sure to become a summer staple in our house. 
When I was flipping through the Ricardo Cuisine Summer BBQ recipe page I was immediately drawn to the Smoked Chicken Burgers, they seemed very versatile and a meal I could make easily during the week. With my trusty Nordic Ware stovetop smoker I took to making a Monday night dinner – with NO PREP. Yep, you read that right. I tackled this recipe with zero advance prep and with a 4 year old trying to "help".
One of my favorite parts of this recipe is that it really doesn't need much in the way of ingredients, with a few fresh staples you can create a flavorful burger that is sure to satisfy even the pickiest of eater on a week night. I always have boneless skinless chicken thighs in the freezer for quick meals so all I needed to pick up was some cabbage and buns!
First on my list was to tackle the coleslaw, I really like cold coleslaw on top of my burgers so I wanted to make sure this had enough time in the fridge to blend the flavors and get a nice chill. Prep was super easy for this step though I did end up adding about a 3/4 tbsp more of mayonnaise, and with only 4 ingredients (plus salt & pepper) it made a full bowl of delectable coleslaw that would amp up any burger game.
Next up was prepping the chicken thighs – this recipe doesn't call for very many so this is a pretty cost effective meal that can really stretch the grocery budget. Each burger takes about 1 1/2 – 2 chicken thighs depending on your bun size so you can easy feed 4+ people with this recipe.
I did make a slight change to the recipe at this point – the recipe calls for an electric or charcoal smoker – of which I have neither. I do have a handy stove top smoker that is pretty awesome though and held up pretty well. If I had used the suggested 4 cups of wood chips I likely would have smoked out my entire house and someone might have called the fire department (oops..). So it's important if you are using a specific smoker that you follow the instructions – if you have the aforementioned smoker suggested for the recipe – have at 'er and load up the wood chips!
My chips of choice for this summer meal was apple – I used 2 tablespoons loosely sprinkled onto the bottom center of my smoker. This was plenty to waft the aroma of smokey apple throughout my house as these cooked – it was mouth watering!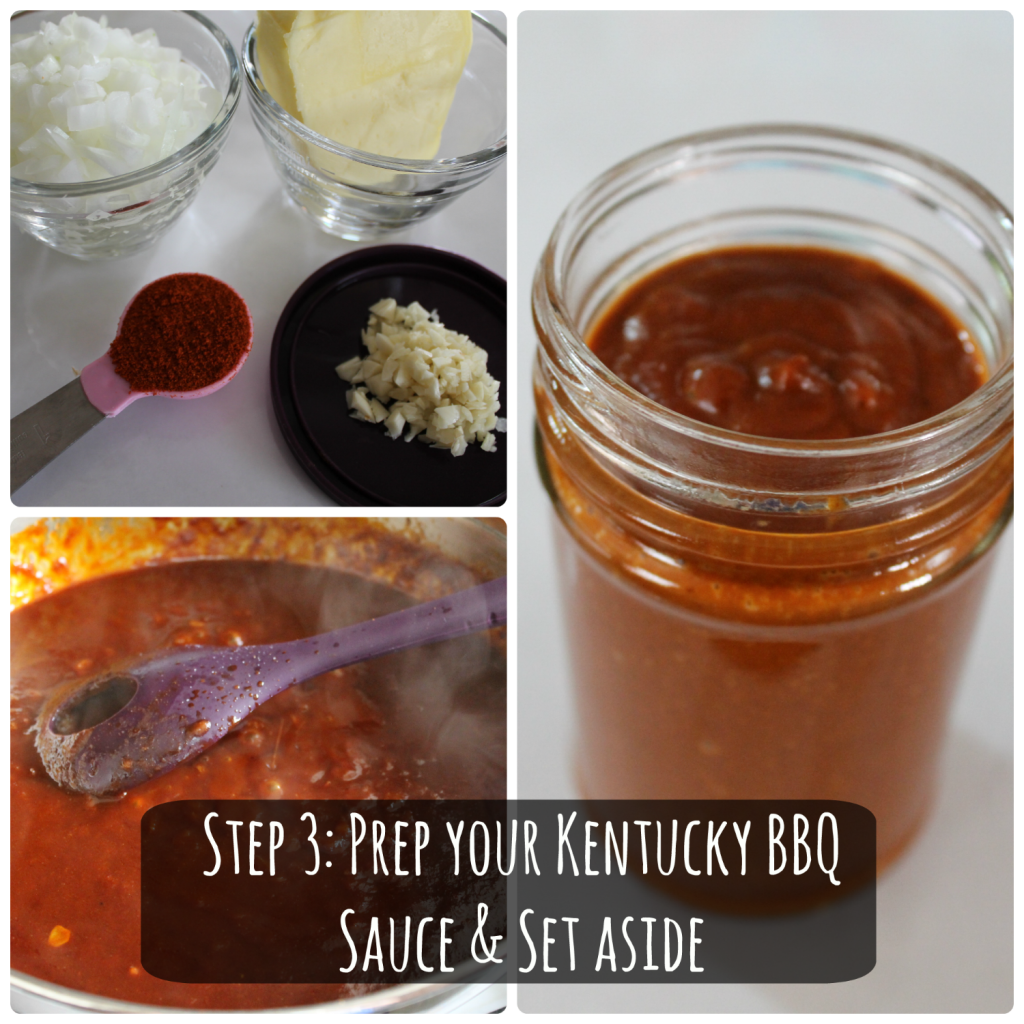 While I waited for the chicken I decided that no burger is complete without a little bit of barbecue sauce, and in my infinite wisdom I decided that on top of burgers, I was going to make Smoky BBQ Sauce (Kentucky) – from scratch – for this review.
Woooo-wee. Now, if you guys could see my kitchen you might understand why this is a challenge. We have a TINY galley kitchen with very limited counter space. I was determined however that I was going to give this sauce my all and dove in!
This was by far one of the easiest recipes I've followed for BBQ Sauce – most of the ingredients I already had on hand in my pantry and it didn't need much in the way of prep aside from chopping a couple cloves of garlic and an onion. I did make another adjustment to the recipe and opted to leave out the bourbon/whiskey. We don't generally keep hard liquors in our house so I ended up de-glazing the pan when I added the lemon juice and molasses – this is a pretty important step – make sure to scrape up all those delicious brown bits off the bottom of the pan, there's so much smoky, bold flavor from the brown butter.
I was able to finish off the sauce before the chicken was even finished smoking – giving me plenty of time to puree it in a blender and pour into a medium mason jar for storage. You'll end up with approximately just short of 2 cups of sauce depending on how long you reduce it so you will definitely have some left over and want to keep it in the fridge for meals during the week.
I know, I know. Silly to call this a pièce de résistance, but anything that my other half and Alivia will eat at the same time is a total win in the kitchen in our home. With such a limited space to cook I am always on the hunt for recipes that don't require a ton of prep time and can be made in a pinch on a week night. Ricardo Cuisine's Smoked Chicken Burgers topped with Smoky Kentucky BBQ Sauce were a hit across the board!
Eager to try out the recipes yourself?
Now, I absolutely love sharing things we LOVE with our readers – and Ricardo Cuisine Magazine is on my list of loves. There is nothing more satisfying then flipping through mouth water photos and gathering inspiration for your next family meal and I'm confident that foodie, amateur chef or pro, you're guaranteed to find something that appeals to every taste bud in your house.
{Disclosure: We were provided with a sample to facilitate this review, all opinions are our own and not influenced by sponsors.}