The average Canadian household spends between $300-$500 annually on air freshening products – products that, more often than not, cover up odours rather than eliminating them. Even sprays designed to neutralize odours as they add fragrance are limited to the area in which they are sprayed and contain large airborne particles. For many, this may be a non issue. In MY house, these large particle sprays lead to coughing, wheezing, rescue inhalers and, in rare cases, a trip to the ER. My son and I both suffer from asthma. There's no question that air quality is very important to us, but I like a nice smelling home as much as the next mom.
I have found scented candles and wax melts to be the least offensive, but walking away from a lit candle with a preschool aged boy?! And wax spillage can be not only messy but a safety concern as well. Lampe Berger Paris offers a unique way to not only freshen the air around you, but to improve the quality of the air!
With over a century of history, the company's start was was actually in health care! In 1898, Maurice Berger responded to a need for disinfecting hospitals by inventing, and later patenting, the system of diffusion by catalysis. The Lampe Berger catalytic burner destroys odour and indoor air pollution on a molecular level. The unique burner has two different zones that heat at different temperatures with the outer ring generating 500°C of heat to attract then oxidize malodorous molecules. The inner area generates heat at a much lower level, 200°C,  and disperses their exclusive home fragrances. Lampe Berger also carries an exclusive neutralizer that can be used to remove odours without added fragrance, to adjust the intensity of a fragrance, and to optimize burner usage by cleaning it.
Science bit aside, these glass lamps are gorgeous! I received the London Lamp in white and was delighted at the quality and beauty of the piece. This particular lamp, we have nicknamed the Ice Queen. Its white multifaceted body with a silver crown like topper would complement any room with nearly any decor, but Lampe Berger offers a wide range of shapes and styles so there is sure to be one that speaks to you and your personal sense of style. I also received the Trio Pack Chaud (Orange Cinnamon, Delicious Cherry and Vanilla Gourmet) and a 500mL bottle of neutralizer. After a family vote, we decided on Delicious Cherry as our first scent to try.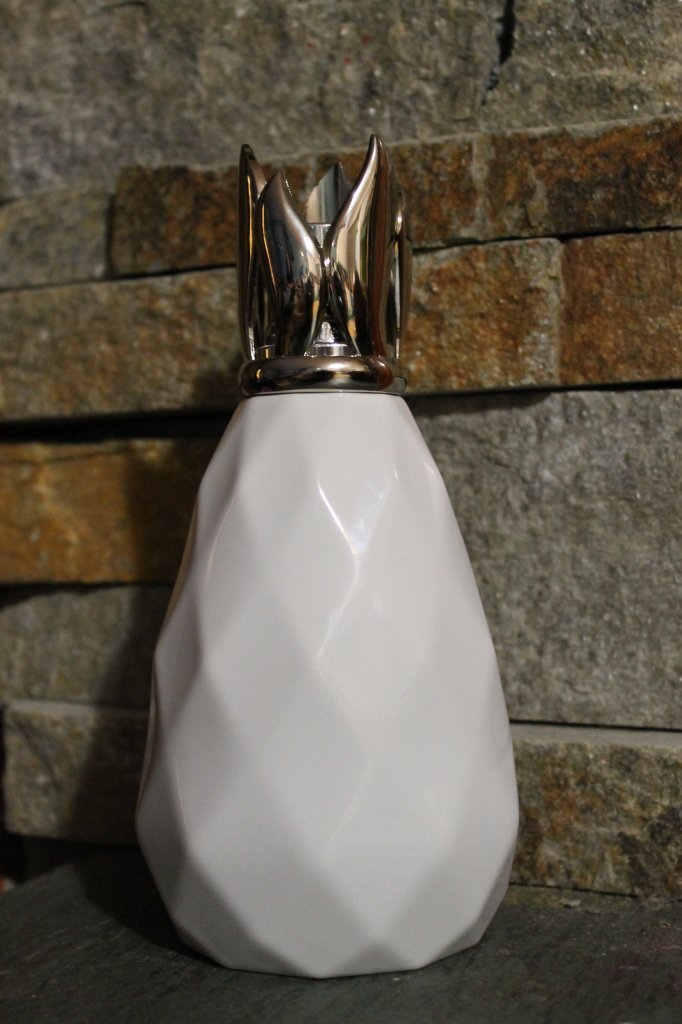 Included with the lamp comes the appropriate sized wick, burner, cover and stopper as well as a funnel to avoid spills. This is important as it could ruin furniture. Once the lamp is 2/3 full, simply add the wick and burner and let it sit for 20 minutes. When the wick is ready, light the burner and wait 2 minutes before blowing out the flame. Put your pretty top on and set the lamp out of reach while you enjoy the pleasant and not overpowering scent. After no more than 20 minutes, put the stopper on and that's it! Lampe Berger calls it 'The Ritual' and it's one that I could really get into. Especially since not one of the delicious scents provided irritated our lungs in the least. With some fifty Parfums de Maison, the hardest part will be figuring out which one to choose!
Enter to Win – One of our lucky readers will receive a Lampe Berger starter kit of your very own!