I have a LOT of hair. My hair nearly touches my bum and it's dead straight and THICK. Everything I do to style it, curl or straighten has always been a failed effort. Traditional curling irons leave me with a sore arm and 2 hours of my day wasted, the efforts that go into using curlers is also wasted, since the curls fall out an hour later, regardless of how much hair spray I use.
When I was introduced to the Kiss InstaWave, admittedly I was skeptical. I've tried everything on the market from different appliances, hair products and treatments. Nothing has worked, how could I expect this one to be any different? At first glance, the Kiss InstaWave was intimidating, it looked like a curling iron.. but didn't at the same time. What was with the prongs!? Definitely take a few moments to read through the instruction manual before your first usage, some key notes;
Ensure your hair is DRY before using this curling iron
Hold the barrel vertically, tilted slightly towards your hair
When the red light turns blue, you're good to go!
Low & high temperature setting for tighter or looser curls (with a max temperature of 420 degrees)
Has a directional button for inner or outer curls
Automatic shut-off!
I was immediately impressed on first usage at how quickly the unit heats up, Within 3 minutes my light turned from red to blue and I was ready to curl. It took me a few tries to get the hang of which way to push the button and how to hold the curler  but after a few tries I was on my way! I was impressed that within 10 seconds on each section my hair had a bouncy, beautiful ringlette curl. What. MY HAIR!? I was a little eager at that point and went to town, I grabbed a chair, turned on some music and kept going. I was pretty surprised when I got to the last section and realized only 15 minutes had passed. I had curled ALL of my thick, long hair in 15 minutes! And the first curl I started with was still there. I also loved that my hair did not have to be perfectly parted to grab a section, which makes it a lot easier when you are doing it one handed.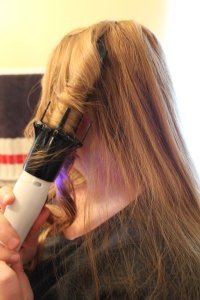 I was sold pretty much immediately at that point. Since my first attempt I've used the Kiss InstaWave 3 more times. Just recently I had an event I needed to get to fairly quickly, I didn't have much time to do anything with my hair so I quickly pulled it into a high ponytail, grabbed the wand and curled the ends. The end result was stunning, the curls bouncy and it looks like I put way more time into it then I did. I did seal the deal with a strong hold hair-spray, just in case. 

Using the Kiss InstaWave is incredibly easy. Once your wand is heated hold it up straight at a slight angle towards your hair, depending on the look you are trying to achieve you can set the wand to either low, or high setting for tighter curls. You can choose the direction the wand grabs your hair to create inner or outer curls giving you a wide range of versatile looks! Once your hair is wound around the wand, wait 3-8 seconds and slowly pull down, keeping the shape of the curl. Repeat as necessary. Depending on the look you are trying to achieve, adjust the heat and time accordingly. You can go from beach ready waves to tight red carpet curls fairly easily!
As I mentioned above, I managed to curl my hair in 15 minutes, I found it relatively easy after getting through the learning curve. It is important to mention that as the wand starts to heat up, it does emit a humming noise, the manufacturer has confirmed that this is normal and not a concern. I am partially deaf in my left ear and I did find the high pitched hum a little hard to deal with at first but eventually it just became white noise.
Want one of your own?
VISIT: Kiss InstaWave and grab yours, it's a fantastic accessory for the Holidays to achieve an effortless, timeless look for all events.
(Disclosure: I was provided with a free samples via BrandBacker to facilitate my review; all opinions within are my own)