A couple of months ago I picked up a daily deals coupon for Kidoodles Art Studio, a local art studio located inside Metropolis at Metrotown Mall, I grabbed enough for a kid fun-filled outing, grabbed Helisa, Breton & Amy and away we all went. We weren't quite sure what to expect but the kids had a blast getting covered in paint!
When you first arrived at the studio you have your choice of regular art paper (1 sheet is included, extras can be purchased for $0.50) or you can add-on a canvas board or a ready frame canvas. Helisa & I both opted to add-on the ready frame canvas so we would have something to take home and hang right on the wall. The cost varies on the size that you decide to upgrade to, ours were $8 each.
This is the super innocent, can't wait to get super covered in paint dirty, crazy excited kids look! Once they got to see the room they were going to be painting in their faces lit up, it's not very often they see paint on the floor and no one telling them to be careful. They couldn't wait to get ready! The room is quite sizeable, with enough working space for at least 10-12 kids (or adults as we later learned!).
Next came the 'getting ready' part! Kidoodles Art Studio supplies the kids with smocks (or tshirts), shower caps and little shower caps for their shoes. I wouldn't recommend bringing the kids in any clothes you are super attached to, there is always a risk of a little spillage when they start flinging paint at each other. I would recommend RUNNING as soon as they walk into that room.. I was chased more then once with a paint sprayer by these little monkeys while trying to take photos.
Helisa and I managed to sneak out for a little bit and were impressed at how hands on the owner, Claudia was in helping the kids experiment with the different mediums. The room not only includes 3 paint colors to begin with, but stamps, brushes, spray bottles and more.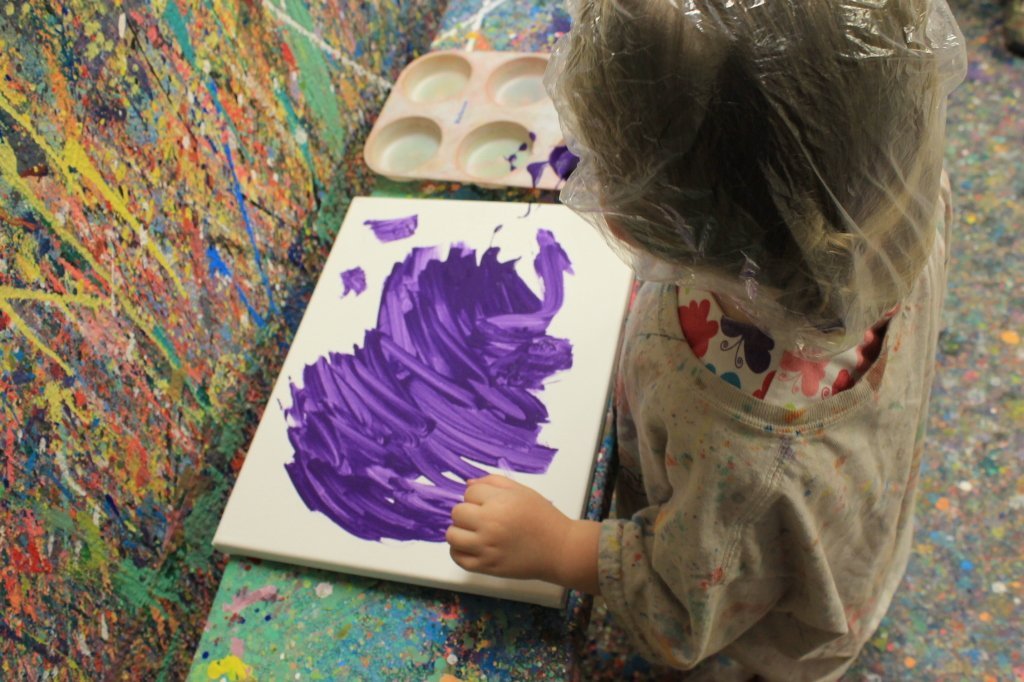 The kids start out by covering their canvases in one of their 3 color choices, and by cover I mean they end up wearing most of it. It was extremely cute to see how differently each of them attacked the canvas with their brushes, and each one turned out differently.
It was pretty amazing to sit back outside of the room and watch their little minds go as they picked new colors, new brushes or sponges and created their own one-of-a-kind piece of artwork. Amy definitely had a lot of fun throwing paint at the wall!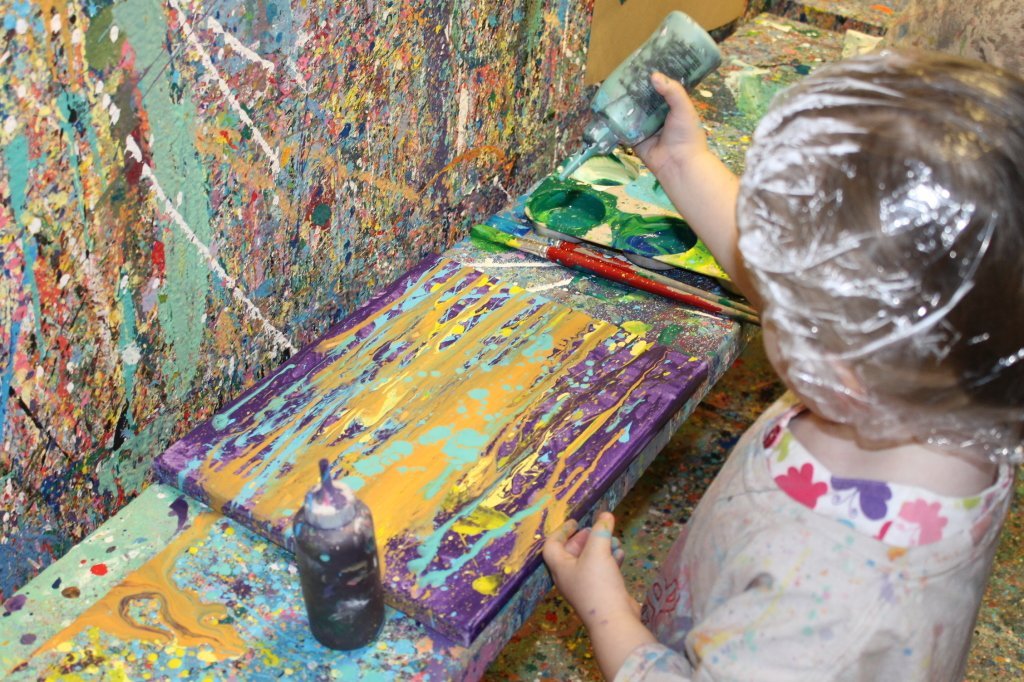 Claudia, and the staff at Kidoodles Art Studio really help to promote creativity when they are in the room with the kids, they are always supervised and available to help with any questions as the kids paint. Our beautiful purple canvas went from well… purple, to orangey/yellow/teal blobby by the end of the hour.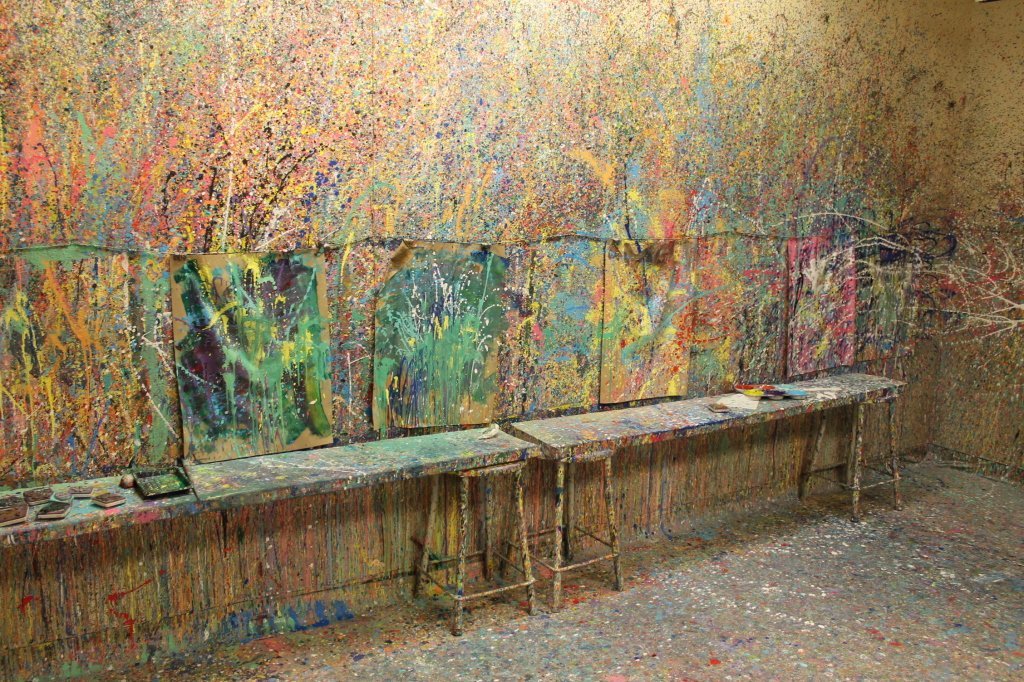 See if you can spot the 5th painting that Amy did on this wall. Once the canvases are all done the art paper comes out, they are attached to the wall or put on a table for the smaller kids and the same rules apply – there are no rules! They encourage flinging, throwing, dripping, exploring with the paint and it's totally okay to get it everywhere; including your hair.
We all had a blast at Kidoodles Art Studio and will definitely be back. Regular cost for drop in is $10 and well worth it to let the kids blow off a little steam, get a little bit dirty and have some fun. Once the hour is over, the kids head into the washroom in the studio to clean up and admire their finished product. Artwork is left at the studio to dry and can usually be picked up in 48-72 hours.
Kidoodles Art Studio offers more then just paint splatter parties and drop-in, they also offer school camps, summer camps, art lessons and more. For a full list of what they offer check them their website – Kidoodles Art Studio.
On the frugal side of things;
Our outing was a bit cheaper, I found a coupon on social shopper and grabbed enough to go a couple of times. $5 for an hour drop in is a fantastic deal. I recommend upgrading to a canvas or ready to frame, especially on your first trip. It's a great souvenir and the kids will love seeing their art proudly displayed on the wall. It's also a unique and inexpensive gift for parents/grandparents for the holidays! As I think any mom can attest, an hour to do shopping in a mall uninterrupted is a great investment, take advantage of it during the holidays and knock some Christmas shopping off your list!
What is your favorite piece of art your kids have made for you? Tell me in the comments!