Any excuse for a Slurpee is a good thing in our house, with temperatures hitting over 30 degrees celsius and crushing local records it's no surprise that British Columbians are clamoring for ways to stay cool! Well, you're in luck! July 11th is 7-Eleven Day! As a way of saying thanks they are offering FREE 12oz slurpees to the first 1500 guests in store from 11am-7pm.
Want to be part of the world's coolest birthday party? Then head to your nearest 7-Eleven store on Saturday, July 11 (7/11). In what has become a highly-anticipated tradition, 7-Eleven Canada is treating its customers to a free 12oz Slurpee on its 46th birthday. All 7-Eleven stores from B.C. to Ontario will serve-up 1,500 12oz Slurpee drinks between 11:00 am and 7:00 pm on Saturday, July 11, or while stocks last.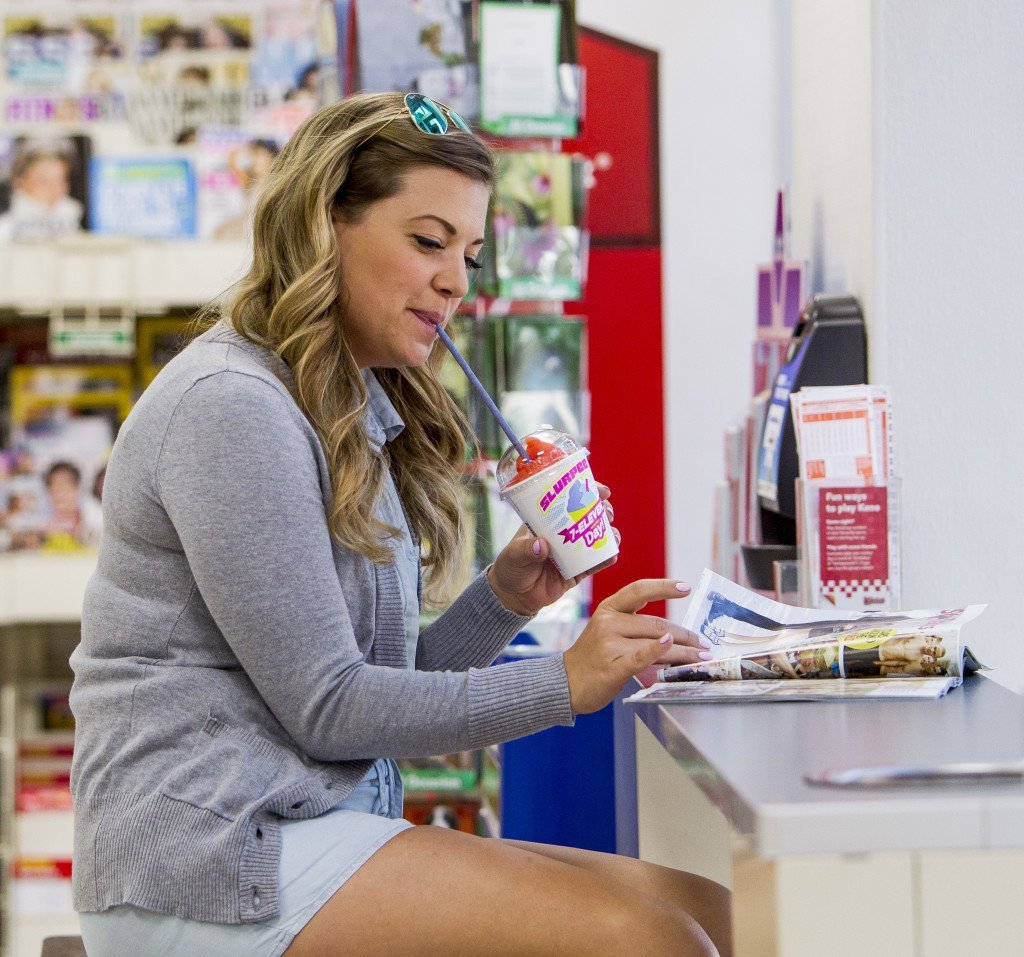 To ensure the celebrations are even more fun and memorable than ever before, 7-Eleven, in partnership with Mountain Dew, will be creating the world's largest Slurpee (711 litres). Customers who head to Winnipeg's newest location (at 119 Salter Street) will get to witness Slurpee history being made while also seeing Manitoba get presented with the Slurpee Cup once again. Manitoba is the Slurpee Capital of the World for the 16th consecutive year, retaining the top spot from close competitors, Calgary and Detroit.
"We wanted to do something bigger and better than ever before and you can't get much bigger than creating the world's largest Slurpee," says Raj Kapoor, vice president and general manager, 7-Eleven Canada. "Equally, we're giving away nearly ¾ million Slurpee drinks across Canada celebrating 7-Eleven's birthday – it's going to be some party."
Winnipeg will also see the world's longest Slurpee Run take place this year. Ultramarathon runner, Scott Burton and a team of enthusiastic runners and Slurpee drinkers are going to attempt to run 71.1 miles on July 11, visiting all 45 stores in the city. For photos and updates, visit: http://www.slurpee.ca/7elevenday/.
Did you know that Vancouver is in the top 5 for Slurping the most in 2015? Sure, we're number 5 on the list but I expect with the temperatures soaring, we'll be crushing it this summer!
| | |
| --- | --- |
| Rank | City |
| 1 | Winnipeg |
| 2 | Calgary |
| 3 | Regina |
| 4 | Edmonton |
| 5 | Vancouver |
Exclusive Summer Flavours
To add to the already-exciting lineup of Slurpee flavours, exclusive summer flavours feature:
Mountain Dew KickStart Fruit Punch
Mountain Dew KickStart Citrus
Mountain Dew Solar Flare
7Rewards 7-Eleven App Promotions
The fun doesn't stop on July 11th. Starting Sunday, July 12, 7-Eleven and Slurpee fans can take part in 7Rewards Week (July 12-17) where products including cheddar smokie, chicken kebobs, 7Select soft drinks and Slurpee are free in the app. There will be a free offer every day this week – just use the 7Rewards app.
Also, every Slurpee scan in the 7Rewards App on July 11th counts for a chance to win $1,000. Download the 7Rewards App at 7Rewards.ca or text app to 711247.
Event Details:
When: July 11, 2015, 11am-7pm (while supplies last)
Where: Cross Canada 7-Eleven Stores (Find your store)
Price: Free!
Some FUN facts about Slurpees:
In Canada, 41 per cent of Slurpee drinkers never mix their Slurpee drinks, 37 per cent always mix them, 21 per cent mix them some of the time
Every year enough Slurpee Drinks are sold to fill up 12 Olympic sized swimming pools
Slurpee drinks are served at a chilling -2.2 degrees celsius
Slurpee is embedded in popular culture:
'Googling' Slurpee generates more than 1.1 Million related search results
There are more than 45,000 videos about Slurpee on YouTube
Slurpee has more than 44,000 monthly mentions on Twitter
Slurpee has more than 4.7 million Fans on Facebook
Slurpee has its own Wikipedia site
Now that you're prepped with Slurpee knowledge, will you be heading in for Free Slurpee Day?
{Images used with permission from Peak Communicators – 7-11 Free Slurpee Day Promotion   – (Photo by Bob Frid 2015) All Rights Reserved}