Why a crochet sidewalk chalk holder?
I have a 3 year old who loves to play with sidewalk chalk, but is not a fan of getting her hands dirty. Every time she goes to play with her sidewalk chalk, she is constantly coming up to me and asking me to clean her hands off. I have found that there are certain brands of sidewalk chalk that are worse for rubbing off on your hands. Recently, I was able to find a great deal on large boxes of sidewalk chalk. Nicole is going to love playing with it, but I know she will always be asking for me to clean her hands.
So, I started my search for a sidewalk chalk holder. I was only able to find plastic holders and a lot of cute containers to store your sidewalk chalk in. I could not find a holder for sidewalk chalk that I could make anywhere! Yeah, I know, I couldn't believe I couldn't find it on Pinterest. In the end, I decided that I would just create my own sidewalk chalk holder. The bonus of this, is that you can customize the colour of the holder as well as wash it as needed. Now Nicole can play without getting as dirty.
Crochet Sidewalk Chalk Holder Pattern
Supplies
3mm crochet hook
medium wieght (#4) yarn
scissors
sl st: slip stitch
ch: chain
dc: double crochet
sc: single crochet
Directions
1.  ch 5
2.  sl st into first ch to create a loop
3.  ch 2
4.  20 dc into the loop
5.  sl st into first dc to join row
6.  ch 1
7.  sc into each dc
8.  sl st to join row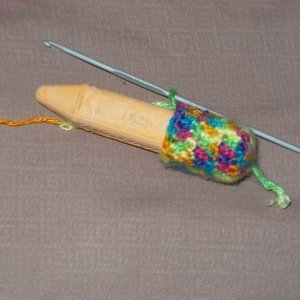 9.  repeat steps 5-8 6 times
10. ch 2, cut yarn, pull through and tighten to finish
11. trim yarn ends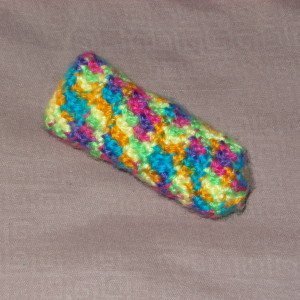 Notes:
This pattern was created to use with Crayola sidewalk chalk, you can adjust the pattern for other sizes of sidewalk chalk
Test the holder with your chalk as you go. You don't want it to be too tight.
Remember to count your stitches to ensure consistency in your rows
For a tutorial on crochet stitches click here
Are there any Pinterest projects you have been wanting to try?