Let's talk batteries for a minute. We all use them; basic things like smoke detectors, flashlights, remotes. If you have kids, well, don't get me started on the number of battery operated toys and game controllers we have going on! We actually go through quite a lot of them, in all shapes and sizes, and 'Mom! I need batteries for *insert random toy*!' can be heard on a weekly basis at minimum. There's no question that batteries have become essential for powering our world…and most of you, I'm willing to bet, are no different. Even rechargeable batteries have a lifespan. The question is: How do you discard your dead batteries?
In this wonderful, wacky world that we live in, it seems that anything and everything has it's 'own day'. Batteries are no different! National Battery Day is coming up on February 18th, and each year Call2Recycle Canada celebrates this day to raise awareness about the importance of recycling batteries and keeping them out of our landfills.
Honest truth? Until pretty recently, I always disposed of mine in the garbage. We've become really good at recycling most things…cans, bottles, packaging, paper products…basically everything curbside pickup takes. We also take old electronics to the depot for recycling. But I never really thought twice about batteries before.
As a consumer, it's my responsibility to properly dispose of and recycle my waste; including batteries. So I'm pretty thankful for campaigns like this that help educate us on the best and safest way to dispose of products we use regularly.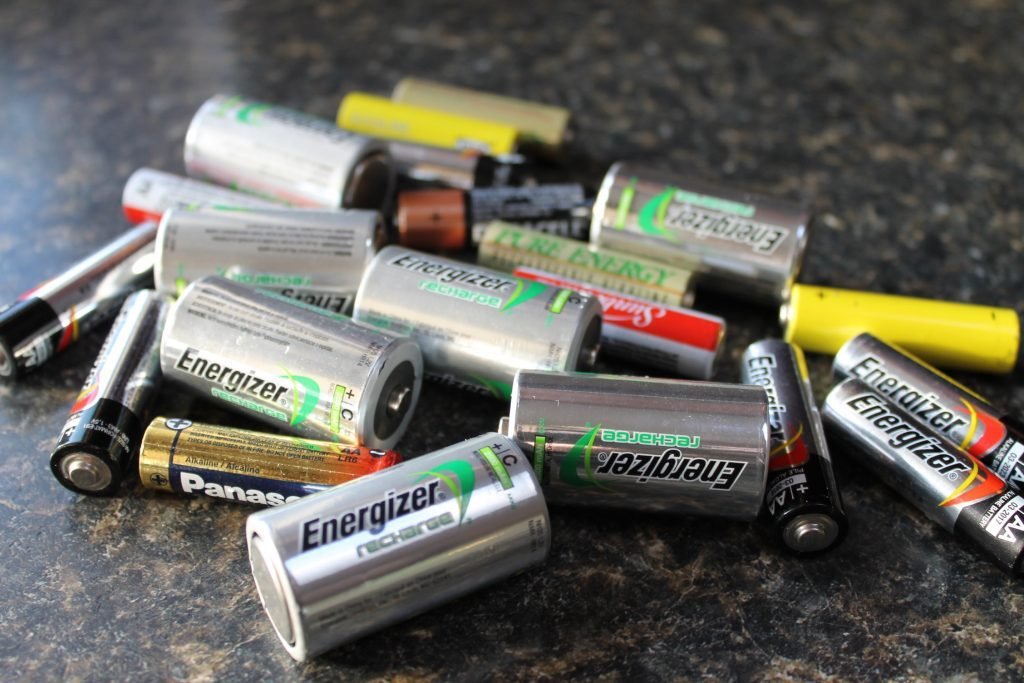 Why is recycling batteries so important? It not only prevents potentially hazardous materials from harming the environment, and helps conserve our natural resources, but battery recycling can protect against potential fires by keeping batteries out of the garbage. And it's super easy too! Did you know that more than 90% of Canadians live within a 15km radius of a Call2Recycle drop-off site? Because I didn't! I really have no excuse now not to recycle our batteries, with many locations being near (or in!) locations we visit frequently. 
Visit the Call2Recycle Locator to find the drop-off location closest to you!
I mentioned fire as a risk of tossing batteries in the garbage, and so you're probably wondering how you can safely store and recycle them, right? Don't worry, we've got you!
Call2Recycle's 5 Tips for Safe and Easy Battery Recycling
Safety first! 

Be sure to safely prep your batteries. There are two options: bag or tape. Option A: Bag each battery in its own clear plastic bag before placing it in a storage container. Option B: you can tape the terminals with clear packing, non-conductive electrical or duct tape, keeping label visible. 

Stay cool. 

Store the batteries in a cool, dry place. Incidents can occur when batteries are exposed to inclement or excessively hot weather. Store them in a plastic container; avoid metal.

Possible damage?

 If you see a swollen or bulging battery, immediately put it in a non-flammable material, such as sand or kitty litter in a cool, dry place. DO NOT THROW AWAY. Contact Call2Recycle, the manufacturer or retailer immediately for instructions, especially if the label says it is Lithium or Lithium-Ion.

Timing is everything. Aim to drop off batteries to recycle within six months, ensuring they are bagged or taped. You can use our locator

 to find the nearest drop-off site.

Spread the word. 

As we all use batteries to power our world, share the knowledge about battery recycling. It's the right thing to do and helps keep batteries out of landfills!
After a house fire with batteries to blame made the local news a couple years back, I always taped the terminals and store them in plastic, but obviously, I was only half way there. The more you know, right?
Now that I know better, I'm determined to do better and #LeadtheCharge. Are you?
Call2Recycle is a not-for-profit organization works on behalf of stakeholders to provide its battery recycling program, at no-cost to consumers, across Canada through 8,000 convenient drop-off locations. Since its inception in 1997 the program has recycled more than 11 million kilograms of batteries!
To learn more about how to safely prepare batteries, what other items can be recycled, or what becomes of the recycled materials, and more visit the Call2Recycle website at www.call2recycle.ca
To kick-start your recycling adventure, Call2Recycle has generously given us a $100 Best Buy gift card to share with one of our readers, want to win? Enter below!
{This post is shared with you in partnership with Call2Recycle}