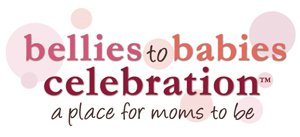 I've attended the bi-annual Bellies to Babies Celebration multiple times  and each time my visit was at a different stage in my life, each time with different needs, different questions and a different mindset. And they catered to me each time without fail, from burgeoning bump to teething tot.
A pregnant me had a lot of breastfeeding questions, birthing questions, what-do-I-need-for-this-new-life-to-thrive questions, and welcomed all information on taking care of me. Pregnancy for me, especially my first, was a time for soaking up knowledge like a sponge. With six years between my kids, things had changed! There were new products and schools of thought and I devoured it all.
With a tiny 5 monther, I was obsessed with all things itty bitty. I cooed over castings of tiny hands and feet, asked endless questions about teething, thrush, breastfeeding,  baby lead weaning and RESPs, and agonized over impossibly cute bamboo cotton onesies. Chic diaper bags, teething jewelry all manner of baby furniture/accessories that I did and didn't know I needed and I was in a shopper's paradise surrounded by moms. Fellow women who 'got it', who didn't bat an eyelash if my little one needed a scream or a boob.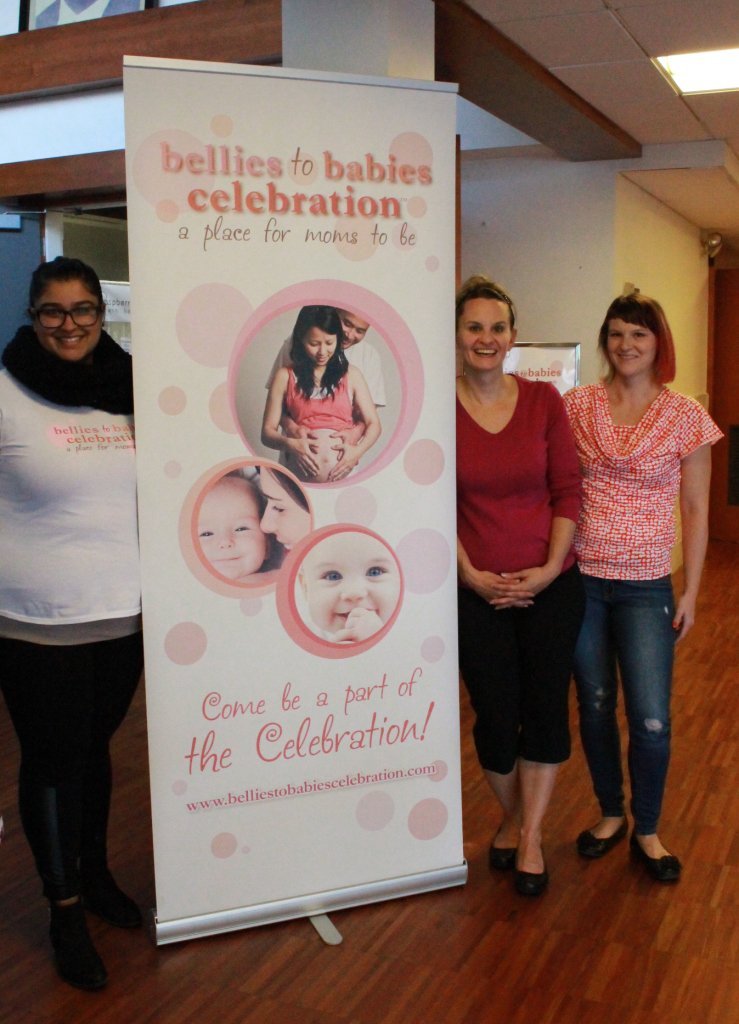 Most recently, Tara & I attended as a blog ambassadors and 'seasoned moms'.
With a line snaking through the parking lot, moms lined up early to secure one of the 100 diaper bags laden with goodies and samples courtesy of sponsor Urban Baby & Toddler Magazine. The excitement was infectious as we scooted in early to check out what this year's event had to offer. With an energetic crew of coordinators and volunteers, this was one of the best shows I've attended to date!
This time, I cooed over all of the adorable babies, gushed over the products that I had discovered along the way and couldn't live without. I also learned more about services that I WISH I had either known about or were available at the time.
There is a wealth of info available to pregnant women and much of it is relatively new to a lot of us. In the six years between my kids I had never heard about doulas or placenta encapsulation. New Spirit Arrivals~Birth and Post Partum Services and From Tummy to Mummy both offer a wide variety of services for birth preparation and after care.
Before you consider drying your placenta for encapsulation, check out the options available for banking the cord blood. Cord banking went from being an expensive private service option only to having a growing public bank storing donations for FREE; donations are made available to those who match and need it most. The stem cells found in cord blood can treat some devastating conditions and banking the blood found in the umbilical cord can be a life saving decision. Insception Lifebank, a private program, will store the cord blood for your future personal use. The National Public Cord Blood Bank with Canadian Blood Services takes donations tests and stores them all at no cost for public use. Currently they are only able to collect at select hospitals, but the number is growing. And so is the need.
3D ultrasounds are not only now affordable, but there are mobile services! No more driving or taking public transit with a full bladder for a good peek with Belly Bean Imaging or Wee Peek Prenatal Imaging  – both fully mobile services will come to you! Did I just hear a communal sigh of relief out there?
There were also some amazingly knowledgeable speakers; from Samara Birth Services on Breastfeeding: Starting Off Right with some valuable tips on proper latching and techniques as well as from Steve Nash Fitness on Exercising Before, During and After Pregnancy with easy to do at home exercises to strengthen your core and your pelvic floor. Squats and kegels ladies!
One of the most adorable things I saw was a cast done of a teeny baby bum! Babies don't stay that small for very long, why not create a lasting memory for yourself or a loved one? Casts can be done of hands, feet and bums, or imprints instead. You can even have charms made with your baby's fingerprint! The sentimental mommy in me lingered over these treasures made by Memory Castings and Wee Piggies & Paws.
For unique baby gifts and newborn must haves several vendors fit the bill . Some of the big highlights for me were beautiful and bright silicone teething necklaces for mom to wear and babe to chew from Personal Touch Gifts. They feature large chunky silicone beads all around the necklace rather than just a large chunky charm and are dishwasher safe! I also fell in love with Pinky & Company's gorgeous selection of diaper bags. Whether you want feminine, gender neutral or a bag dad can be proud to carry, this online store has the bag for you.
My biggest must have find came from Dri-Line Baby. The baby division of Dri-Line Products Ltd specializes in reusable diapers and absorbent change pads. My first exposure to Dri-Line products was actually years ago when I worked in health care and used their large absorbent 'soaker pads', so nicknamed because you can really soak it and your bed linens stay dry. Babies and toddlers have all kinds of leaks whether it be from changing, sleeping, or night time potty training and these reusable, washable and durable pads are worth the investment. Made with the same quality as the hospital grade pads but in fun prints, they are truly built to last. Their reusable nursing pads are a must for breastfeeding moms!
Raspberry Kids, another online boutique carries unique items for all ages and stages. From baby gear to lunch gear, book to toys, Raspberry Kids can fill all your gift giving needs when it comes to the special little people in your life. Besides being a fabulous vendor with tons of different products on display, they were also the main sponsor of the Grand Prize – $1000 to spend at Raspberry Kids! One lucky mom took home this grand prize and shopped to their hearts content.
There were also several tables dedicated to providing information on everything from RESPs and financial planning to health and safety, belly painting and pampering, maid service and tips on how to get your picky kids to eat from Author Karen Le Billon.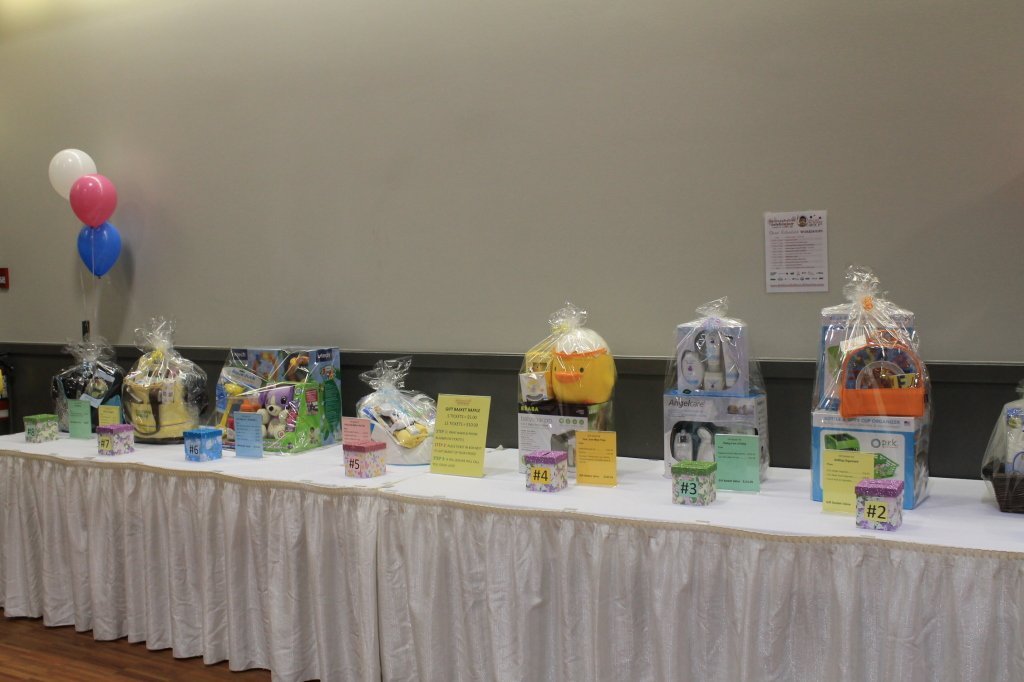 Oh, and The PRIZES! Giveaways and freebies at nearly every table make the contester in me giddy, and there's a whopper of a grand prize given away at the end of every fair, from top of the line strollers to a $1000 shopping spree with Raspberry Kids, be ready to fill out some ballots. Oh, and make sure to keep an eye on the facebook page leading up to the next show, there is tons of giveaways to enter there too!
Admission to the celebration are by donation of baby goods and non perishables for Basics for Babies and the Greater Vancouver Food Bank Society. It's incredible to watch the pile grow as the women flood in to register! There was also a recycling booth set up outside for car seats. Something we are incredibly passionate about; giving parents an option to safely dispose of expired, damaged of outdated carseats. Leaving them out with your  trash runs a major risk of someone actually using it! Recycling not only prevents the unsafe usage, but also keeps the material out of our landfills, win-win! WCS Recycling dismantled and recycled 79 expired car seats dropped off at the fair – that's more than 700kg of plastics alone!
Whether you are an expectant mom (or dad!), have little ones toddling around or are the cool aunt or grandma, the Bellies to Babies Celebration is a THE place to be to find the newest and best baby products and services on the market. I'm already looking forward to their Spring 2015 show!
Will you be joining us for the Spring 2015 event? Who do you hope to see there?