We've been in the market for a new car for awhile, admittedly it's super hard for me to consider pulling the plug on a such a huge purchase. There's so much to consider in terms of what we actually need vs what we actually want. I WANT a really nice sports car, but I NEED to be able to fit a Costco grocery shop in it. Know what I mean? What features are important to us, and which we can live without. And for someone with sensory issues, how many actual "bells and whistles" do I need on my car that won't be super distracting? Turns out, the answer isn't very many. The basics are just perfect. I recently had the chance to drive the Nissan Sentra SR Midnight Edition and it had just the right amount of basic components to impress me with it's modest price point.
Newest in the Nissan Sentra fleet and available in the higher grade SR model, is the Midnight Edition Package, boasting a contrasting grill, roof and black alloy wheels against stark contrasting colour options. This was enough to make me feel like I was driving less of a sedan, and more of a sporty feeling car. Let's be real, as a mom, most of the cars I've had usually have some sort of cheerio or snack smushed into the backseat, and it's not often I get to change the satellite radio to anything that doesn't revolve around a kids request. Though offering much lower options in comparison to similar sized sedans, we found the price point pretty on par with what we would expect with what was offered. We also didn't feel like we were missing much in terms of basic driver needs for a comfortable road trip or drive around the city.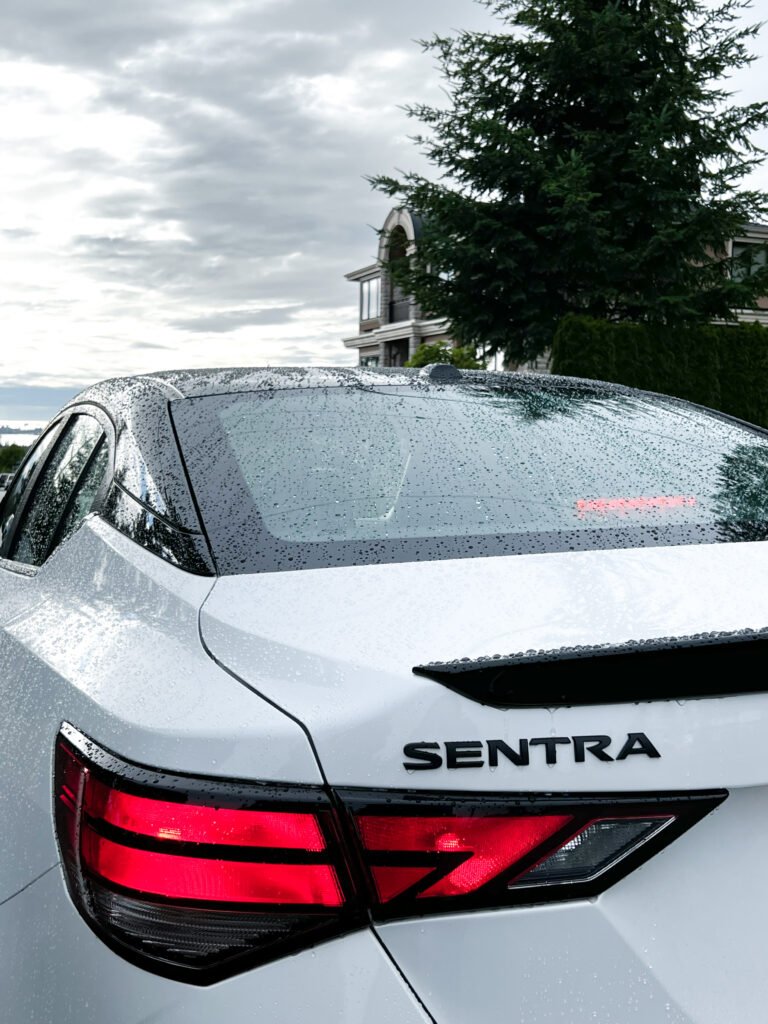 The first thing we noticed when looking through the car was the soft sport cloth interior with orange stitch accents rounding the D shaped Sentra-esque steering wheel. Combining this with a split tone brushed grey on the seats, it felt like the perfect accent to brighten up the otherwise darker interior. The rear seats split in the typical 40/60 split formation, with a "don't ask me to pass you your water bottle" rear console that fits 2 standard sizes bottles, as well as ample space in the door's snack storage cubby.
Unlike a few models we've driven, we also found the car seat latch components easy to locate without needing to dig deep into the seats, unfortunately though you are not able to latch a car seat in the rear middle seat as the anchors do not allow borrowing. Plan accordingly.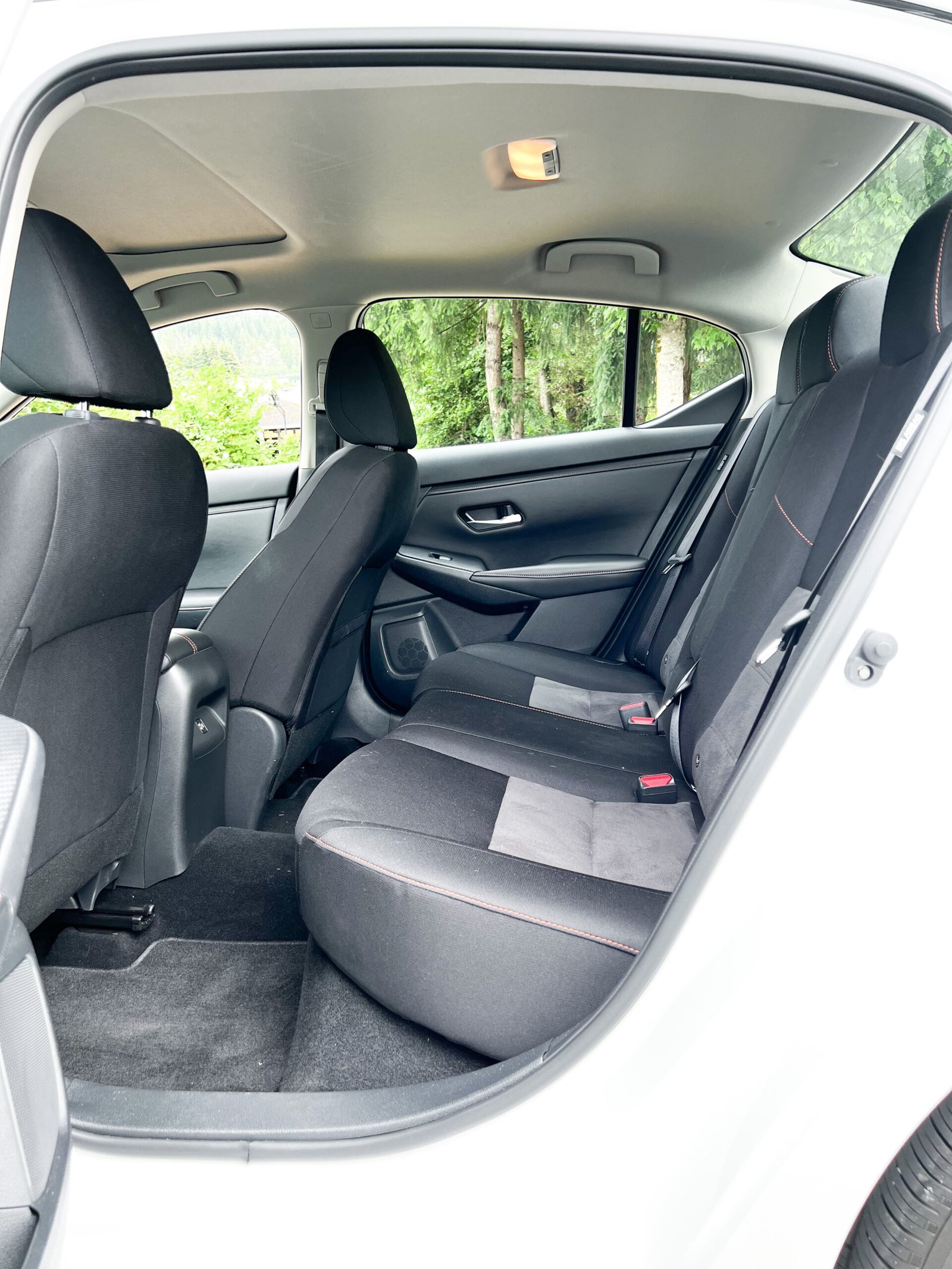 Now, I'm going to be real with you here. I'm tiny. I have tiny legs and often find that any sort of car that doesn't have a pretty excessive standard for being able to adjust my drivers seat isn't going to work for me being able to comfortably reach the pedals. The Nissan Sentra SR Midnight Edition has a 6 way adjustable drivers seat, meaning that I can move it in every which way imaginable to get the most comfortable drive. 10/10 stars on that!
In terms of the central console, the 8″ central display with multi-touch control allows easy access to radio and satellite controls, as well as NissanConnect featuring Apple CarPlay & Android Auto, add in a sprinkle of bluetooth and you have just about everything you need easily accessible. Except an internal navigation system. Probably the only possible dealbreaker for our family on this vehicle.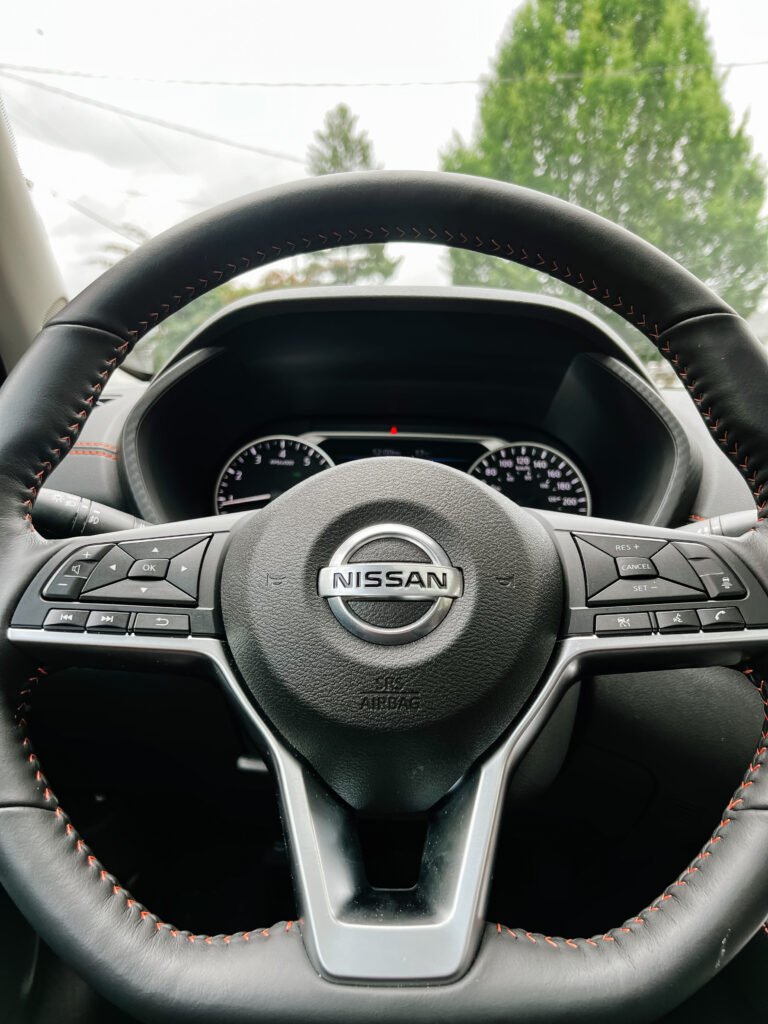 Do I *need* a navigation system? Yes. I get lost trying to find my way out of my own neighborhood. Could I use my phone? Sure, but it's nice to have everything integrated in one area.
Rounding out the console are controls for heated seats and steering wheel, though a nice touch, not something I'd often use. I'd have much preferred to see air conditioned seats instead. The saving grace on the extra features for me was definitely the power sliding moon roof with tilt, with a darker interior it was nice to be able to slide it open on nice days and flood the inside with the sun. The execution of the sliding moon roof was smooth and easy navigated as well.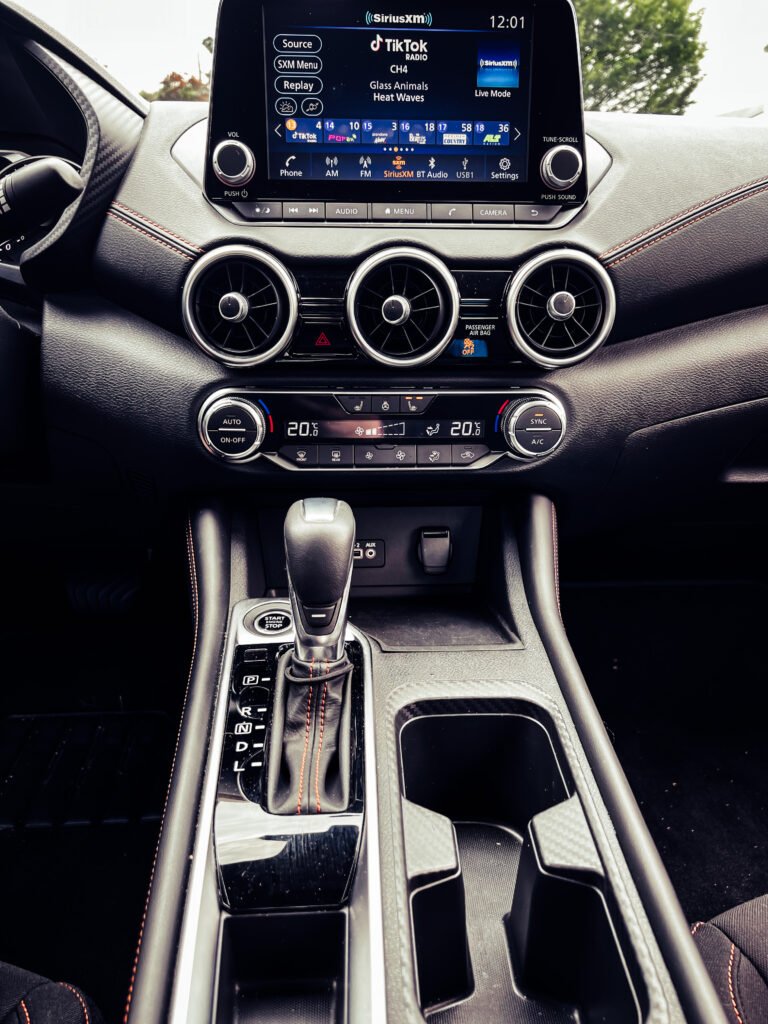 In terms of actual space, the rear seats are roomy enough for even my 6ft+ tall husband to comfortably sit, and the 60/40 split seats further extend the 14.3 cubic feet of space available for all the storage in the trunk. Basically, you can easily fit just about anything you need in this versatile compact sedan. The trunk can easily fit a stroller, family beach items, or a large shopping trip, and with the back seats dropped, you can even fit in a trip to Ikea (I should know… I've done it!)
Last, but certainly not least…. how was the ride? I felt it to be relatively smooth at lower speeds, though you could definitely feel a bit more noise when hitting higher highway speeds. If noticeable wind noise is something you like to avoid, you'll want to consider that we experienced quite a bit of it on every day trips. There wasn't much to write about in terms of having overly impressed us. The turn radius was adequate and acceleration was to be expected in a 4 cylinder sedan.
Nissan Sentra SR Midnight Package Thoughts
| | |
| --- | --- |
| What I loved | What I didn't love |
| Sleek outer design | Lower grade cameras |
| Roomy all around | No embedded navigation |
| Easy to use entertainment system | Less quiet of a ride (you'll hear the whoooosh!) |
The Nissan Sentra models start at less than $21,000 including $1,670 in destination fees, with each model offering their own top tier safety features. The Nissan Sentra Midnight SR reviewed here is a smidge on the higher priced side though still considerably lower than many of the competitors comparable vehicles. The Midnight SR starts at $25,498 CAD making it in my opinion, a modest price for what is being offered.
Do I feel like there could have been more available in this model? Yes. Does it compare to some higher priced sedans in terms of offerings? Not really no. It hits the mark for it's price point, but has a bit of a ways to go before moving up alongside Hyundai & Honda similar sedan models. Did I still love it? Absolutely. It is a great option for those looking for an affordable compact sedan that offers a comfortable, fuel efficient ride.
Thank you to Nissan Canada for the fun week to drive and compare the Nissan Sentra SR Midnight to the Nissan Sentra models we're all used to!