For our family, Easter is a time to spend with family. We typically don't go crazy over most holidays, but Easter is one of the exceptions.  We do an Easter egg hunt and have an Easter gift as well as have a big family dinner. Here are 10 simple Easter treats and eats we've found on the web that anyone can make that hopefully won't spoil Easter dinner.
A healthy breakfast to start your day with lots of energy for an Easter egg hunt. Change up the fruit and veggies, or lay out a small plate of accessories for the kids to help decorate.
Cute and easy to make flowers that are good for pretty much any occasion. Spring, easter.. or match them up to a birthday theme!
A slight twist on one of my childhood favourites butterscotch haystacks. Super easy to make and small enough to make plenty to share.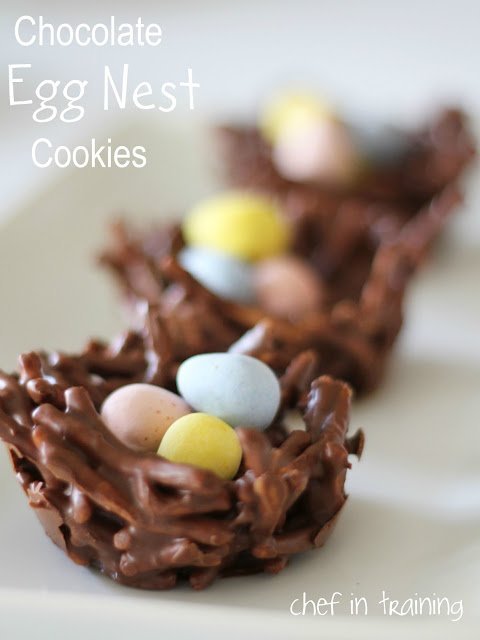 Have a picky eater, small portions in these egg containers will make introducing new foods fun and eggciting. Try color coordinating new foods and share the excitement!
Because everyone wants (needs) edible jewelry. Use an egg carton to turn this into a fun learning (and eating!) game beforehand.
Babybel is a favorite in our house, it's always been fun trying to pry the wax off with little fingers. Try out this cute twist on one of our families lunchtime essentials.
Works well for any orange foods. Switch it up between sweet, salty and savory. A great snack to pack up for preschool treats.
Any colourful foods can be used to make these cute butterflies. Try jellybeans, mini eggs, or any little sweat treats. Want to avoid sweets? Try goldfish crackers or animal crackers instead.
A mom brought this to one of our kid's birthday party and you couldn't get the kids (and adults) away from this delicious sweet treat. Be prepared though and pack some extra crackers, this one is a heavy dipper.
A fun way to end a busy day: bunny tails popcorn mix and a movie. Make this ahead of time and surprise the kids the night before with a fun easter movie and these packed into oldschool popcorn boxes.
 What are your go to treats and eats for Easter?