It's so hard to believe that we are already into April! Our family had such a crazy Spring Break that I felt like we were living in a constant state of flying by the seat of our pants with take out and fend for yourself dinners. From camps, sleepovers, activities and the inevitable spring break allergy craziness at our house, we were ready for life to calm down a little bit.
I feel like I blink and the week is already half over lately, with Spring Break finally over and the kids back at school it was time for me to hunker back into the meal planning bubble and get some regular kitchen magic happening! I know how hectic weeknights can be with homework, housework and after-school activities so when I'm planning our week, it has to be simple, delicious and something we can throw together quickly! 
Taco Tuesday anyone? In our house, tacos reign supreme in every form and we always have certain recipe staples on hand to make tacos happen whenever the craving strikes! My other half orders fish tacos every time we go out for dinner so I knew he'd appreciate Baja Fish Tacos being added to the rotation – especially with a recipe that even he could master after a long day at work.
For this recipe, I used a box of Janes ultimates Tavern Battered Cod. With zero trans fat, no preservatives and no artificial flavours or colours it stands up to what I would expect from a Janes product. The fillets are already battered and ready to be cooked which saves me a ton of time during the week! There were 10 small to medium sized of battered cod in the box, which worked out perfectly for making a pile of tacos to feed the brood (and the husband!) at home.
My favourite part about this recipe is it uses many things we had and you probably already have on hand, or small items you can add to the weekly grocery shop without breaking the bank. All in all, everything I needed to actually buy for this recipe cost me under $20 and primarily was produce items and the Janes ultimates  Tavern Battered Cod. We lucked out and there is a $4 off coupon available on select boxes while supplies last, making the price even more affordable! If you can get out sooner, rather than later to stock the freezer keep an eye out for the specially marked boxes (again, while supplies last!).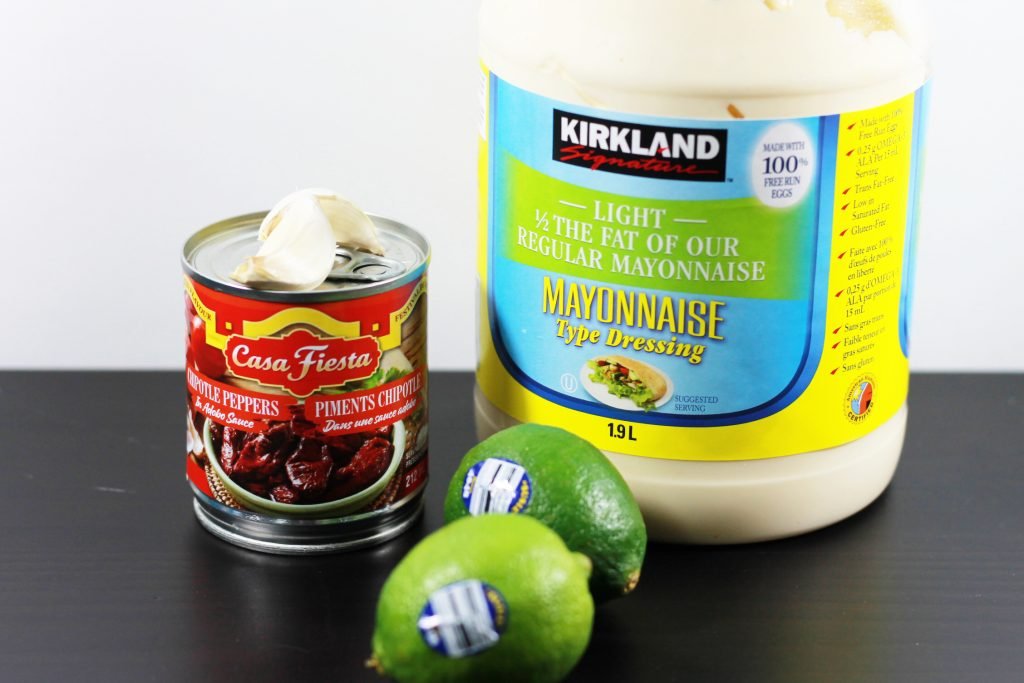 Once you have your ingredients on hand, it's time to make the weeknight Baja Fish Taco magic happen!
Start by pre-heating your oven according to the Janes box and lay your fish fillets out on a single layer on a baking sheet. Use the time the oven is pre-heating to grab everything else for the recipe. There's no "prep" time in this recipe, while the fish is cooking you can have everything else ready to go, making this an under 30-minute meal! Once your oven is pre-heated, toss in the baking sheet and set your timer for 15 minutes.
Once your fish is in the oven it's time to start prepping the slaw. Toss a bag of shredded coleslaw in a large bowl with apple cider vinegar, vegetable oil, salt and finely chopped onion and set aside, stirring every so often to mix all the flavours together.
Next up is the chipotle sauce! This is a favourite in our house and something we make often for a lot of different meals. It's flavourful and delicious on just about every type of burger or taco and super easy to make. In a smaller bowl mix together mayonnaise, a chopped chipotle pepper with sauce to taste, a garlic clove and some lime juice. Mix all together and set aside.
PRO FRUGAL TIP for you here, if you're looking to cut time and a bit of money (and I mean *really* cut time) on this one, there are lots of chipotle mayonnaise products available in the mayo section at the grocery store that are pretty yummy and not super spicy. They can last in the fridge for quite some time so keep one on hand and just add garlic and some lime juice to kick up the flavour a bit more. If you aren't going to use the full can of chipotle chilis it makes more sense to either make a big batch of sauce you can keep in the fridge, or have something quick on hand.
When your timer dings, flip your fish fillets and put back into the oven for another 10 minutes to crisp up the other side. While they are finishing off, set the table and lay out the coleslaw, sliced avocado, chipotle mayonnaise sauce and a bowl of salsa.
When the fish fillets are all cooked, turn off the oven and take out the pan to cool a few minutes. Wrap your soft tortillas in tin foil and put into the oven for a few minutes while everyone is called to the table. They don't need very long and should come out nice and warm and yummy.
We like to let everyone assemble their own tacos so we serve everything at the table, you can either use a whole fillet per taco or half, we found with the smaller tortillas half a fillet was plenty and made for nice stuffed fish tacos with just the right balance of flavour. The avocado and salsa are optional, but we're an avocado loving family so we sneak them in whenever we can.
Assembly is pretty self-explanatory – it's a taco so make it however your taco-loving heart desires! I fill a tortilla with coleslaw, add a piece of Janes ultimates Tavern Battered Cod, drizzle with the chipotle mayo and top with a couple sliced of avocado. Squeeze a bit of lime over the top of everything and you're good to go!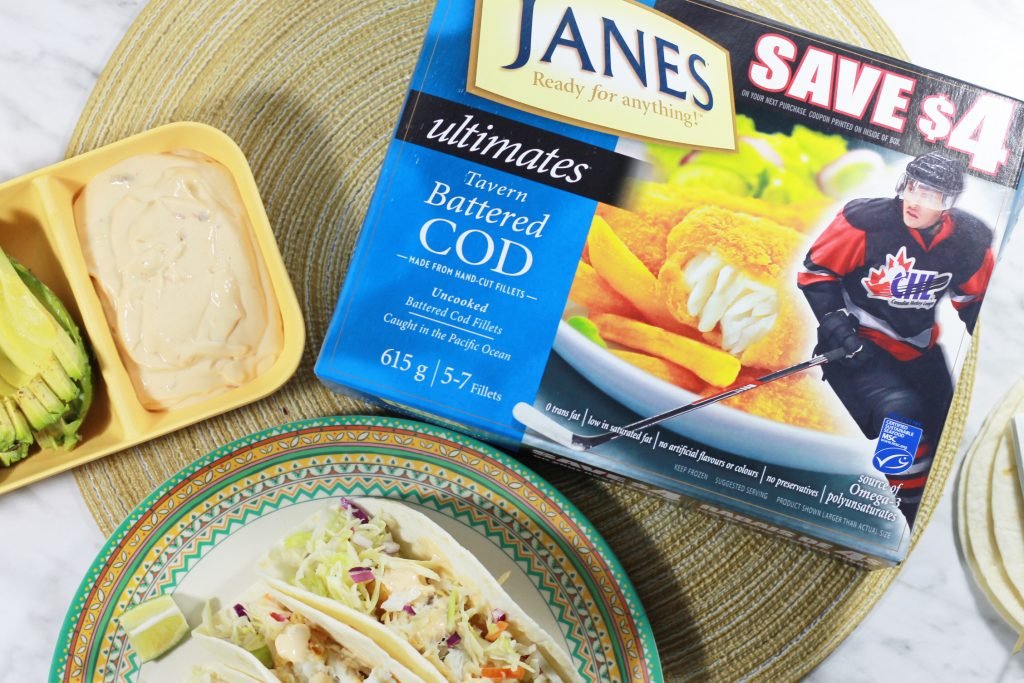 This recipe is a huge hit at our house and the first time I made it we went through 13 tacos! It's also a huge hit with the extra kids we end up with some weeknights after school. With good ingredients and Janes ultimates Tavern Battered Cod a source of omega-3 polyunsaturates it's an easy way to get some goodness into a weeknight dinner without leaving me scrambling!
Full recipe with measurements below. Happy Taco Weeknight Dinner'ing!
Weeknight Baja Fish Tacos
Up the weeknight dinner game with these easy Baja Fish Tacos the whole family will love!
Ingredients
For Chipotle Sauce
1

cup

mayonnaise

1

can

chipotle chilis in adobo sauce

you'll be using 1 chili + 1-1 1/2 teaspoons of sauce

1

clove

garlic chopped

2 1/2

tablespoons

lime juice

approximately 1 1/2 limes + 1/2 lime for garnish
For Coleslaw
14

oz bag

shredded coleslaw

4

tablespoons

red onion - finely chopped

3

tablespoons

apple cider vinegar

1 1/2

teaspoons

vegetable oil

1/2

teaspoons

salt

I prefer to use Himalayan pink salt
For Fish Tacos + Serving
1

box

Janes ultimates Tavern Battered Cod

1

package

small soft tortillas

1

avocado - sliced

optional

1 1/2

cups

mild salsa

optional
Instructions
Preheat your oven according to Janes ultimates Tavern Battered Cod box instructions.
Fish Time!
Lay Janes ultimates Tavern Battered Cod on a baking sheet, we used a pizza pan for even crispness but a cookie sheet will do. One fillet per 2 tacos. Put into oven and set the timer for 15 minutes. Flip at 15-minute mark and cook for an additional 10 minutes.
Coleslaw Time!
In a large bowl, combine the bag of shredded coleslaw, chopped red onion, apple cider vinegar, vegetable oil, and salt. Set aside.
Chipotle Sauce Time!
PRO TIP: If you're feeling a bit short on time, add a chipotle mayo sandwich spread to your shopping list for next week and mix in some additional lime juice and garlic.
Assembly Time!
When your Janes ultimates Tavern Battered Cod is cooked and crispy, turn off oven, remove pan let stand a few minutes. Wrap your warm tortillas in tinfoil and toss into the cooling oven while you set the table.


To assemble tacos, fill a warm tortilla with coleslaw, top with half a fish fillet, drizzle chipotle sauce on top and enjoy!

We serve our Janes ultimates Tavern Battered Cod whole on the table with salsa, avocado, and chipotle sauce so everyone can dive in and make their faves!
Recipe Notes
To keep this recipe family friendly we toned down the heat, if you want to kick it up a notch add an additional 1 chopped chipotle pepper and sauce to taste.
Love it? Don't forget to pin the recipe to your meal planning board!
{This recipe is shared with you in partnership with Janes, all opinions and love of fish tacos are our own}